The adoption of cloud computing across Southeast Asia has expanded in terms of services offered and the number of industry competitors entering the market. Cloud computing is the practice of using a network of remote servers hosted on the internet to store, manage and process data instead of using a local server. 
Cloud technology is popular with small-to-medium sized enterprises (SMEs) because cloud service is cheaper than installing local servers and it allows regional companies to connect and compete on the global platform. Currently, the region's cloud computing market is comprised of big companies including Amazon, Akamai Technologies, CA Technologies, Alibaba, Cisco Systems and Google Inc.
According to Adroit Market Research's report, the cloud computing market revenue in Southeast Asia is estimated to reach US$40.32 billion by 2025. The global business analytics and consulting company also anticipated the market to be driven by Singapore. Last year, Google invested US$850 million to build its new data centre in Singapore. 
Additionally, at least 57 percent of large enterprises in Singapore intend to move their finance systems to the cloud, according to a 2019 report released by Workday, on 'Finance disrupted: the changing role of the CFO in large enterprises'. The report also found that one-third (33 percent) of these companies expects to do so in the next six to 12 months. 
Global readiness
Last year, Asia Cloud Computing Association (ACCA) published a report, 'Cloud readiness index 2018,' revealing Singapore as the most 'cloud-ready' country in Asia-Pacific (APAC), with a score of 76.6 out of 100. The study found parameters that contribute to the nation's high score includes the high quality of broadband services, enhanced cybersecurity and business sophistication, among others. Singapore also came ahead of several non-APAC countries such as Germany (69.2), the United Kingdom (73.5) and the United States (68.9). 
Other than an advanced digital infrastructure, Reuben Ng attributed Singapore's rapid adoption of cloud technology to five key drivers. Ng's 2018 research paper, 'Cloud computing in Singapore: key drivers and recommendations for a smart nation,' listed the criteria as (1) public demand for and satisfaction with e-government services; (2) focus on whole-of-government policies and practices; (3) restructuring of technology agencies to integrate strategy and implementation; (4) building the Smart Nation Platform; and (5) purpose-driven cloud applications especially in healthcare.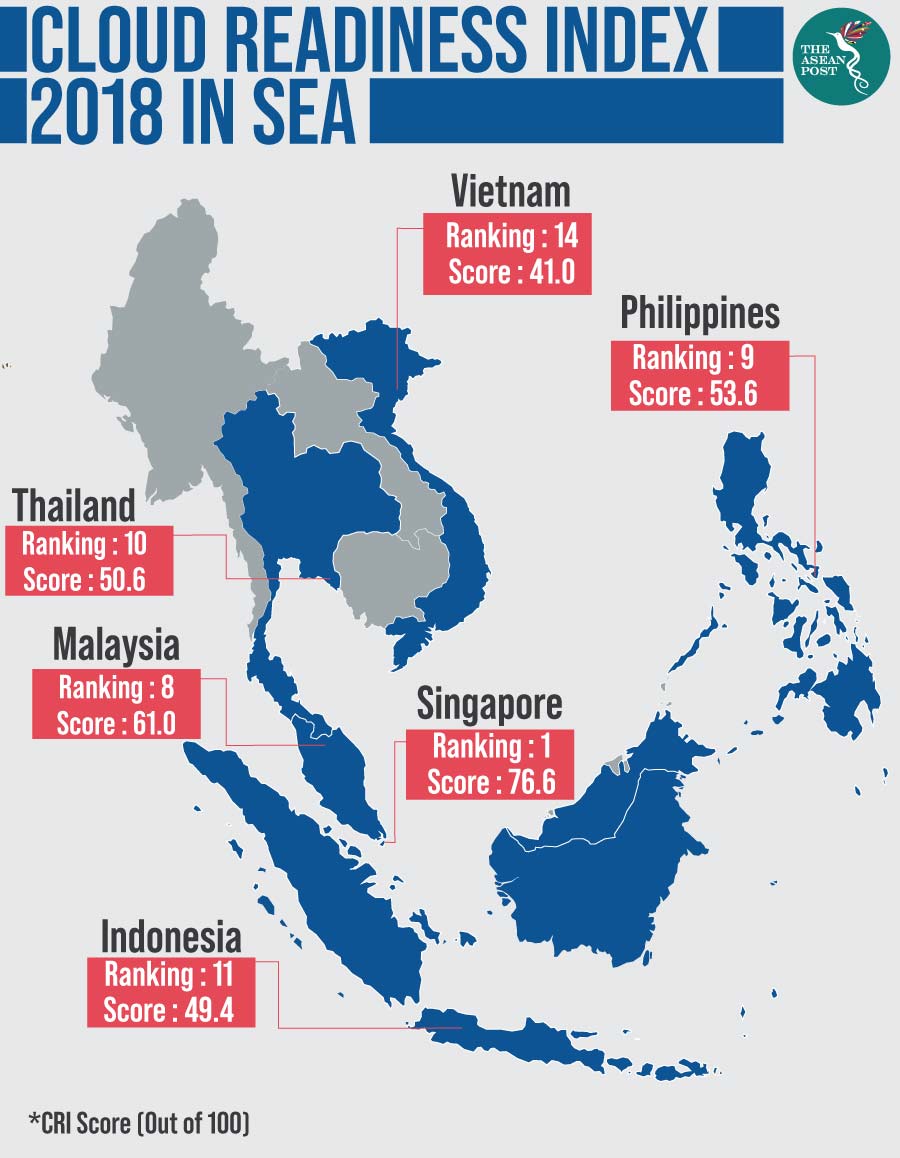 Source: Asia Cloud Computing Association, 2018
The Singapore government has been supportive of cloud computing having put in place initiatives for its adoption. Last year, the government began moving some of its information to a cloud system. Singapore's digital economy laws also provide a balanced approach between protecting personal information and facilitating innovation in cloud computing.
Recently in August, the Association of Banks in Singapore (ABS) published an updated guideline for financial institutions (FIs) towards a safe adoption of cloud technology. ABS said the new guideline represents a 'substantial revision' from its first publication in June 2016, taking into account the country's technological advancements and the evolution of market practices.
The nation's adoption of the technology has also driven the demand for its skill. Based on an Employment Index Q1 2019 report by Monster, an online recruitment firm, cloud computing is the most demanded skill in Singapore, followed by data scientist. Companies demanding cloud technology ranges from the financial industry and off-shore refineries to SMEs.
Dark Web
Cloud technology is reshaping how and where companies do business. It has enabled companies to collect data at scale with a performance largely unaffected by bottlenecks. Cloud adoption also reduces cost and business risk as it is outsourced to providers who are better equipped to manage these risks. However, the responsibility for data security should be shared as no cloud provider will understand or care for the data as much as the company.
Last year, hackers infiltrated Singapore Health Services or SingHealth, and stole 1.5 million patients' personal information along with 160,000 medical records in what might be Singapore's biggest security breach. Among the stolen information was Prime Minister Lee Hsien Loong's. 
Singapore's local media recently reported that a majority of Singapore firms cannot keep up with cloud adoption. According to a 2019 report by Symantec, a cyber-security firm, almost two-thirds (63 percent) of companies in Singapore believe their cyber-security practices are not able to mature quickly enough to keep up with the rapid expansion of cloud applications. The study, 'Cloud Security Threat Report,' revealed other threats to include overtaxed Information Technology (IT) staff and risky end-user behaviour by employees.
The Symantec report also found that three out of four companies in Singapore said they have seen, either direct or likely evidence that their data has already been put on the Dark Web for sale.
About 93 percent of global respondents said that oversharing is another problem, estimating that more than a third of their files in the cloud should not be there. Although cybersecurity remains a concern, organisations should use the cloud to gain extensive competitive advantages and not simply use it as a digital dumping ground.
Related articles
Cloud computing services race heating up in the region
State-actors likely behind Singapore cyberattack