Make no mistake. Dragon boat racing is fast gaining in popularity across Southeast Asia. In Singapore, the country's Dragon Boat Festival has become a firm favourite on the tourism calendar in the island state for many years. The 2019 Southeast Asian (SEA) Games to be held in the Philippines in December will also see the inclusion of a Traditional Boat Race among the many events to be contested. 
Praised for building teamwork and unity, dragon boat racing has found its way into corporate Malaysia thanks to the Skrine Regatta.
Accounting firms such as KPMG and PwC may not be on the top of most peoples' minds when they think about dragon boat racing – where teams of up to 22 people row boats over courses commonly between 200 metres and 500 metres.
But the Skrine Regatta, a charity event organised by Malaysian law firm Skrine for its clients every two years, is providing a different narrative for dragon boat racing in Malaysia.
This year's edition held at the Putrajaya Watersports Complex last Saturday was the fifth time the event was organised and more than US$7,000 was donated to this year's sponsored charity organisations – Teach For Malaysia and P.S. The Children.
KPMG and PwC have been strong supporters of the event having participated in each of the five editions, and they were among the seven teams in this year's event – a fantastic corporate team building exercise which showcased the camaraderie between the participating organisations.
While KPMG Vikings retained the championship they won in 2017, the real winners were the charities – who have received donations of between US$36,000 to US$48,000 from entry fees since the event was first organised in 2011 – and the companies who support the sport because of the teamwork it builds within their respective organisations.
In sync, in unison
Opening up participation to the whole company, Adrian Hong, KPMG's Executive Director & Head of Corporate Citizenship, said the sport builds a sense of solidarity among their many departments.
"We realised dragon boat racing is very good for team spirit. We have to row in sync and in unison, and that needs a lot of training and communication," explained Hong.
"We're very much involved in community service and one of the things that drew us to this event is that it has a charitable function – and this is in line with our CSR initiatives to give back to the community," he added.
Cheong Lip Ee, a manager at PwC, said the regatta was an effective team-bonding event and provided them with the opportunity to build on their already strong relationship with Skrine's lawyers as well as support the charities.
Founded by Skrine Partner Lee Shih, he was glad to note the impact that Skrine – which he says was the first corporate dragon boat racing team in Malaysia – has had in promoting the sport in the country.
After getting involved in dragon boat racing when he joined the firm in 2005, Lee said the activity slowly caught on in Skrine – which created a team, supported them in their training and endorsed their participation in local and international competitions. 
The idea to start a charity event built around dragon boat racing soon grew as a way to contribute to charity, bring Skrine's business partners together and to have fun at the same time.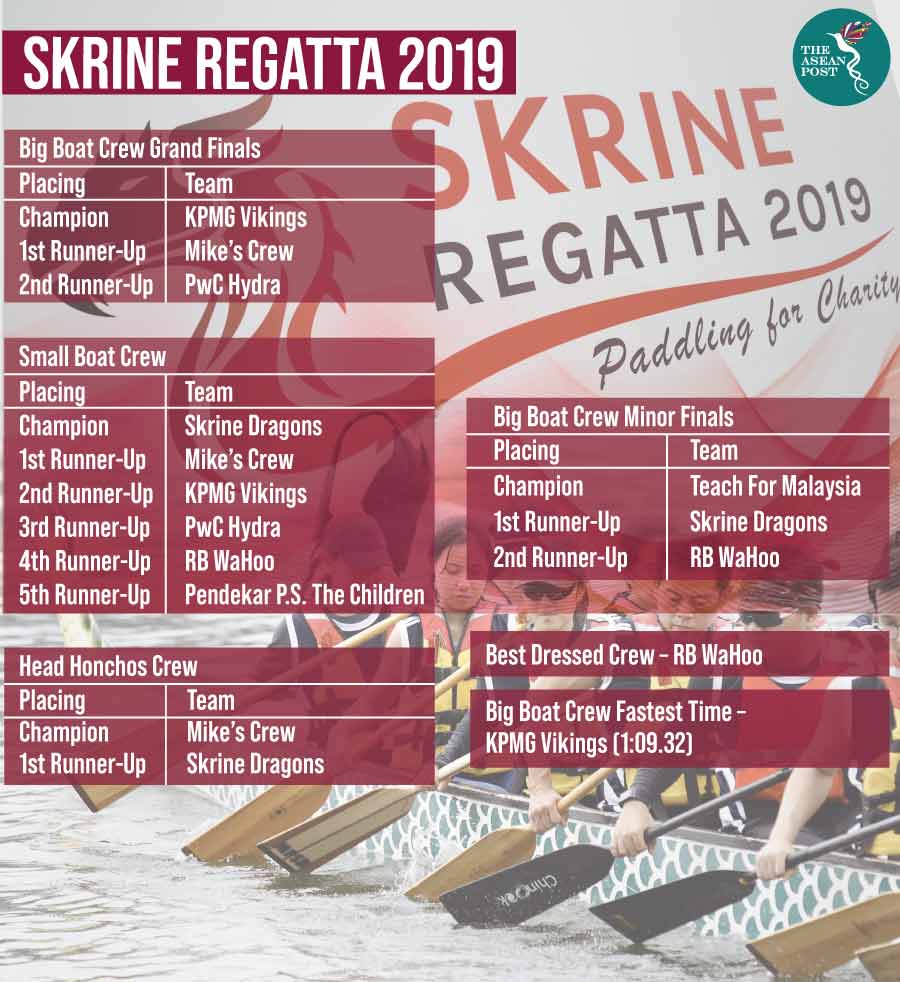 Source: Skrine
No place for Messi or Jordan
"There's a different sense of teamwork in dragon boat racing," explained Lee when explaining why the regatta has been so successful.
"I always tell my paddlers there's no place for Lionel Messi or Michael Jordan on the boat. Whether you're a first-time paddler or a paddler of 10 years, we can only paddle together as one team – not slower or faster. There are no superstars, only one team – and I realised that's a fantastic way to bring people together.
"From a corporate perspective, it blends well because this is completely related to corporate culture. This is what we want a corporate organisation to do. Everyone has to play their part to rise up together, and the same applies to a dragon boat event as to a successful company," he added.
Defending champions KPMG Vikings defended their crown in the main event, the Big Boat Crew category, after beating Mike's Crew and PwC Hydra in the grand final. Two other categories were also contested; Small Boat Crew and Boss Crew, which was won by Skrine Dragons and Mike's Crew, respectively.
While the lack of access, infrastructure and coaching continues to limit Malaysians' participation in dragon boat racing, events such as the Skrine Regatta are helping to get more Malaysians involved in dragon boat racing while at the same time shaping the sport as a valuable teambuilding exercise in corporate Malaysia. 
Related articles:
2017 SEA Games concludes in style