Imagine going on a road trip with your family or a small group of friends. The drive to the intended destination perhaps would take you about six to eight hours to reach, so you take multiple stops at gas stations to rest, or maybe to take a nap. Everything seems harmless, until all the passengers, including you, the driver… fall asleep in the engine-running car.
Just last month, a similar tragedy happened in Malaysia that shocked locals. A decision to take a nap in the car with the engine running proved tragic for four university students after three of them died from carbon monoxide (CO) poisoning. The students were found unconscious in an MPV parked at a petrol station. Local police said one of the girls, Sharifah Fariesha was pronounced dead on the scene, while two others, Ayuni Shazwanie and Nor Adilah, died at a nearby hospital where they were rushed to. 
This is not the first time such a tragic event has occurred in the ASEAN member state. Reports of bodies found in cars parked in shopping malls, gas stations and even in homes have grabbed headlines over the years. Sometimes these deaths are caused by carbon monoxide poisoning – either done deliberately or accidentally, while some who were found unconscious in cars – commonly children – die from heatstroke.
Other countries across ASEAN have also reported similar incidents. 
Just last year, a man was found dead in a parking lot of a gas station in East Jakarta, alleged caused by "carbon monoxide from the burning of the car's fuel," said local police chief Pandji Santoso. 
In 2018, two Thai women succumbed to carbon monoxide poisoning as their lifeless bodies were found inside a car, which was parked with its engine turned on at the roadside in Hat Yai, Thailand. A similar case happened in the Philippines some 10 years ago where a teenage couple was found naked and dead of suspected CO poisoning in a car in Quezon City.
Such tragedies have been happening for decades now and are still being reported to this day. Perhaps, the lack of awareness about the hazards of CO poisoning has something to do with the problem.
CO Poisoning
The primary cause of death for people falling asleep in cars is carbon monoxide poisoning. It is a colourless and odourless gas found wherever fuel is burned. Some CO sources include trucks and small engines, as well as certain household appliances such as gas ranges, furnaces and stoves, among others. CO from these fumes can build up in places that don't have a good flow of fresh air, such as cars with rolled up windows.
When a person breathes it in, CO prevents blood cells from carrying enough oxygen throughout the body. Common symptoms of CO poisoning are headache, fatigue, chest pain and confusion before loss of consciousness and death.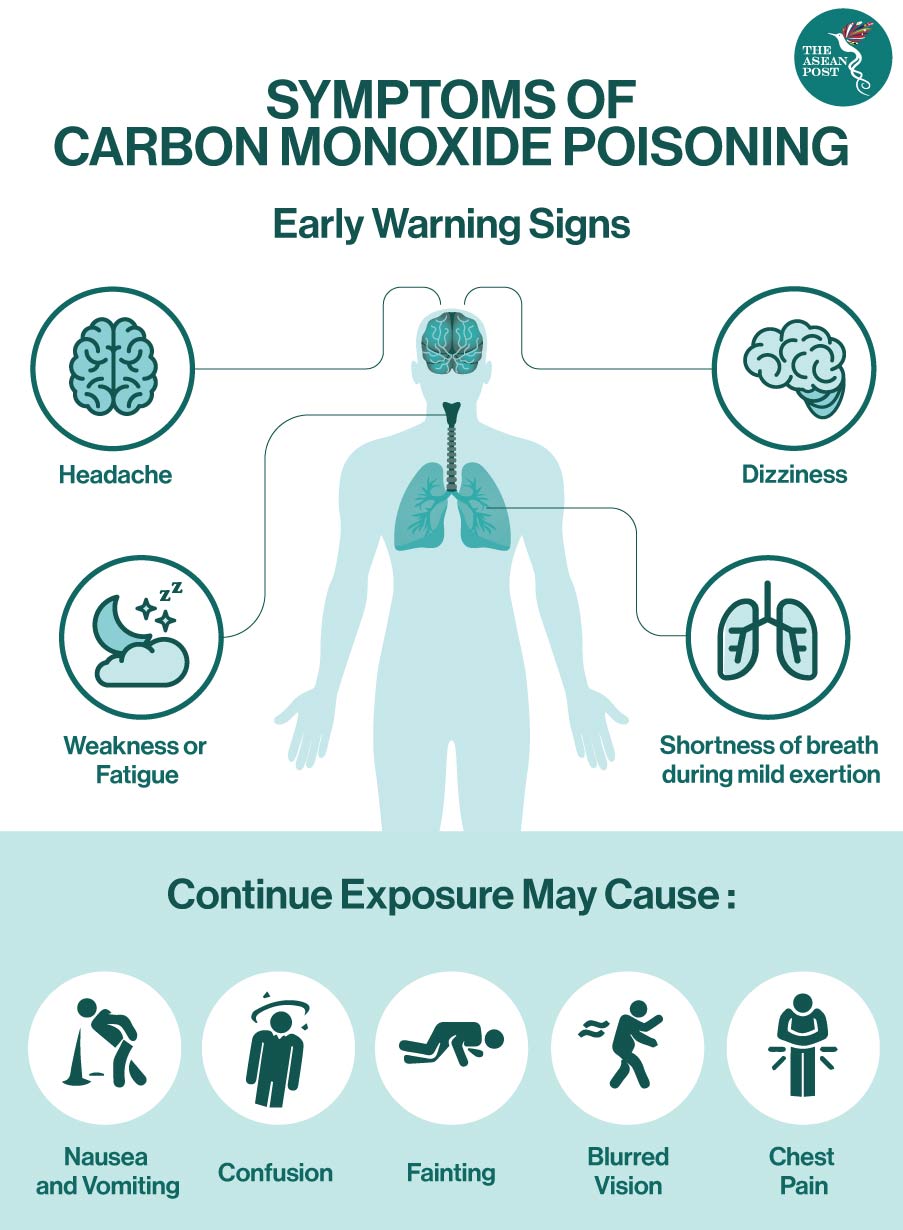 Nevertheless, media reports have stated that people who are sleeping or intoxicated can die from CO poisoning even before the symptoms appear.
"Roll down the windows a bit if you want to take a rest inside the car. It may be uncomfortable, but it won't kill you," said Dr Azril Haris Yafee Amar, a consultant at Sungai Petani's Pantai Hospital, located in Kedah, a state in northwest Malaysia.
"Many say an hour of napping is alright, but the risks are still there, and one can die of suffocation as the same air is recirculated inside the car," he continued. 
However, according to Malaysia's Health Ministry, sleeping in the car even with the windows rolled down (or up) is never a safe bet. The ministry, in its post published on Facebook said that the safest thing to do when one is feeling drowsy while driving is to stop the car, get out of it and look for a safe spot to rest with "good air circulation."
Following the recent tragic deaths of the Malaysian students, local experts are calling relevant authorities to include the danger of CO poisoning in the country's Driver's Education Curriculum. 
"From my observation, the victims seem to be novice drivers. This raises serious concerns as we are having more and more young drivers on the road each year," said Dr Law Teik Hua, head of the Road Safety Research Centre at Universiti Putra Malaysia.
"RTD (Road Transport Department) should take heed of this tragedy and revise the current curriculum that mostly focuses on traffic regulations and minor car repairs," he added.
Related Articles:
Suicides In Southeast Asia On The Rise