The World Health Organisation (WHO) reported that over 800,000 people commit suicide every year. For every suicide there are many more who attempt suicide as well. A life lost to suicide is always tragic and affects everyone in the community.
Malaysia was recently shocked by news of a teen who committed suicide after reaching out in desperation to strangers on Instagram for help, but was unfortunately encouraged by them to take her life instead. Earlier this month, two students committed suicide at a university there which prompted the university in question to organise talks and counselling sessions for students requiring emotional assistance. Studies have found that those exposed to suicides are the most vulnerable to increased suicidal expressions.
While most ASEAN countries have decriminalised suicide and suicide attempts, it is still considered an offence in Malaysia and Brunei, deterring many with suicidal tendencies from seeking help. 
According to Thailand's Mental Health Department director-general, Boonreung Traireungworarat, six people attempt suicide every hour in Thailand, or about 53,000 annually. Many do not succeed but the annual economic losses are over US$13 million. The youngest suicide victim in Thailand was a 10-year-old, while those between the ages of 30-59 are most likely to kill themselves. 
Pre-existing mental health conditions and substance abuse are significant reasons for suicides. Myanmar reported that its suicide rate is highest among those between the ages of 25 and 40, because issues of mental health is often neglected. Other possible motivations are marital problems, financial problems and sexual harassment.
Seniors citizens between the ages of 60 to 64 have a high suicide rate of 10 for every 100,000, as a result of depression from being abandoned by their families. A high number of elderly suicides are observed in Singapore too. According to suicide prevention service Samaritans of Singapore (SOS), men who are 60 years and older commit suicide far more than women. Perpetuating a masculinity or "man-up" sentiment is a factor driving up the number of male suicides to double that of women. Men are pressured to suppress their feelings instead of seeking out professional help. 
Experts in Cambodia have said the two groups most likely to attempt suicide are adolescents and women who have a history of trauma and abuse. Social media is exposing youth to the dangers of cyberbullying that is fast becoming a main cause for suicide. 
There is an increase in the number of suicides among Southeast Asian youths and is one of the leading causes of death in people aged between 15 to 29. Anxiety and depression are cited as common reasons caused by low self-esteem, bullying, a dysfunctional family, a change in environment, pressures of conforming to society or a body-image and the high expectations of parents in academics.
The actual number of suicides in Cambodia, Myanmar, Malaysia and the Philippines are "grossly unreported" because suicide in these countries is considered an act against religious values.
Mental health experts have also included poverty and a lack of education as factors in suicide. Suicides are highest in ASEAN's low to middle income countries due to poor access to appropriate care, a large treatment gap, a lack of appropriate services and facilities and stigma and discrimination.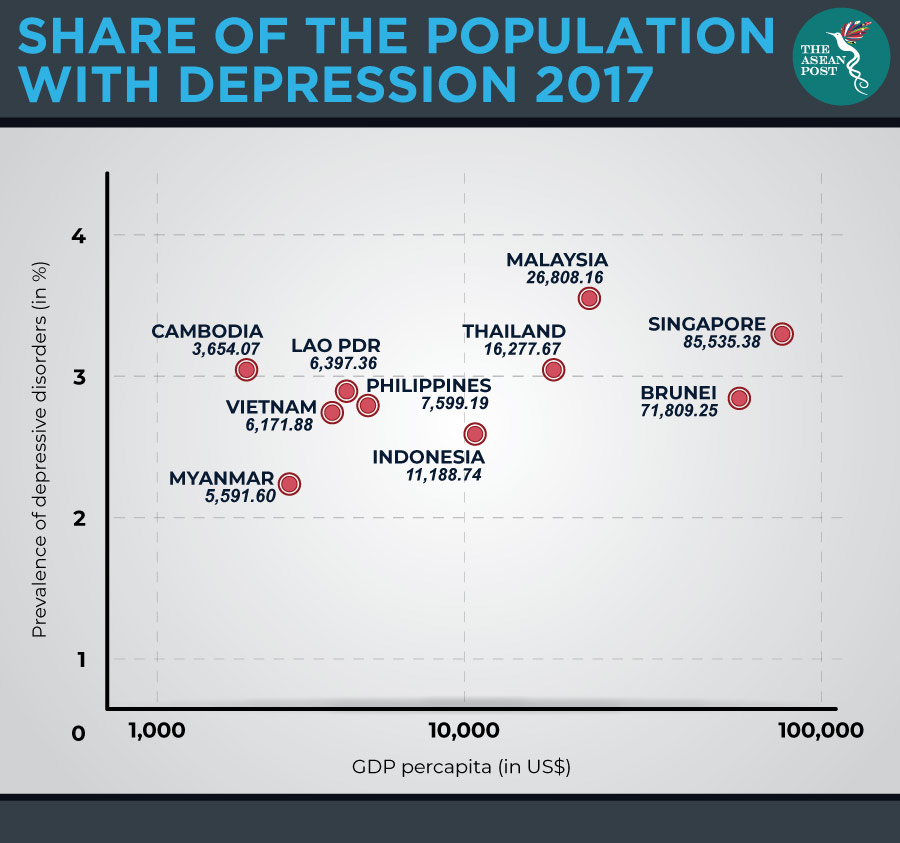 Mental health awareness
Research has consistently shown a strong link between suicide and depression. The other most common mental illnesses that can potentially increase the risk of suicide are major depression, schizophrenia, substance use disorders, bipolar disorder, manic depression, post-traumatic stress disorder (PTSD) and borderline personality disorder.
It must be underlined that while the vast majority of those who commit suicide suffer from mental illness, the majority of people suffering from mental illness do not commit suicide. 
The lack of understanding is discouraging people suffering from mental health issues from seeking help out of fear of social stigmatisation. Malaysia's Psychiatric Association patron, Lee Lam Thye said an awareness campaign on mental health must be organised to confront the stigma surrounding suicides and mental illness. 
Fortunately, with timely and effective interventions, treatment and support, suicides can be prevented. The Philippines recently signed a Mental Health Act that indicates a bright future for mental health awareness for the country and a national suicide prevention strategy indicates a commitment by the government there to deal with the related issues.
Multisectoral collaboration is key to developing a suicide prevention strategy that ranges from decriminalising suicide attempts and training more counsellors and psychologists to help those suffering from depression and other mental problems. 
People should not judge vulnerability as shameful or dismiss depression as an act of momentary weakness. It is critical for communities to provide social support and encouragement to vulnerable individuals while engaging them with empathy. 
Related articles:
Cambodia's youth are in danger
Dark clouds loom over ASEAN's mental health