Early last month, the United Nations International Children's Emergency Fund (UNICEF) released the results of a five-week poll involving one million young people together with suggestions from a series of student-led #ENDviolence Youth Talks. The talks were held in more than 160 countries, including Cambodia and among the findings from the poll and youth talks were that 85.7 percent of young Cambodians aged between 15 and 25 years are in danger of online violence, cyberbullying and digital harassment.
Following the discovery, UNICEF called on Cambodia to put in place a new policy that would help protect the nation's children from such bullying. In a statement released to coincide with Safer Internet Day last Tuesday, Natascha Paddison, UNICEF's representative in Cambodia, said the Internet had become ruthless and void of any form of kindness, and young people were continuously exposed to online harassment.
"We've heard from children and young people from around the globe and what they are saying is clear: The Internet has become a kindness desert," she said.
It is certainly understandable as to why UNICEF sees the need for a policy to address the dangers of cyberbullying and digital harassment. Cyberbullying is no laughing matter as 2015 statistics in Indonesia have even pointed out that 40 percent of children in Indonesia who commit suicide do so as a result of bullying.
On the other hand, the worry that comes with such a suggestion, especially in a country like Cambodia, is that internet laws could possibly be abused to stifle basic human rights such as the freedom of speech, freedom to information, and internet freedom.
Stifled Internet freedom 
In Freedom House's recent report "Freedom on the Net 2018: The Rise of Digital Authoritarianism", it noted that of the 65 countries assessed, 26 have been on an overall decline since June 2017, compared with 19 that registered improvements. The biggest score declines took place in Egypt and Sri Lanka, followed by Cambodia, Kenya, Nigeria, the Philippines, and Venezuela.
"Ahead of general elections in July 2018, Cambodia experienced a surge in arrests and prison sentences for online speech, as the government sought to broaden the arsenal of offenses used to silence dissent, including a new lèse-majesté law that bans insults to the monarchy," the report noted.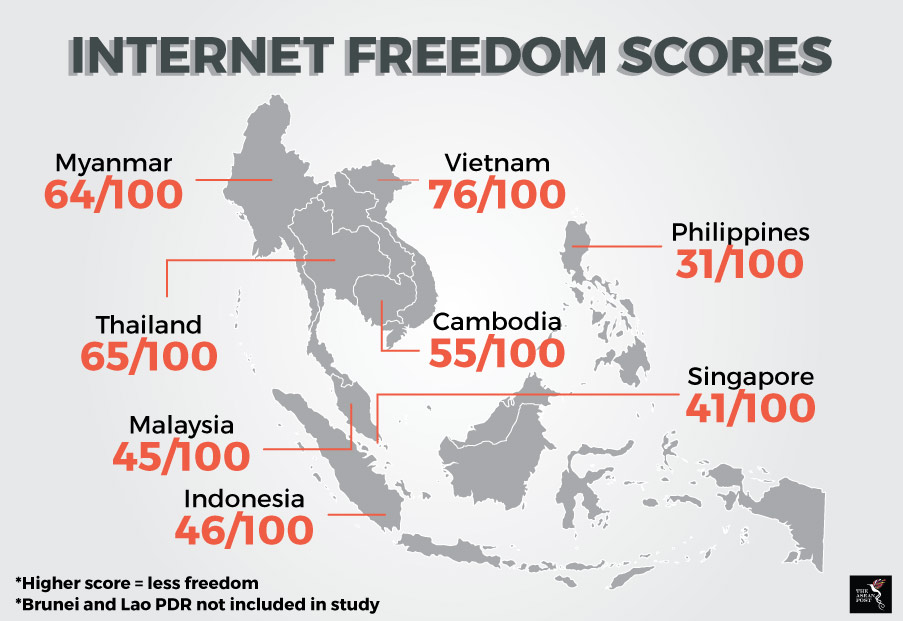 Source: Freedom House
Cambodia has shown no signs of easing up on its clamp on internet freedom. Soon after 2018 rolled in, the Cambodian government drafted a new cybercrime law to protect both, buyers and sellers online from the threat of cyberattacks. This new law aims to implement anti-cybercrime measures by establishing the National Anti-Cybercrime Committee (NACC) that will be chaired by Prime Minister Hun Sen himself. The upcoming law, however, has been seen as just another attempt at stifling free speech on the internet.
Part of the reason for the concern is the huge scope of powers that the NACC wields under the new law. Its duties include, among others, advising and recommending courses of action to the operational arm - the General Secretariat -, supervising implementation and workflow of the General Secretariat's action plans, and performing any other duties as may be directed by the Cambodian government. This last duty especially coupled with the fact that the NACC chairman is the prime minister shows a clear conflict of interest as far as implementing the law goes.
The government's response, however, is to deny that there has been any crackdown on internet freedom. In June, when announcing that it will now monitor social media and online publishing platforms operating on its internet networks in an attempt to stop the spread of falsehoods, Ministry of Information spokesperson Ouk Kimseng told local media that "this will benefit the public and help stop the sharing of 'provocative information' that can cause social chaos."
It is clear that while Cambodia's children certainly need protection from online violence and cyberbullying, a delicate balance in terms of a solution must be well-thought out. In a country where internet freedom has already taken a huge hit, creating additional policies may cause more harm than good.  
Related articles:
Cambodia's cyberbullied children