In the wake of the coronavirus crisis, people are spending more time online with their devices to entertain themselves and to get COVID-19 updates during quarantine or virus lockdowns. An estimated 4.66 billion people now use the internet – more than half of humanity. This is an increase of more than seven percent since this time last year. Whereas social media users are growing rapidly, up by over eight percent since April 2019 to 3.81 billion in April 2020. 
According to a recent report published last April by We Are Social, Hootsuite and Kepios titled, 'Digital 2020 April Global Statshot Report', the number of mobile phone users has increased by 128 million people over the last 12 months. This perhaps has contributed to the increase in social media users around the world. 
Over in Southeast Asia, more than 55 percent of the population are avid social media users. 
Social media penetration across the region has been growing exponentially and shows no signs of slowing down. A 2018 report by the ISEAS-Yusof Ishak Institute revealed that the rate of social media penetration is 95 percent in Brunei, 83 percent in Singapore and 75 percent in Malaysia. At the lower end, the penetration rate is 35 percent in Lao and 34 percent in Myanmar. 
However, the 2020 global digital overview report stated that Lao, which had a 35 percent rate of social media penetration two years ago – now stands at 43 percent. Other ASEAN member states could also possibly see increased social media penetration in recent times.
Social Platforms
The GlobalWebIndex's special coronavirus study which surveys internet users across 17 countries found that almost half of all consumers surveyed have been spending longer periods of time on social media, while about half of these users say they have been spending "significantly" more time now using social media compared to their pre-lockdown behaviours.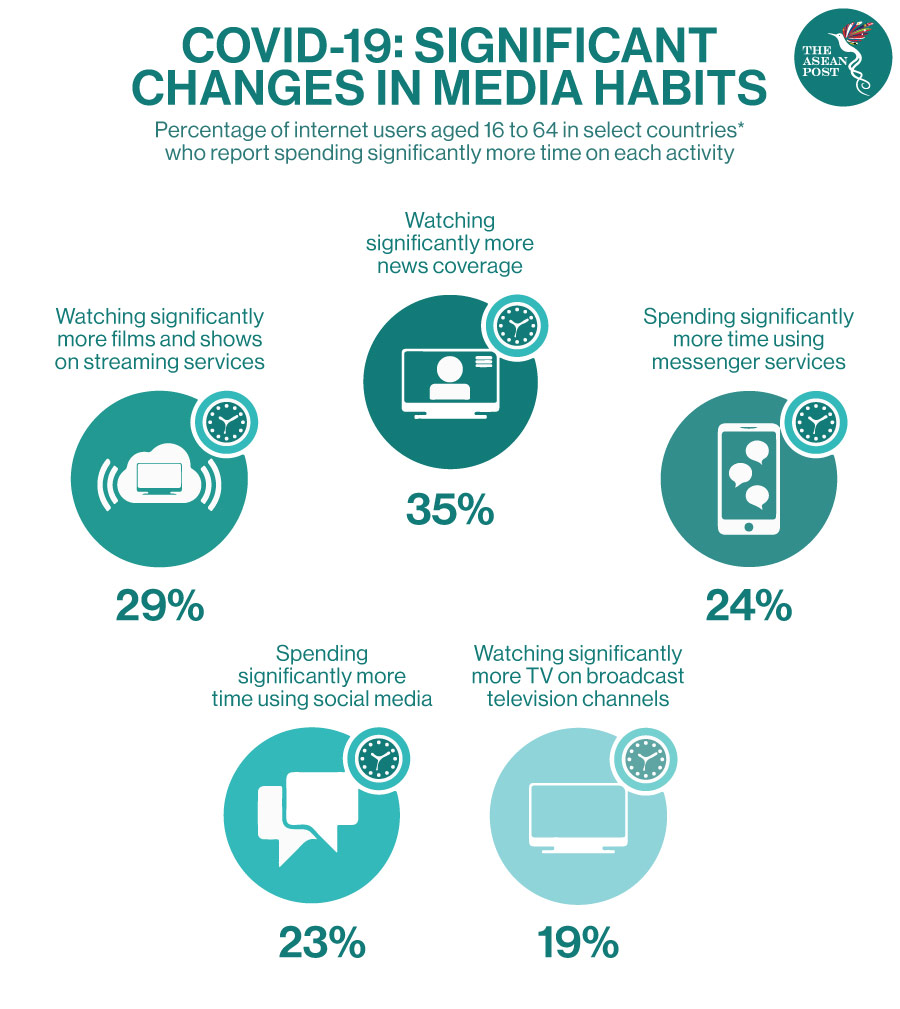 The survey also revealed that the Philippines has seen the greatest number of people reporting an increase in the amount of time spent on social media platforms. Around 64 percent of the Filipinos in the survey said their 'social time' increased, compared to the global average of 47 percent.
Based on the Digital 2020 Global Statshot report, Facebook is the world's most-used social platform as of April this year. It is followed by YouTube, WhatsApp, Facebook (FB) Messenger and WeChat. Other than that, Twitter also saw its biggest quarterly jump among social platforms. 
Although TikTok remains reserved regarding its active user numbers, the report cited App Annie which shows that TikTok still trails Instagram when it comes to monthly active users for each platform's mobile app. 
TikTok – a Chinese video-sharing social networking service gained popularity during the pandemic with 28.8 million United States (US) unique viewers using the app in March, according to a media report. Globally, it is reported that the app now has an estimated 800 million users. 
The confluence of work-from-home arrangements and home-based learning measures provided the "perfect timing" for the app to grow, says Dr Brian Lee, head of the Communication Programme at the School of Humanities and Behavioural Sciences at the Singapore University of Social Sciences.
Misinformation
"Social media can be power tools to help us not feel so alone while social distancing, share problem solving solutions to new challenges we are all facing, and enable us to chronicle our experiences during this unique time," said Mary Dunn, assistant teaching professor of advertising and integrated communications at Quinnipiac.
Nevertheless, repeated exposure to the media and social media could exacerbate mental health risks. Information and sensationalised stories about the virus are shared repeatedly – causing many to be more paranoid and anxious about the health crisis than necessary. 
"Social media can be a blessing and a curse because people post really inspiring content and enrichment activities...but they also often...post terrible stories," Dr Sarah Lowe, a clinical psychologist and Professor in the Department of Social and Behavioral Sciences at Yale School of Public Health, told the media.
The COVID-19 pandemic has seen misinformation spread on social media across the globe. Countries like Malaysia and Vietnam have arrested and imposed fines on those who have posted fake news on social platforms. 
"It (misinformation) is causing damage, but it's not as pronounced as it was early in the crisis," said Rich Hanley, Associate Professor of Journalism at Quinnipiac University. "Social media companies aren't taking it lightly. They're eliminating accounts that participate in the spread of COVID-19 misinformation. It shows how high the stakes are."
Related articles:
The New Generation Of Social Media