Bubble tea, first introduced in Taiwan in the 1980s has done on to become a global phenomenon made popular by Internet foodies. In a recent Grab article titled 'Bubble Tea Craze in GrabFood', the ride-hailing giant highlighted Southeast Asia's growing obsession with the drink. GrabFood is an extended service of Grab, the transportation network company, that does food deliveries. According to Grab's data, bubble tea orders in the region had increased at a rate of 3,000 percent in 2018.
Due to increasing consumer demand, GrabFood now has close to 4,000 bubble tea outlets in their network, which is a 200 percent growth in outlets for the region. 
Grab's data also found that Southeast Asians drink an average of four cups of bubble tea per person per month. Thailand's consumers take top spot for consuming six cups of bubble tea per person per month, followed by the Philippines with an average of five cups. Malaysia, Singapore, Vietnam and Indonesia consume three cups per person per month. The data also revealed the region's favourite flavour (hazelnut), topping (pearl) and the time most people order bubble tea (lunchtime). 
The drink is typically made from a combination of milk and tea and topped with 'pearls' such as tapioca balls, popping boba (made from water, sugar and flavourings using a culinary process called spherification), grass jelly, fruit jelly, etc. These pearls, that looks like dark 'bubbles', give the tea its name. 
Bubble tea drinks are designed to appeal to younger consumers as a way for brands to be part of 'viral food' trends. 'Trending' is a good marketing strategy. The growing bubble tea market has also made brands focus on unique concepts in terms of toppings and flavour combinations to pique consumer interest and to stand out from the crowd.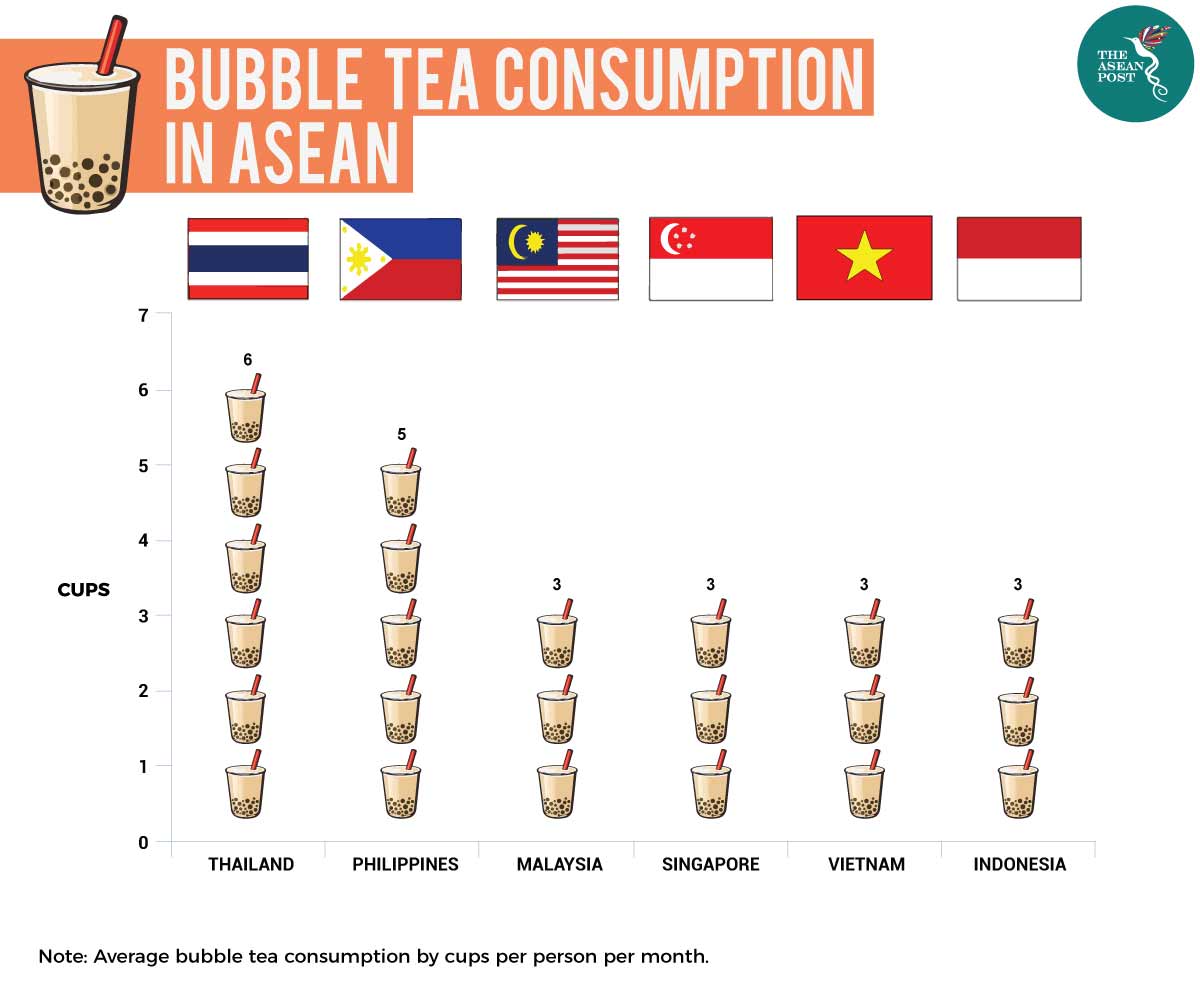 High-calorie drink
Deconstructed, bubble tea's ingredients of tea, milk and brown sugar can make one assume that it is a healthy enough drink. However, bubble tea has hidden ingredients such as sugar, sweeteners and artificial flavourings. Malina Malkani, a media spokesperson for the Academy of Nutrition and Dietetics in the United States (US) said that bubble tea is a high-calorie drink with little source of protein or fibre. 
The bubbles are made from tapioca and have high carbohydrate content. To make the bubbles, tapioca is cooked in hot water along with sugar, for up to three hours. The added sugar in the cooking process can ramp up the balls to an estimate of 160 calories per quarter-cup serving. In Malaysia, Columbia Asia dietitian, Kong Woan Fei told local media that depending on the sugar used, "one cup of bubble tea can contain at least 370 calories. The boba (bubble) alone is 150 calories." The high carbohydrate content of the bubbles can lead to an unhealthy diet. 
There has been speculation linking tapioca balls to cancer, though most claims have been refuted following extended research. Nonetheless, the tapioca balls are hard for elderly people to digest and can cause indigestion. 
Bubble tea also contains high sugar content, according to a study conducted by students at the Applied Food Science and Nutrition diploma course at the Temasek Polytechnic in Singapore. The students tested five popular brands of bubble tea for their sugar content and found that two brands tested for incredibly high sugar content – Brown Sugar Boba Milk Tea and Bubble Milk Tea ordered with 100 percent sugar which has 18.5 and 20.5 teaspoons of sugar, respectively. 
It is already known that sugary drinks contribute to weight gain, obesity and other diseases such as diabetes, heart disease, stroke and cancer. According to Dr Tan Wee Yong, a consultant physician in Malaysia, it is recommended for a normal healthy adult to take no more than eight teaspoons of sugar a day, while a child's daily sugar intake should not be more than five teaspoons.
Aqilah, a consumer in Malaysia, used to buy bubble tea at least twice a week. "I liked bubble tea first because milk tea is nice, and the pearl. I've been drinking it a lot for the past few months and realised that my weight increased. I believe it's because of the level of sugar [in the drink]," she said. Aqilah still drinks the occasional bubble tea.
Health experts highly recommend drinking bubble tea in moderation, and if possible, to opt for the less sweet or low-calorie varieties. Perhaps bubble tea brands should work towards designing more nutritious versions of their drinks without losing the signature taste and appeal which has made the drink so popular in Southeast Asia.
This article was first published on 27 December, 2019.  
Related articles:
Food delivery services in Southeast Asia