Tuna is the world's most valuable fish. It can be found in inexpensive cans on a supermarket shelf or on the auction block being sold at high prices for its premium flesh, destined for high-end Japanese restaurants that serve sushi and sashimi. Globally, the commercial tuna market is worth approximately US$42 billion per year.
Indonesia and the Philippines are among the top five tuna producers in the world. Indonesia's tuna production in 2016 was the highest, with a global production share of 17.9 percent while the Philippines came second with 6.1 percent. 
Thailand is the world's biggest exporter of prepared or preserved tuna comprising 29 percent of the world's exports. The Philippines, Indonesia and Vietnam also export processed or canned tuna to major brands in key markets. In 2017, a total of US$7 billion worth of canned tuna products were exported. 
The lucrative tuna industry provides thousands of jobs in the areas of catching, processing and trading, worldwide.
Traceable, sustainable and worker-friendly 
For the past three years, Greenpeace, a non-governmental environmental organisation, has been ranking tuna canneries and brands in the Philippines, Indonesia, and Thailand with the aim of providing information and guidance for both, tuna companies and consumers alike.
Greenpeace's 2018 report, 'Southeast Asia's Tuna Cannery Ranking', found that progress has been made by processing companies in the study, towards a more traceable, sustainable and worker-friendly canned tuna industry.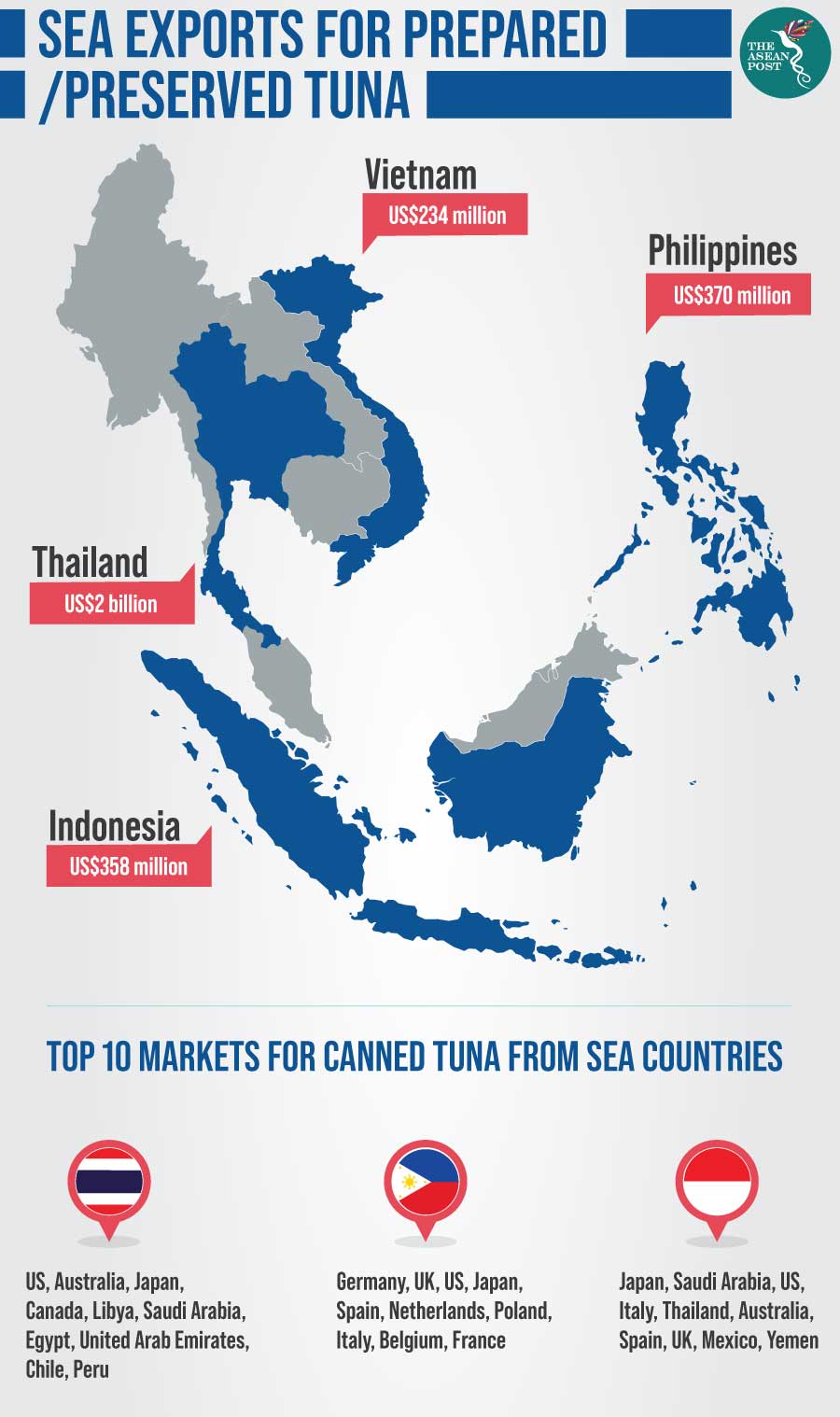 Source: Greenpeace, 2018
"After three years of proactive engagement, brands and canneries in the region are now more open and collaborative to work with Greenpeace and consumers on fixing their supply chains. But, unfortunately, they are still not transitioning swiftly enough in response to the alarming state of our oceans," said Ephraim Batungbacal, Regional Oceans Research Coordinator for Greenpeace Southeast Asia.
Greenpeace also named five companies that have earned an overall good (Green) rating. It stated that while almost all companies scored in the green zone for 'legality' only four are green in the 'equity' criteria. However, the welfare of workers employed directly by the company or on-board ships remains a concern.
'True cost' of seafood 
Consumers are unaware of the 'true cost' of the seafood they purchase because the global fishing industry is riddled with issues like human rights abuses. Slavery at sea is rampant in distant water fishing fleets around the world, where workers end up risking their lives following the promises of unscrupulous brokers offering good wages at sea. 
A study by the Issara Institute and the International Justice Mission detailed the experiences of Cambodian and Burmese fishers working in Thailand from 2011 to 2016. The 2017 study, 'Not in the same boat: Prevalence and patterns of labour abuse across Thailand's diverse fishing industry,' found that "fishers can be lured into situations of modern slavery by seemingly legitimate employment opportunities, but once recruited find themselves unable to leave because of the threat of violence towards themselves or family members, physical confinement on- and off-shore, the withholding of wages, and the debts they incur through the recruitment process."
"If you want cheap tuna or squid, the way to do it is with cheap labour… And cheap labour comes from Southeast Asia," said Arifsyah M. Nasution, an oceans campaigner at Greenpeace Indonesia.
The Greenpeace report also listed another challenge for the sustainable tuna industry –transhipment. Transhipment is defined by the report, as an "act of transferring the catch from one fishing vessel to either another fishing vessel or to a vessel used solely for the carriage of cargo." Banning this practice is a primary way to ensure the prevention of the laundering of Illegal, Unreported and Unregulated (IUU) catch. IUU is a European Union (EU) regulation to deter illegal catches that deplete stocks, destroy marine habitats and weakens coastal communities in developing countries. 
Tuna stock depletion can also be attributed to destructive fishing practices and overfishing. These practices create pollution which in turn leads to coral bleaching and other impacts from climate change. Indonesia and the Philippines continue to catch juvenile Yellowfin and Bigeye tuna at 20-50 centimetres in length. If juvenile fishing is not addressed, it will impact the health of tuna stocks and the marine ecosystem.
The report also observed the 'double standards' of marketing strategies where brands exercise stringent rules to cater to foreign markets only. When it comes to local markets, little or no information is given to how the tuna is sourced. Fortunately, Southeast Asians are beginning to acknowledge their rights and power to protect the ocean and therefore the same sourcing standards and information must be made available to domestic consumers.
"Demand for responsibly sourced seafood has grown in markets all over the world," said Jeremy Crawford, Southeast Asia director for the International Pole and Line Foundation, a non-governmental organisation promoting sustainable fisheries.
Greenpeace believes that regional consumers must have equal choices as those around the world. Yet, their report revealed that the sourcing policies of some companies were found to include procuring tuna from Taiwanese longline fishing vessels where some fishing fleets have been involved in human trafficking at sea. 
Companies are strongly urged to favour and source tuna from lower-impact fishing methods including pole and line, handline, troll or Fish Aggregating Devices (FAD) free purse seining. To protect workers' human rights and also the ocean, it is important for the tuna industry to improve its traceability systems and shift to more sustainable and worker-friendly sourcing practices.
Related articles
Is the fish you eat caught by 'slaves'?