Small and medium sized enterprises (SMEs) in Singapore have been hailed as the driving force behind the island nation's economy. The government there has pointed out that SMEs make up 99 percent of all enterprises in the country and employ as many as 65 percent of Singapore's workforce. However, despite the fact that about 219,000 of them contribute as much as US$142.3 billion in gross value added to the economy, SME's still face tough challenges.
Aside from tough competition from larger corporations and rising costs due to wages growing faster than inflation in Singapore, limited access to financing is also an obstacle for many SMEs in the country.
A study late last year concluded that about four out of five Singaporean SMEs do not qualify for business financing. The CPA Australia Asia-Pacific Small Business Survey found that over the past four years, Singapore's SMEs have had difficulty obtaining financing. In 2017, only 18 percent of SMEs reported finding it "easy" to obtain financing. This figure is the lowest since 2014 when 30.9 percent found it easy to obtain financing. In 2015, 34.1 percent found it easy while that number dropped in 2016 to just 24.5 percent.
However, with advancements in technology, it seems that SME's do have an avenue to address finance-related issues by improving efficiency through the use of modern-day tools. Oracle Asia Pacific senior vice president François Lançon suggests that SMEs take advantage of cloud tools in particular.
Lançon said that not only can cloud solutions help increase efficiency, but with technologies like embedded automation and artificial intelligence (AI) as part of this toolset, businesses can better manage their costs.
He said that new cloud tools also have the power to help SMEs really change the game in terms of their human resource and talent practices.
Embracing tech
In February 2018, the United Overseas Bank (UOB) and Dun & Bradstreet conducted a survey involving 1,235 SMEs across Singapore, Malaysia, Thailand, the Philippines, Indonesia and Vietnam. The survey was conducted in order to better understand how SMEs in these countries were positioning themselves within an evolving business landscape.
ASEAN countries that see the highest need to invest in tech are Malaysia and Singapore, with 65 percent and 63 percent of the SMEs in these countries surveyed stating that they placed priority on technology-related investments.
Overall, around 60 percent of the respondents said they were keen to invest in technology solutions in order to drive business performance, seeing an urgency for IT spending over conventional fixed asset spending.
78 percent of ASEAN SMEs surveyed stated that they were keen to invest in software and services, while just 65 percent prioritised investments in the underpinning hardware and infrastructure.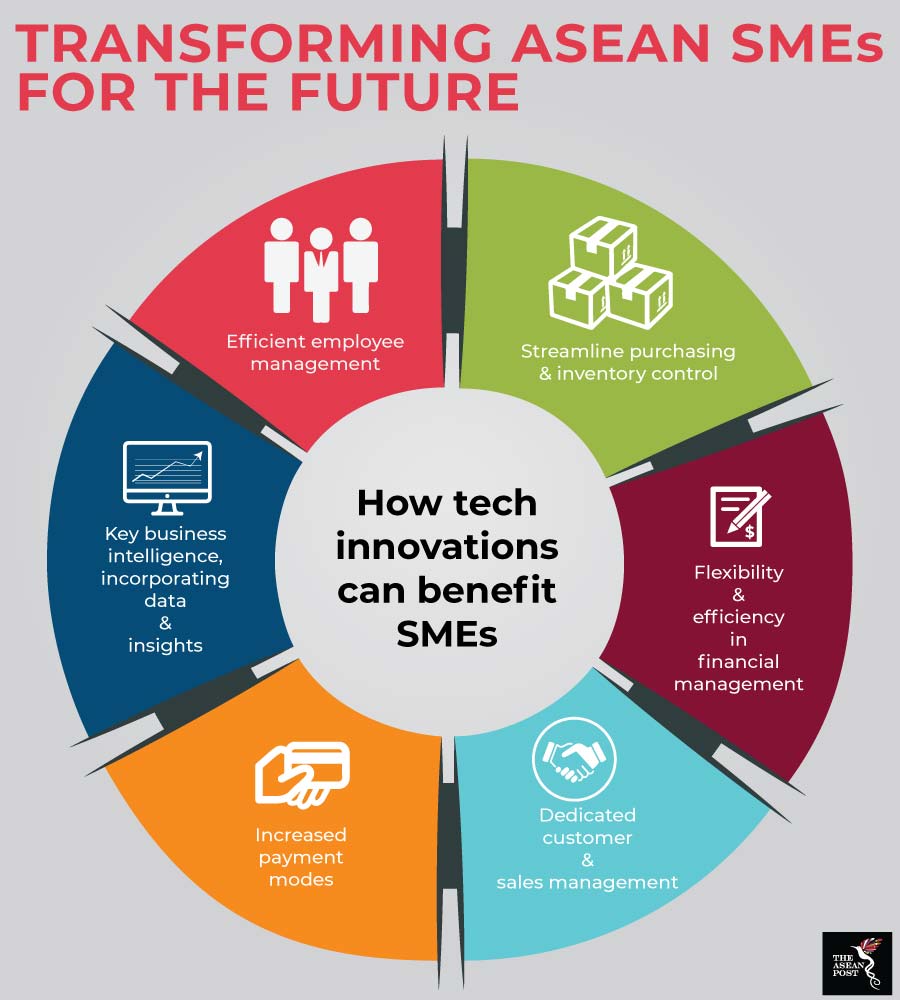 Source: United Overseas Bank
Singapore SMEs in particular, can look forward to several cloud tools that will aid in making their businesses more efficient. One such cloud-tool is the SME Cloud Exchange Network Software (SMECEN) which was launched on 20 July, 2018 by the Association of Small and Medium Enterprises (ASME) and supported by Enterprise Singapore, the Accounting and Corporate Regulatory Authority (ACRA) and the Inland Revenue Authority of Singapore.
SMECEN is an integrated suite of solutions that is offered on a Software-as-a-Service (SaaS) basis to facilitate SMEs' compliance while also giving them oversight of their finance and tax positions. In a media statement issued in November, the ASME said that firms adopting the software "will see an increase in overall productivity and lowered costs and be well placed to develop management competencies powered by digitalisation of administration".
Another cloud tool is the mobile-app Osome by Osome Pte Ltd, which has been available since 11 December, 2017. Osome provides different services as opposed to SMECEN. While SMECEN is targeted at accounting and ensuring companies are compliant, Osome provides free consultations; makes registering businesses easy; does the companies' accounting, taxes and payroll, and secretarial services; and helps to obtain employment passes and relocation to Singapore.
There are certainly numerous challenges that SMEs, including those in Singapore, have to face and Industry 4.0 will undoubtedly bring in even more. Overlooking the many opportunities that Industry 4.0 could provide, however, will be a huge mistake. SMEs, like everyone else, will have to keep up with the times and advances in technology.
Related articles:
How ASEAN SMEs can optimise tech investments for increased competitiveness