Recently, The ASEAN Post published an article which focused on the perception in Thailand that crime was on the rise. This was based on a survey conducted by the Suan Dusit Rajabhat University which, among other questions, had asked Thais which security threats they most feared. In answering that question, the smallest – yet still significant – percentage of respondents (15.17 percent) had answered "toxic smog".
Toxic smog is common in Thailand, especially in cities like Bangkok. In Bangkok, the most serious pollutant is PM2.5, particles 2.5 micrometres or smaller. They can lodge deep in the lungs and cause respiratory and heart ailments.
Recently, on 23 January, protesters wearing surgical masks marched to Thailand's Government House to demand that the country's prime minister, Prayut Chan-o-cha and his government tackle the air pollution problem more seriously. Signs were held up reading, "Right to clean air is a human right" and "People before polluters."
Levels of air pollution in the capital city have hovered at unhealthy levels over the past month - over 100 on the air quality index. According to monitor AirVisual, the index breached the 151-threshold seen as dangerously unhealthy for the general public the week prior to the protests and continued to climb until it hit 163 on 20 January.
On the same day, the cabinet was asked to approve short-term measures to improve air quality proposed by the country's Ministry of Natural Resources and Environment. The measures include a ban on lorries entering inner-city areas on odd-number dates, cutting the sulphur content of premium-grade petrol, promoting car-pooling and public transportation, and a crackdown on open burning. These measures are to last until the end of this month.
Experts on air pollution and environmental campaigners, however, have complained that these measures do not go far enough. Tara Buakamsri, country director of Greenpeace Southeast Asia, said more must be done to tackle the causes of excessive PM2.5 levels.
"People have already lost confidence in the government's response because they don't think it is enough to deal with the problem," the Bangkok Post quoted Tara as saying.
Lost confidence
Tara may have a point in saying that Thais have lost confidence in their government's ability to solve the country's pollution crisis.
A recent study by Suan Dusit Rajabhat University found that a whopping 93.6 percent of respondents say the government has failed so far to come up with measures to deal with the PM2.5 problem. Of that percentage, 52.9 percent are not sure whether the government will ever be able to solve the problem, and 40.7 percent have little confidence in the government's ability.
In fact, only 1.6 percent of the respondents say they have every confidence in the government's ability to solve the problem, while 4.8 percent say they are only "somewhat" confident in the government's ability.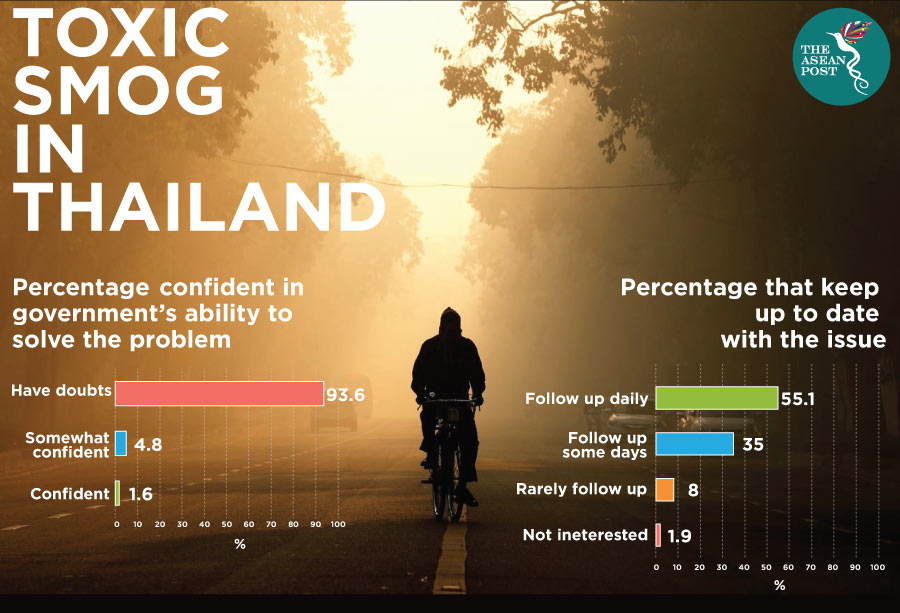 Meanwhile, highlighting that the majority of respondents were aware of the pollution crisis, 55.1 percent say they follow up on the fine-dust situation daily; 35 percent say they do so on some days only; eight percent rarely do so because they do not want to get stressed; and 1.9 percent say they are not interested as they have to concentrate on their work.
Taka has said that the government should look for long-term solutions such as improving public transport and implementing policies to discourage private vehicle use.
Proactive steps
Some have decided to take more proactive steps towards addressing the issue instead of just waiting and banking on the government to act satisfactorily. 
It was recently reported that the private sector, academia, NGOs and community leaders in Chiang Mai have come together to form the "Chiang Mai Breathe Council", an independent body focusing on improving Chiang Mai's air quality, to mitigate air pollution.
Nalee Intaranan, a member of the council, said the group had a two-pronged approach to the issue: The first is to get the government on board in terms of funding and changes in law and policy. The second is to create a social movement to raise awareness and educate people about the impact of PM2.5 on their health.
She said the main focus of the group will be to reduce smoke from all sources, from vehicles, factories, construction, garden burning to agricultural and forest fires. It is estimated that between 80 percent to 90 percent of fires in the north are from the latter two causes, which differs from Bangkok and the central region.
"While air pollution is becoming a national-level emergency, each region has its own set of problems and solutions which must be looked at separately," she was quoted as saying, adding that the council will work full-time all year, unlike regional government efforts in the past which would only focus on the problem for a few months per year.
The call is clear, Thailand wants its government to figure out a more long-term solution instead of its alleged ad hoc responses thus far. But will the government heed the call and ensure that toxic smog becomes a thing of the past for Thailand? Time will tell.
Related articles:
Is crime on the rise in Thailand?