Newly appointed Prime Minister of Japan, Yoshihide Suga certainly understands the political importance of continuity, especially in Southeast Asia. Suga recently made a first stop in Hanoi, Vietnam and continued on to his second visit in the region to Jakarta, Indonesia. Both these Southeast Asian countries are seen as key to Japan's "free and open Indo-Pacific," strategy. 
There are other reasons for Suga to visit these two countries as well. Vietnam is current ASEAN chair, while Indonesia as the only member of the Group of 20 major economies from Southeast Asia. Both of them have important roles as they share historical, economic cooperation, and political ties. 
But are those the only reasons?
Katsunobu Kato, Suga's Chief Cabinet Secretary, stated that Indonesia and Vietnam are Japan's key partners and that three areas have been identified as part of Prime Minister Suga's agenda for his first foreign visit. 
This was revealed when the two ASEAN member states exchanged opinions with Japan over how to handle regional and global impeding issues such as cooperation for realising a free and open Indo-Pacific strategy, addressing the South China Sea dispute and the situation in North Korea. 
One of the key strategic objectives of Japan is to strengthen its Indo-Pacific partnerships by promoting coordination between its partners like Indonesia and Vietnam and helping both countries to strengthen their economic and maritime capabilities to build up resilience in the face of Chinese aggression and its influence.
Balancing Act 
Internally, Japan is implementing a balancing act that involves efforts to enhance its power by increasing economic resources and military strength in order to be able to compete more effectively on the international stage as well as respond to a potential hegemon, in this case, China. 
The pandemic has hit Japan's economy harder than it has the United States' (US) or the European Unions' (EU). Japan experienced a 3.4 percent drop in gross domestic product (GDP) for the first three months of 2020. The postponement of the Tokyo 2020 Olympic Games until 2021, due to the COVID-19 pandemic is another severe economic blow to the country. 
Vietnam's growth potential and low-cost labour supply continues to curry favour among Japanese companies. In a survey by Japanese news agency NNA, Vietnam was selected as the most promising place in Asia to invest in 2020 by 42.1 percent of 820 Japanese firms polled. 
Previously, Japan has provided 200 million yen (US$1.9 million) in aid to help Vietnam fight the COVID-19 pandemic. Prime minister Suga has also pledged low-interest loans of 50 billion yen (US$473 million) to Indonesia to overcome the economic fallout from the coronavirus pandemic. These gestures are seen as symbols of strong ties between Vietnam and the two ASEAN member states.
Japan also seeks stronger regional security and sees Vietnam and Indonesia as important players in the balance of power in Asia as they face-off against China in the Natuna Sea. In order to respond to Chinese aggression in the South China Sea, Japan seeks to strengthen ties with countries in the region amid growing tensions between its main security ally the US and its biggest trading partner China. 
Responding To China
Japan has agreed in principle to supply Vietnam and Indonesia with military gear and technology to respond to China's assertiveness in the region. China claims some part of Vietnam's exclusive economic zone (EEZ) as well as the Paracel and Spratly Islands while Indonesia has been angered by Chinese coast guard intrusions in the Natuna Islands. 
In this regard, Suga expects Indonesia and Vietnam to willingly agree to work together over a range of regional issues, including China's growing maritime presence in the South China Sea.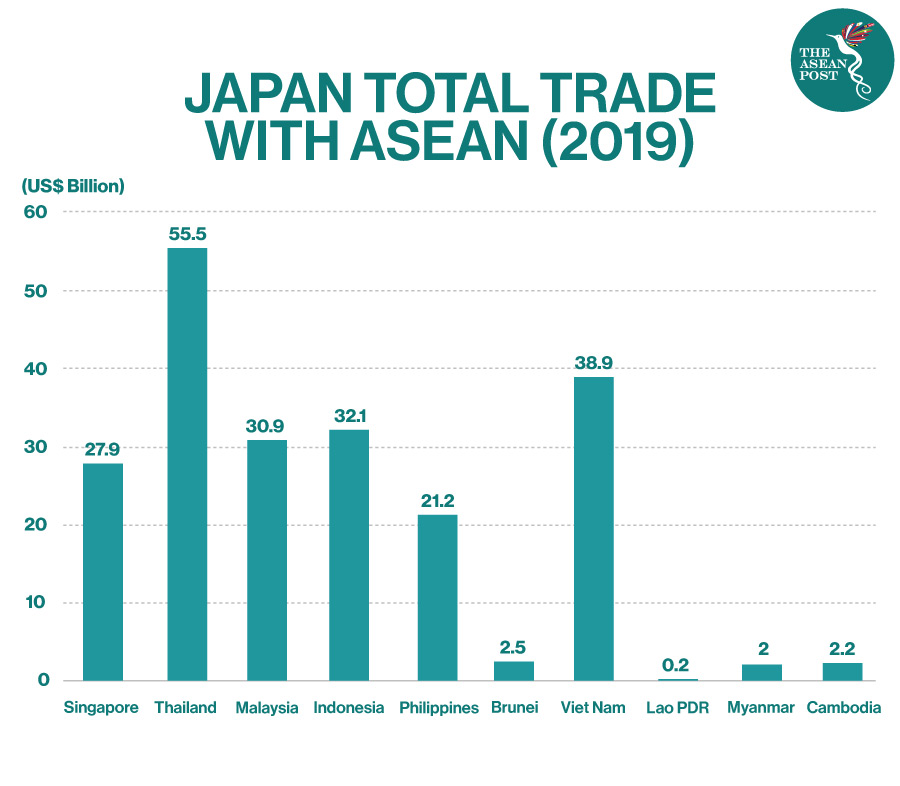 Japan wants to emphasise the importance of Indonesia and Vietnam in its Indo-Pacific strategy. In this context, it wants Indonesia and Vietnam not to rely solely on China with its economic and technological strengths. Japan also wants Indonesia and Vietnam to continue to grow and develop the Indo-Pacific region. 
Indonesia is currently pursuing stronger relations with countries in Africa through the Indonesia-Africa Infrastructure Dialogue. On the other hand, Vietnam has been making great strides in projecting itself as an effective leader, particularly with its proactive governance in handling the COVID-19 pandemic, climate change policy, and for its political stability.
Balancing encompasses the actions that a particular state or group of states take in order to equalise the odds against more powerful states. Prime Minister Yoshihide Suga is thus seeking to build a network of partners in the Indo-Pacific, both to strengthen the current alliance system but also to proactively defend its own interests. 
Vietnam and Indonesia are key to pursuing multilateral economic and security cooperation to counter China's growing power and to protect sea lanes in the disputed areas of the South China Sea.
Related Articles: