Technological advancements and artificial intelligence (AI) are revolutionising manufacturing for industries around the world. 
The International Federation of Robotics estimates that the global stock of operational industrial robots would have increased to 3,053,000 units by 2020, with the capability to help produce cars, electronics and new machinery. 
However, the scale and pace of AI in disrupting jobs is a concern and automation may work to widen the existing gaps in workforce participation. Sewbots or autonomous sewing machines are redesigning the textile and apparel supply chain where they can potentially do the work of 10 people. 
In 2016, the World Bank warned that two-thirds of jobs in the developing world are at risk from new technologies.
According to a McKinsey report published in 2019 titled, 'The future of women at work: Transitions in the age of automation,' 40 to 160 million women globally might need to transition between occupations by 2030, into higher-skilled roles. This is because more women are clustered in professions and industries that are more prone to automation. 
Impacts On Women
ASEAN countries are particularly at risk due to the dependence of their workforce on low-skilled jobs. Across the region, women will fare worse than their male counterparts, standing to lose their existing jobs and landing even fewer higher-skilled ones. The International Labour Organization (ILO) estimates that around 56 percent of employees in ASEAN's key manufacturing hubs of Cambodia, Indonesia, Thailand, the Philippines and Vietnam, will lose their jobs due to automation.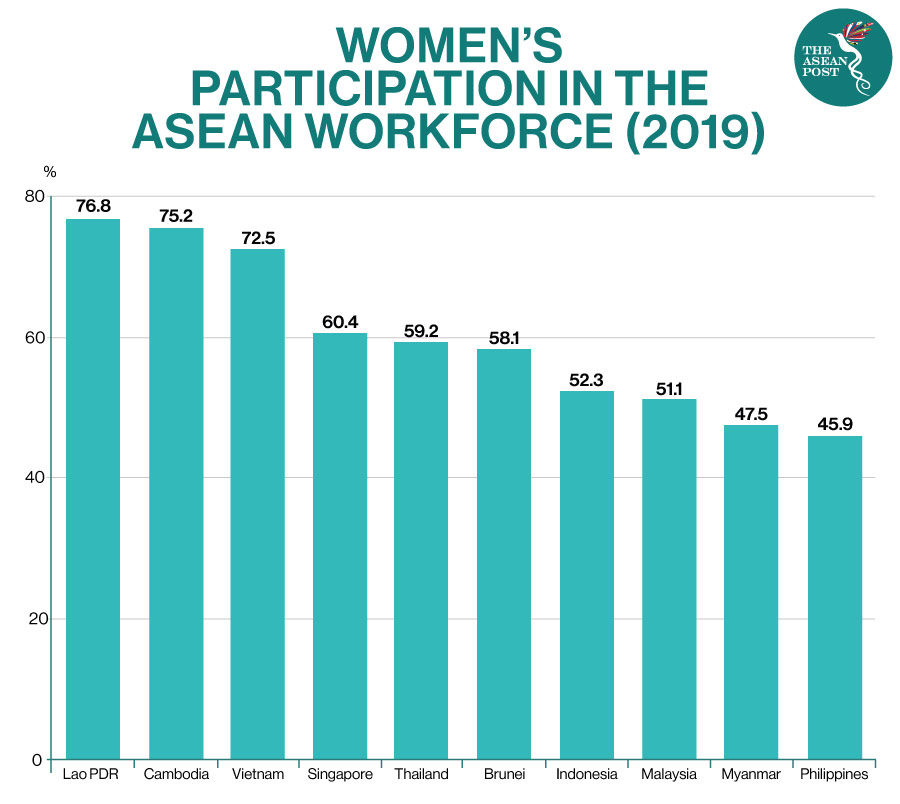 Among those facing job displacement are the half a million sewing machine operators in Cambodia's garment industry, Thailand's one million shop sales assistants and Indonesia's 1.7 million office clerks. The garment, textile and footwear (GTF) industries employ at least 59 percent of all manufacturing workers in Cambodia and 39 percent in Vietnam. 
In GTF industries, women hold at least 76 percent of jobs in the sector, where roughly 2.6 million Vietnamese women and over 600,000 Cambodian women stand to lose their jobs to machines. 
A 2018 report by Verisk Maplecroft titled 'Human rights outlook,' identified that the sectors facing the highest risk of automation are agriculture, forestry and fishing; manufacturing; construction; retail and hospitality. The report also found job displacement will inherently impact a large proportion of the entire manufacturing workforce, many of whom are women.
Dr Alex Channer, an analyst at Verisk Maplecroft, believes that there is a high possibility that robot manufacturing will replace many low-skill jobs in a few decades time.
"Displaced workers without the skills to adapt or the cushion of social security will have to compete for a diminishing supply of low-paid, low-skilled work in what will likely be an increasingly exploitative environment," he said.
Channer added that "without concrete measures from governments to adapt and educate future generations to function alongside machines, it could be a race to the bottom for many workers."
AI Talent Pool
An increased commitment to gender equality in Asia-Pacific could help grow the region's gross domestic product (GDP) by 12 percent, or US$4.5 trillion, by 2025.
According to a report by Grant Thornton on 'Women in Business', the Philippines holds top spot with 37.5 percent female executives, followed by Vietnam and Singapore with 36.9 percent and 33 percent, respectively. While actual data suggests that more women in Southeast Asia are rising to senior management positions, gender disparity in the workforce still exists. It should be noted that the probability of automation is lower for those in managerial positions. 
When it comes to technology, it is still a male-driven job market where only 22 percent of professionals globally are women. In Singapore, 28 percent of the AI talent pool is female, which is only slightly above the global average. This gender divide in technological development is a barrier for women who continue to lag behind men for access to technology, the skills to use it, and in employment in tech sectors.
More needs to be done to attract and retain women in AI, as well as in other science, technology, engineering, and mathematics (STEM) related occupations. Automation could offer a prosperous economy if equal access and opportunities are given to women.
Related Articles:
Skills Or Jobs: Which Should Cambodia Focus On?