As Thais finally go to the polls on 24 March, there is growing concern among environmental specialists who have pointed out that political parties campaigning for the election have so far failed to present strong policies to ensure the protection of the environment. 
Sonthi Kotchawat, an independent expert on environmental health, was quoted by local media as saying that parties' policies only cover some environmental issues but fail to address others. 
"I've heard only a few parties presenting clear environmental policies. The rest don't really have any policies on the environment," he said.
He added that some candidates have cited the need to create more green spaces or encourage motorists to switch to electric vehicles, but many other environmental issues are going unmentioned.
"And the policies we're hearing aren't sufficiently inclusive or good enough to properly solve the problems. Cleaner fuels and electric cars would improve the haze problem in Bangkok, for instance, but what about the smog elsewhere? How do the parties plan to control outdoor burning and trans-boundary haze in sustainable ways?"
Deputy chairman of the Seub Nakhasathien Foundation, Rungsrit Kanjanavanit acknowledged that more parties were addressing environmental issues in their campaigns compared to past elections. However, many important issues were still absent from mainstream campaigning such as sustainable development, biodiversity conservation and public participation in the management of natural resources.
"I would like the parties to be more focused on creating a mechanism for advancing the country on the path of sustainable development, because we're facing more and more serious environmental problems nowadays," he said.
The point these specialists are making is pertinent to Thailand, a country where the capital city, Bangkok, is so terribly polluted that it's been making headlines for the past 3 months. 
In January, it was reported that for the second year in a row, some of the planet's most toxic smog had choked Bangkok. News reports described Bangkok's air as having turned grey and thick particularly during mornings, as seasonal weather changes had prevented pollutants such as exhaust fumes and factory smoke from dissipating. Periodically, the air was worse than in more infamously polluted cities such as New Delhi or Shanghai.
This month, the Air Quality Life Index report by the University of Chicago revealed that, on average, Bangkokians' live spans will be reduced by 2.4 years, while people in Chiang Mai and Chiang Rai will face reductions of 3.6 and 3.9 years, respectively. 
It found that prolonged exposure to ultrafine particles called PM2.5 will result in life expectancy of Thais to decrease by more than two years on average compared to those living in areas that meet World Health Organization (WHO) air quality standards. This was based on an analysis of conditions in 2016. The researchers, however, worry that things may have worsened since then.
The report also cited that growth in the industrial sector and increased vehicle emissions had resulted in a 23-percent increase in Bangkok's air pollution since 1998, when it took 1.7 years off the lives of people living in the city at the time. It also found that 87 percent of the population lived in areas where pollution exceeded WHO guidelines. Even under more-forgiving Thai government standards, three out of four people breathe "unhealthy" air.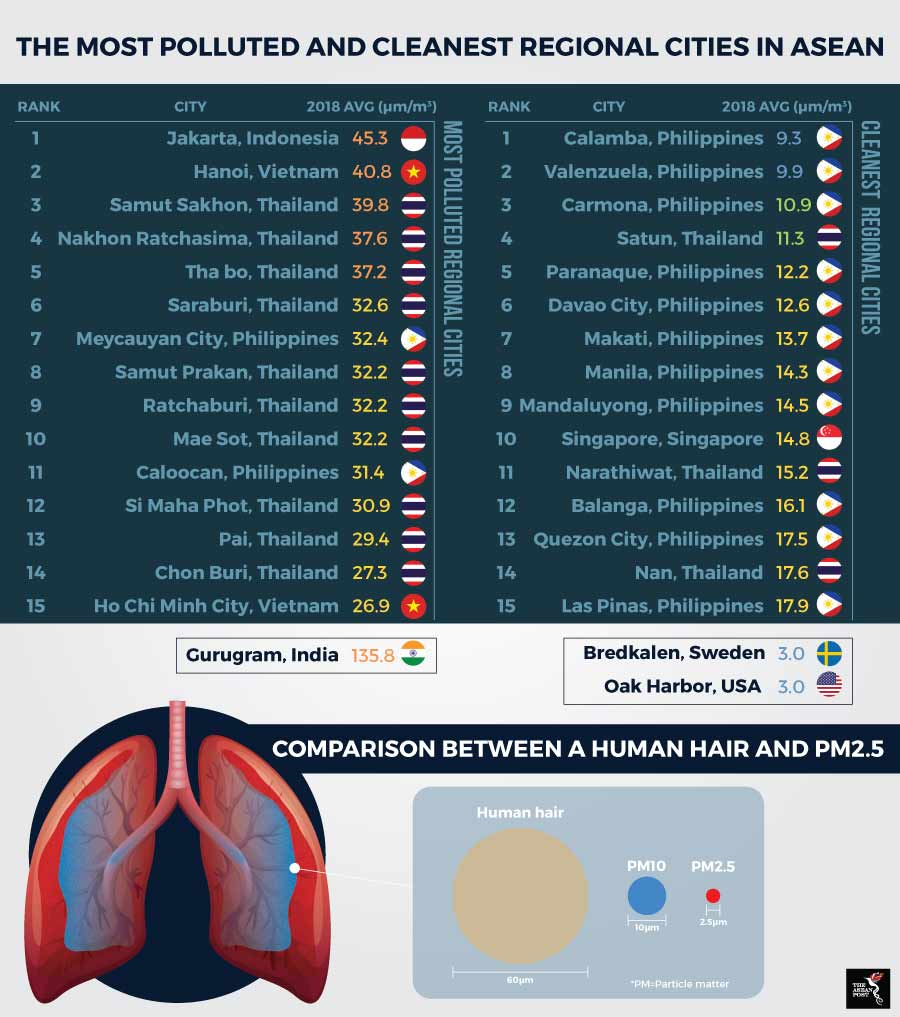 Source: 2018 World Air Quality Report
To make matters worse, local reports last week revealed that Bangkok's air pollution problems were far from over and had returned to the capital and neighbouring provinces. Nine areas were found to contain levels exceeding the 50-micron safety level on 13 March.
Blaming the poor air quality on weak low-altitude air flow, the Pollution Control Department predicts that the situation might further deteriorate and has pleaded for cooperation from members of the public to not burn anything in open areas and to suspend the use of smoke emitting vehicles.
Affecting the economy
But human life expectancies aren't the only thing at stake. The pollution plaguing the Land of Smiles has also affected its tourism sector which is a key component of the economy.
According to the Tourism and Sports Ministry, tourism contributed 17.7 percent to Thailand's gross domestic product (GDP) in 2016 and 16.7 percent in 2015. The World Travel and Tourism Council says tourism accounted for 10.4 percent of global GDP and 313 million jobs, or 9.9 percent of total employment in 2017.
A study by Kasikorn Research Center, an affiliate of Thai banking group Kasikornbank, estimates that the economic losses for Bangkok and its surrounding areas could reach 2.6 billion baht (US$83 million) because of the smog's impact on health and the tourism industry.  
Apart from tourism, The Thai Chamber of Commerce, in February, warned that if the smog crisis continues, financial damages could amount to between 10 billion Thai baht (US$314 million) and 15 billion Thai baht (US$471 million) a month.
That estimate is based on the money people will have to spend on medical bills and N95 facial masks, as well as dwindling income from tourism.
The argument for an environmentally-conscious leader in Thailand is a strong one. Whether that is something that the majority of Thais want is for voters to decide on 24 March. 
Related articles:
Bangkok faces toxic smog battle