Last week, a survey by Thailand's National Institute of Development Administration (NIDA) named Thanathorn Juangroongruangkit "the most suitable person" for the post of Thai Prime Minister and his Future Forward Party as the best party to lead the country. Current Prime Minister, Prayut Chan-o-cha came in a distant second spot in the poll.
The NIDA Poll was conducted between 18 to 20 December, 2019 and involved 2,511 Thai adults from various occupations and levels of education. More than 31.2 percent of the respondents supported Thanathorn, saying they wanted a new generation to lead the nation. About 23.7 percent supported Prayut, saying he is honest and can help the people. They also said he could help keep the country at peace.
When asked to name a preferred political party, 30.3 percent of respondents supported the Future Forward Party; 19.9 percent said the Pheu Thai Party; 16.7 percent named the Palang Pracharath Party; 10.8 percent were for the Democrat Party; 2.4 percent were for the Bhumjaithai Party; a mere two percent supported the Seri Ruam Thai Party; and slightly less than one percent were for the Chartthaipattana Party. All the other minor parties scored less than one percent support from the survey's respondents.
The fact that the majority of respondents are supporting Thanathorn and his Future Forward Party could be viewed as a slap in the face of the current Thai government and especially Prayut whom, currently, Thanathorn and his party are at odds with.
Last month, thousands of people gathered on the skywalk linking the National Stadium and Siam Bangkok Mass Transit System (BTS) stations, chanting "Prayut get out" at an anti-military demonstration. Heading the protest was none other than former MP and Future Forward Party leader, Thanathorn.
Thanathorn had said the rally was to demonstrate public anger at what he calls the injustice inflicted on him and his party. The protest was organised just three days after the country's Election Commission voted to ask the Constitutional Court to dissolve the Future Forward Party for alleged campaign finance violations.
Thanathorn had lent 191 million baht (US$6.3 million) to the party in January last year, a loan which was supposedly documented and signed off by party officials. Section 66 of the country's Political Party Act prohibits a donation of more than 10 million baht (US$330,923) to a political party by an individual in any one-year period. The Future Forward Party, however, says it was a loan and not a donation. If found guilty, Thanathorn and 14 other party executives could be banned from politics for at least five years.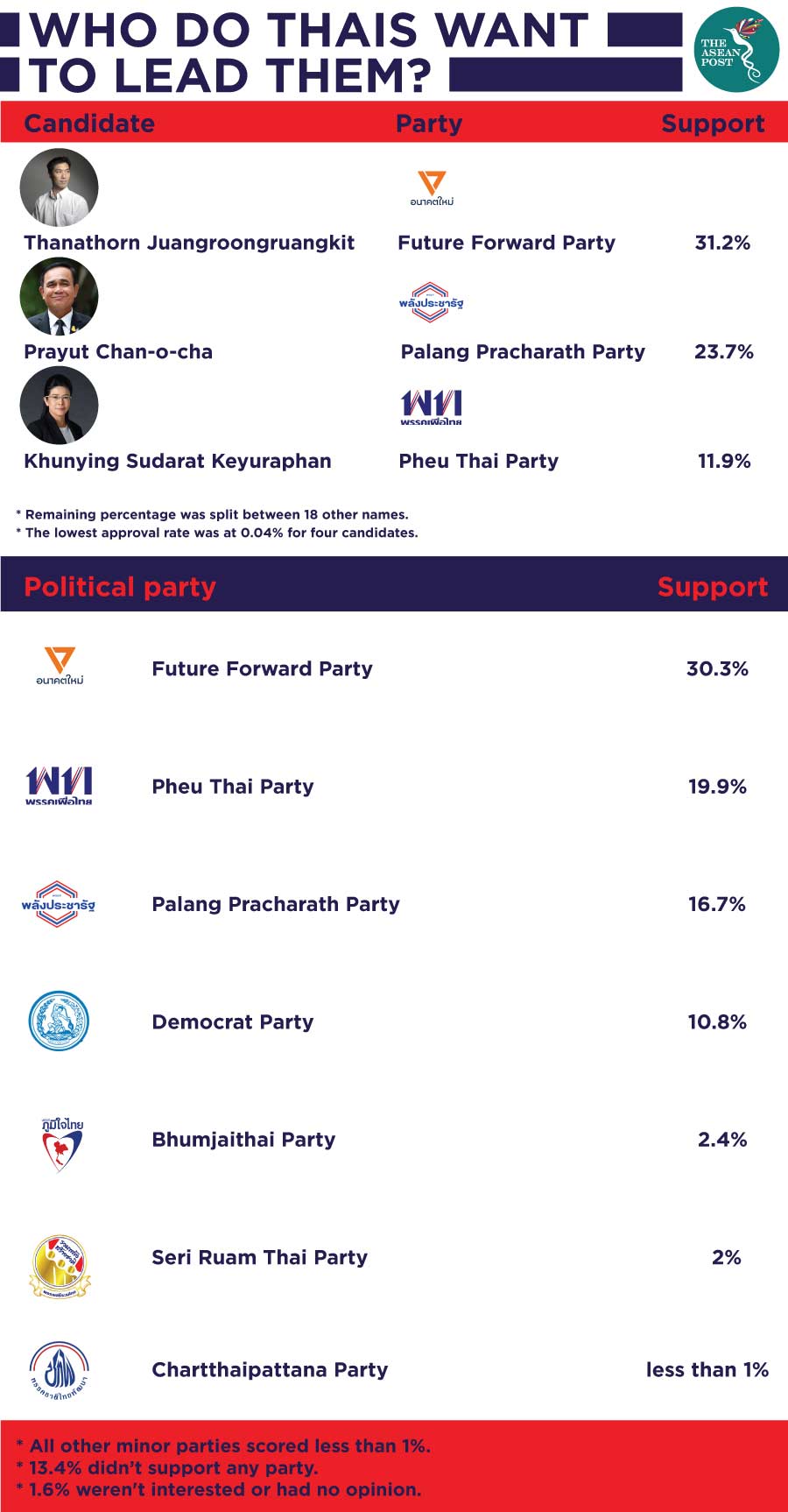 Not over yet
If the recent NIDA Poll is truly representative of the larger sentiment on the ground then 12 January could prove to be an important date.  
During the recent December street protest, Thanathorn told demonstrators that the rally was only the beginning of actions against Prayut's government. He threatened to "bring people to the streets," referring to the "Wing Lai Lung" (Run to Oust the Uncle) event, a running event planned for 12 January.
"We're just here today as a test run. Prayut, don't be afraid yet. The real thing is next month," he was quoted as saying then.
Prayut, however, has been largely dismissive of Thanathorn and his "posse". Prayut dismissed the December rally as nothing more than a "personal matter", referring to Thanathorn's legal problems. Whether the NIDA Poll is an indication that Prayut will have to pay closer attention to what is happening should be revealed in a matter of days.
Thanathorn will need to tread carefully and be aware of the possible drawbacks of having such strong support and what it might mean for him and his countrymen. There is a reason why those who supported Prayut in the NIDA Poll mentioned "peace" as Thailand's political history has not been the most peaceful in the world. There is little need to speak of historic tragedies that were the result of previous street protests, nor the amount of times the country has seen a military coup. If Thanathorn wishes to go down this road, then, it is important that "peace" is always prioritised by his followers. 
Related articles:
Can Thailand afford another street protest?