As far as ASEAN countries go, there is little doubt that Thailand is doing well. This is true in many aspects including technological advancements and foreign investment. In fact, the TMF Group, a multinational professional services firm headquartered in Amsterdam, recently released its Global Business Complexity Index 2019 report and placed Thailand in top spot for easiest country in Asia to do business in.
With all of Thailand's achievements, things are indeed looking bright for the country. However, there are dark spots where that light does not touch, and one of those spots lies in Thailand's northeast region: Isan.
Home to close to a third of Thailand's 69 million people, a new study by Asia Foundation called "Thailand's Inequality: Myths and Reality of Isan" has found that Isan is struggling compared to the rest of the country. 
"People in Isan still struggle to make ends meet," Asia Foundation says, adding that narrowing this gap between Isan and the rest of the country is key to a richer and more stable Thailand.
That word, "stability", is an important one to understand. Along with the far north, Isan has consistently voted for governments with populist policies between 2001 and 2011. These were governments either led by or linked to former Thai prime minister Thaksin Shinawatra and the powerful Shinawatra clan.
Unfortunately, Thailand's history books also paint a bloody power struggle involving protests and two military coups that unseated both, Thaksin and then his sister, Yingluck Shinawatra, in 2014. Several political pundits, in fact, believe that the reason the pro-military government returned to power after this year's general election was because of help from a new constitution drafted by the junta.
"Research has shown that one of the leading indicators that pushed people toward political turmoil and protest is the fact that they are not satisfied with their economic condition and the uneven treatment that they receive," said Rattana Lao, lead author of the Asia Foundation's report.
Most unequal in the world 
Inequality in Thailand is being addressed but it still persists. In December, a Credit Suisse report named Thailand the most unequal country in the world, with just one percent of the population owning 66.9 percent of the nation's wealth.
Earlier, in 2017, several academics who presented at a seminar on civil state policy held at Thammasat University had already warned that due to the government's policy approach to welfare and social enterprise, the poor were getting poorer and the rich were getting richer.
Decharut Sukkumnoed, an economics professor at Kasetsart University, cited statistics from the Office of the National Economics and Social Development Board, which indicated that the number of people below the poverty line increased by nearly 20 percent between 2015 to 2016. Also, some 5.81 million people were living in poverty in 2016, defined as having an income below US$88 per month.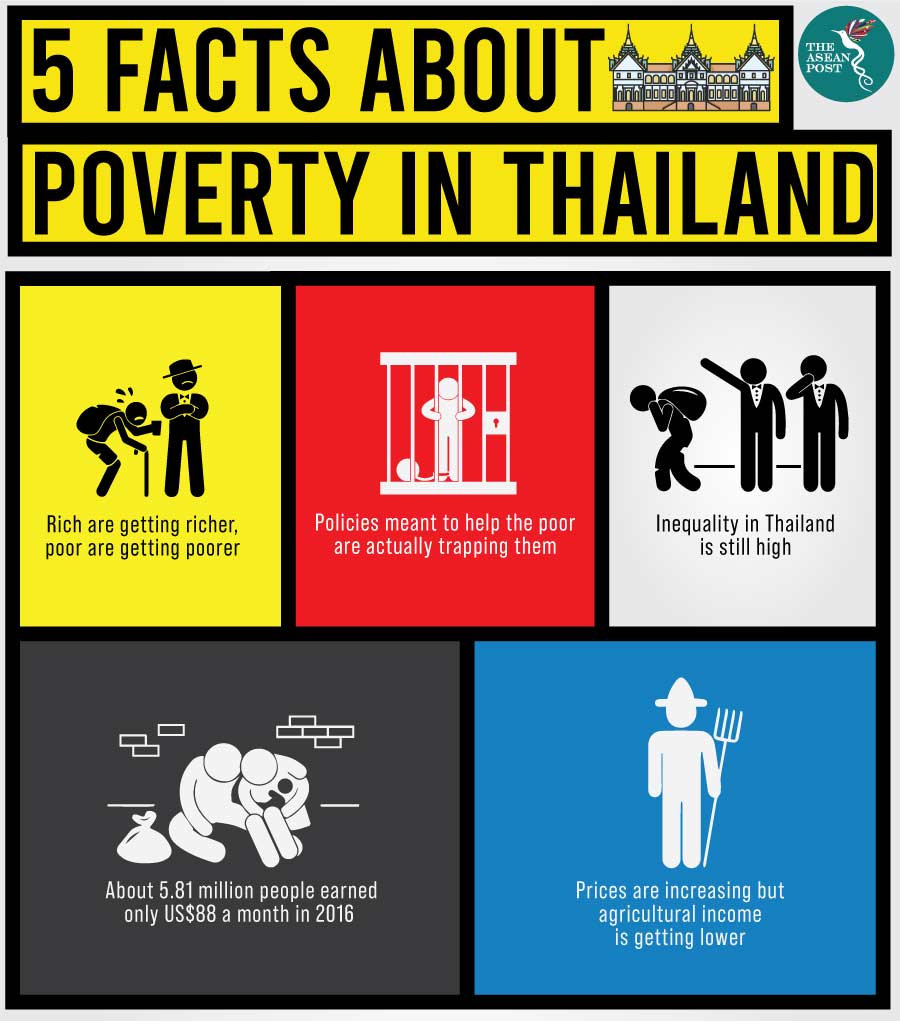 Source: Various
He said the civil state system allowed big conglomerates, which comprise the highest income group in Thai society, to reap more economic benefits than the poor from government projects intended to help the poor.
"From the statistics, we also found that the number of poor people is on the rise, because the daily expenses of the poor, especially food prices, are increasing. On the other hand, their income is getting lower, especially the income of poor people in the agriculture sector," he said.
Another academician, Surawit Wannakrairoj, a professor at the Faculty of Agriculture of Kasetsart University, pointed to the civil state's farming policy as an illustration of what is wrong.
He said that while the policy intends to modernise Thailand's agriculture and boost farmer incomes, in practice, many policies and laws, such as the big plantation policy or Plant Varieties Protection Act, are instead helping big conglomerates in the agriculture sector to tighten their grip on farmers and force them to use only the conglomerate's supplies.
The Thai government must address poverty and inequality in Thailand with special focus on the northeast and far north. It is more than likely that the reason the poor – like those living in Isan –have often voted for the Shinawatras because of their populist agendas. 
If the current government, or any future governments, ensure that the welfare of these people are taken care of then there is no reason why they will not throw their support behind that government too, Shinawatra linked or not. Thailand's bloody protests, while awful, should act as a sharp reminder to the government of what happens when people feel marginalised. 
Related articles: