The Overseas Private Investment Corporation (OPIC) is set for a revamp, and it is squarely aimed at countering China's growing geopolitical influence. While the United States (US) government's development finance institution seems like America's answer to China's Belt and Road Initiative (BRI), as they both serve to improve socio-economic development, there are several key differences. 
OPIC has been around for nearly half a century and provides debt financing, political risk insurance and private equity funding to US firms looking to invest in emerging markets. The BRI was only envisioned six years ago and is largely China's vision of connecting two-third of the world's population with a network of major infrastructure projects. OPIC's transparent portfolio spans more than 160 developing countries while the BRI's opaque dealings are active in about 70 countries – Italy being the latest to join the stable. However, OPIC's US$20 billion portfolio is dwarfed by the BRI's with an estimated US$1 trillion in value, the majority coming from China's state-owned Development Bank. 
Established in 1971 by US President Richard Nixon, OPIC's model was based on private sector investment and was unlike traditional aid models at the time which were centred on providing grants. The goal was to make sure that OPIC's investments and loans, which are created around "sound business plans", enable it to operate as a self-sustaining agency at no cost to American taxpayers. 
Having invested nearly US$620 million in ASEAN from 2005 to 2017, it is clear that OPIC has played a key role in ASEAN nation-building – although it is one that has often gone under the radar. 
Time for change
Last October marked a turning point for OPIC after the US Congress passed the Better Utilization of Investments Leading to Development (BUILD) Act which will see the capabilities of OPIC and the US Agency for International Development's (USAID) Development Credit Authority consolidated into a newly formed US International Development Finance Corporation (IDFC), which is anticipated to be operational as of 1 October. The BUILD Act has also allocated US$60 billion for the IDFC – more than doubling the OPIC's current budget.
While its mission of "mobilising private capital in support of sustainable, broad-based economic growth, poverty reduction and development," mirrors that of OPIC's founding ideals, the fact that the IDFC will now do so with the aim to "further the foreign policy interests of the United States" and "provide countries a robust alternative to state-directed investments by authoritarian governments"  is a marked difference from OPIC and is sure to concern Beijing. 
However, it is business as usual until the IDFC gets off the ground while the OPIC has been as busy as ever.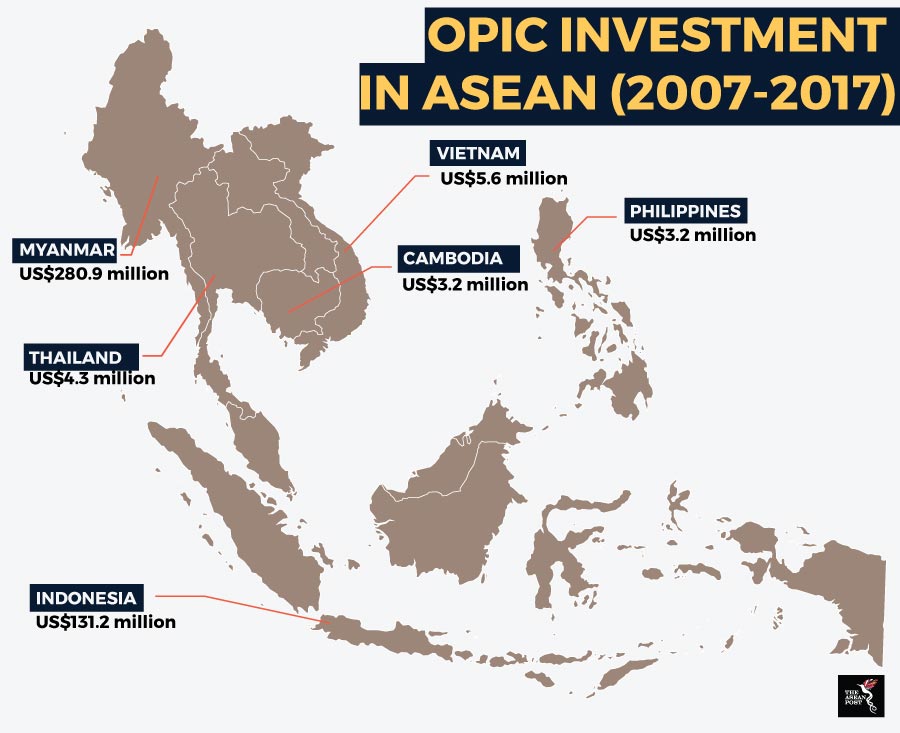 Source: Overseas Private Investment Corporation (OPIC)
Investment in ASEAN
This month OPIC provided US$13 million to two microfinance institutes in Myanmar to support lending to poor and underserved borrowers as well as smallholder farmers. In a country where less than 26 percent of the local adult population has access to formal financial services, and 70 percent of the 55 million population depend on the land for their livelihood, the loans are especially welcome.
"OPIC has supported investors in emerging markets like Myanmar for almost 50 years, and OPIC's model of working with and bolstering the private sector stands in contrast to state-led directives in the region that are all too common," said Scot Marciel, US Ambassador to Myanmar, on the embassy's website, in an apparent reference to the BRI.
Of the six ASEAN countries that OPIC is active in, Myanmar stands out for the size of its investment – more than US$280 million as of 2017. The bulk of that financing, US$250 million, has gone to Apollo Towers Myanmar Limited for the development of more than 1,800 telecommunications towers throughout the country.
OPIC provided US$10.5 million in financing to WaterEquity last month, an impact investment manager that helps microfinance institutions and other enterprises expand access to clean water in the developing world. The funding is set to benefit millions in Cambodia, Indonesia and the Philippines by providing access to safe water and improved sanitation.
Strings attached
During a trip to Thailand to promote US investments in ASEAN and the Indo Pacific last year, David Bohigian, then OPIC's Executive Vice President and now its Acting President and CEO, praised Southeast Asia's impressive growth and said OPIC was looking forward to overseeing investment cooperation in the region. 
He stated that OPIC was keen to support more projects that commit to strong labour and environmental standards. Therein lies the catch. 
Unlike funding for BRI projects which have few strings attached, OPIC's investments are dependent on several other stringent requirements such as human rights protection, transparency, local job creation, host nation sovereignty and an enduring legacy.
The BRI has repeatedly been accused of falling short in all the requirements above, and while critics say the IDFC's environmental and climate mandates are not as strong as the OPIC's, it is evident that the US it taking a more pro-active stance towards infrastructure and human capital investment in a bid to neutralise growing Chinese influence.
Related articles:
What does the Indo Pacific era hold in store for ASEAN?
China's BRI negatively impacting the environment