The internet has changed the way we engage with television (TV) and video. Programmes, such as sports and news can be watched online, either by streaming 'live' or downloading it for later viewing. TV shows and movies can be viewed anytime, without having to wait for the broadcaster to deliver them. The term for this new entertainment platform is 'video-on-demand' (VOD).
There is an anticipated surge in consumption and revenue in the next few years from over-the-top (OTT) media services. OTT refers to content that is distributed directly to viewers over the internet and is a subset of VOD. 
A report published by Dataxis estimates that Southeast Asia will have four million paid subscription video-on-demand (SVOD) accounts in 2019. This number is expected to grow to 6.2 million subscribers by 2022. The 2018 report, 'SVOD in Asia Pacific: the gold rush' states that by 2022, the SVOD market in Southeast Asia is expected to be valued at US$390 million. 
According to the same report, 29 percent of Southeast Asian have fixed broadband in their households. On the other hand, mobile subscriptions are at 45 percent in 2019, with an anticipated increase to 60 percent in 2022. The report states that the key to SVOD's success is the region's access to the internet and the role of mobile internet usage.
Disruptors 
On-demand-services players have disrupted the traditional broadcast industry and are now crowding the market, vying for the attention of consumers in Southeast Asia. Currently, Netflix holds the highest market share in the region. 
In Southeast Asia, local content and pricing are still key factors for consumers when selecting a SVOD service. Because of this, regional players like iflix, continue to have an edge over global OTT players. Other regional players such as HOOQ and Viu also offer an extensive catalogue of local content, including original productions. Together with iflix, they have positioned themselves in the region's streaming space as some of the few credible OTT choices available.
"The content mix is what drives the success of iflix, HOOQ and Viu [in Southeast Asia]," according to Brice Longnos, an industry analyst at Strategy Analytics.
iflix recently sealed a deal with Malaysian entertainment company Media Prima Television Networks to integrate its streaming service tonton to the platform. "This alliance is a significant milestone and another considerable boost to iflix's local content offering. Over the past three months, we have accelerated the pivot away from Western towards local and regional programming, to deliver the most relevant and compelling content to users in our territories for free," said Mark Britt, co-founder and group CEO, iflix.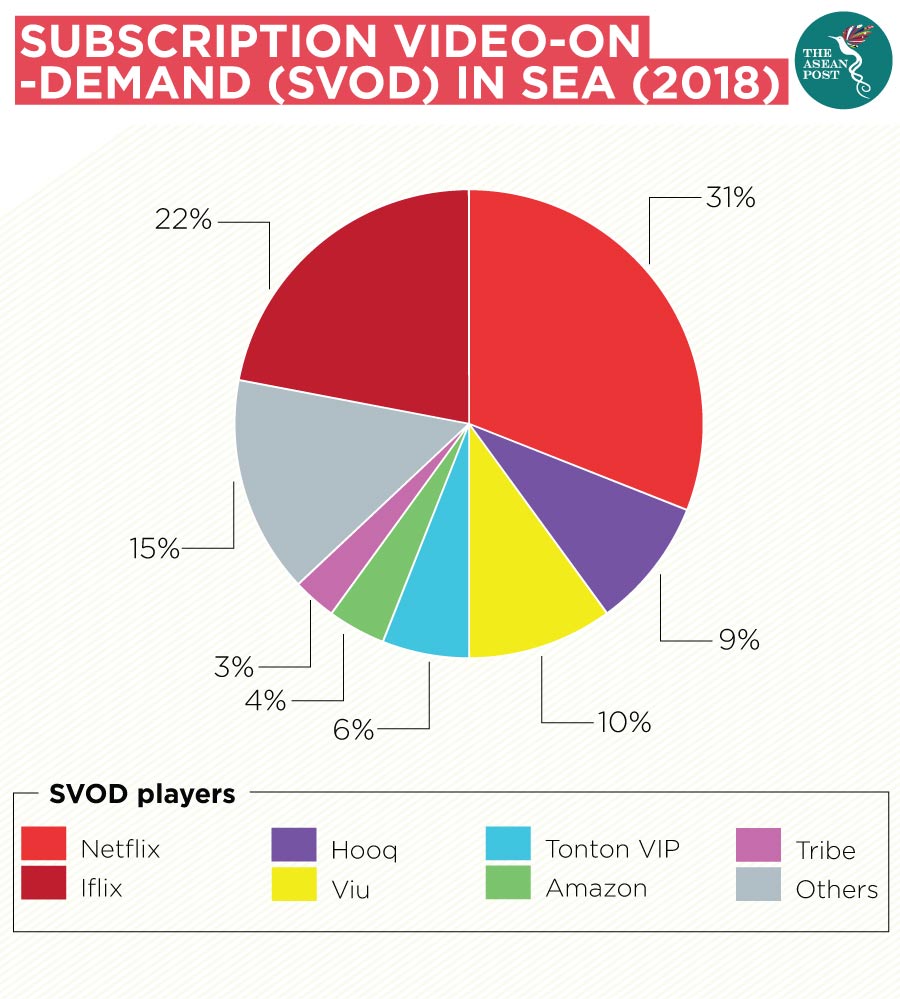 Johan Ishak, CEO of Media Prima Television Networks, said that "since 2018, Media Prima Television Networks has embarked aggressively in the democratisation of our popular content, going beyond our traditional ecosystem to cater for the increasing demand for digital content among consumers.
iflix has also partnered with Indonesia's largest integrated media company, PT Media Nusantara Citra (MNC), where they will acquire 10,000 hours of content from MNC to stream. Britt cited MNC's influence and resources as powerful advantages for iflix to cement its position as a digital entertainment service in Indonesia.
Longnos revealed that content is key for many new subscribers in Southeast Asia. Content drives the platform and in turn locks in consumers for a longer period. Exclusive and original content including sports is important to entice people to pay for streaming platforms. "Content partnerships help with stickiness and loyalty," Longnos explained. 
Challenges for SVOD
VOD providers are about to see even more competition as players like Disney and Apple are expected to enter the SVOD marketplace by the end of 2019. Disney Plus (stylized as Disney+), is expected to launch in November this year with an extensive catalogue of movies and animated films from classics to new features like the Marvel Universe and Lucas Films. Apple on the other hand is expected to launch its streaming service named Apple TV Plus.
Adding to the mix is an array of smaller streaming service providers producing original content such as Facebook Watch and YouTube Premium. Last year, Facebook won the rights to broadcast the English Premier League (EPL) in Thailand, Cambodia, Vietnam and Lao. This was a major coup as it posed a threat to linear TV platforms that traditionally own the broadcast rights for the EPL. However, in March 2019, the deal came to a standstill. Regardless, the news has pressured both, traditional broadcasters and subscription-based OTT service providers to experiment with more creative business models. 
According to insights by IAB SEA + India, released in 2019, an ad-supported VOD (AVOD) is coming to the region. iflix has moved from the conventional SVOD model to an AVOD one. The platform now offers its services free to all users. iflix is adapting to market demand and has since seen a growth in its customer engagement.
Other issues plaguing SVOD platforms are widespread piracy and copyright issues.
A 2018 survey commissioned by the Asia Video Industry Association's (AVIA) Coalition Against Piracy (CAP) and conducted by YouGov revealed that 15 percent of Singaporean consumers use Illicit Streaming Devices (ISDs) which allow them to access hundreds of pirated television channels and VOD content. The survey also found that 45 percent of Thais and 25 percent of Malaysian use ISDs too. 
The future of television is changing and it will be exciting to see what else is in store for consumers from the ever-growing number of OTT platforms in the region.
This article was first published on 27 August, 2019. 
Related articles:
Region's digital economy exceeds expectations