Vietnam must be feeling high-speed-rail (HSR) envy as its neighbours move ahead with their respective HSR projects, propelled by China's Belt and Road Initiative (BRI). The irony is, Vietnam had already planned for HSR ahead of everyone else, back in 2007.
Having shelved the initial project in 2010, the government there is now looking into reviving it. A study by a consortium of consultants Tedi-Tricc-Tedis reported that a proposed 1,545-kilometre HSR connecting Hanoi to Ho Chi Minh City with 20 stops may cost more than US$58 billion. Interestingly, the original project was shelved in 2010 over an estimated US$56 billion price tag.
In 2007, Vietnam's then-Prime Minister Nguyen Tan Dung announced plans for a 1,630-kilometre track linking Hanoi to Ho Chi Minh City. It was expected to reduce travel time by rail from over 30 hours to just under 10.
The project was first estimated to cost US$33 billion. It would be based on Japan's Shinkansen bullet train technology and funded by the Vietnamese government, Japanese development assistance funds and loans raised by Vietnam Railways.
However, by 2010, cost estimates ballooned to over US$56 billion. Critics argued that the cost was too high, the resultant high fares would be unaffordable and the railway will not serve the majority of Vietnam's citizens as they lived in rural areas.
Transport of choice
Rail may not be the Vietnamese peoples' transport of choice. The latest available statistics show train ridership at 11.2 million, compared to 3.1 billion people who travelled by road; 164 million on inland waterways; and 31.1 million by air. The rise of budget airlines such as AirAsia, Jetstar, and VietJet also made air travel cheaper and faster than rail.
About 85 percent of rail transportation in Vietnam is on the 1,726 km North-South Railway between Hanoi and Ho Chi Minh City. The line was bombed numerous times during World War II during the Japanese invasion of French Indochina, the First Indochina War and the Vietnam War. Much of the repairs to it cannibalised materials from minor railway lines.
Apart from the slow speeds, rail transport in Vietnam is also fraught with accidents and train crashes. Along the almost 3,000 km North-South Railway linking Hanoi to Ho Chi Minh, there are more than 4,200 illegal crossings, and in many sections, there are no safety corridors – houses can be found alongside the tracks.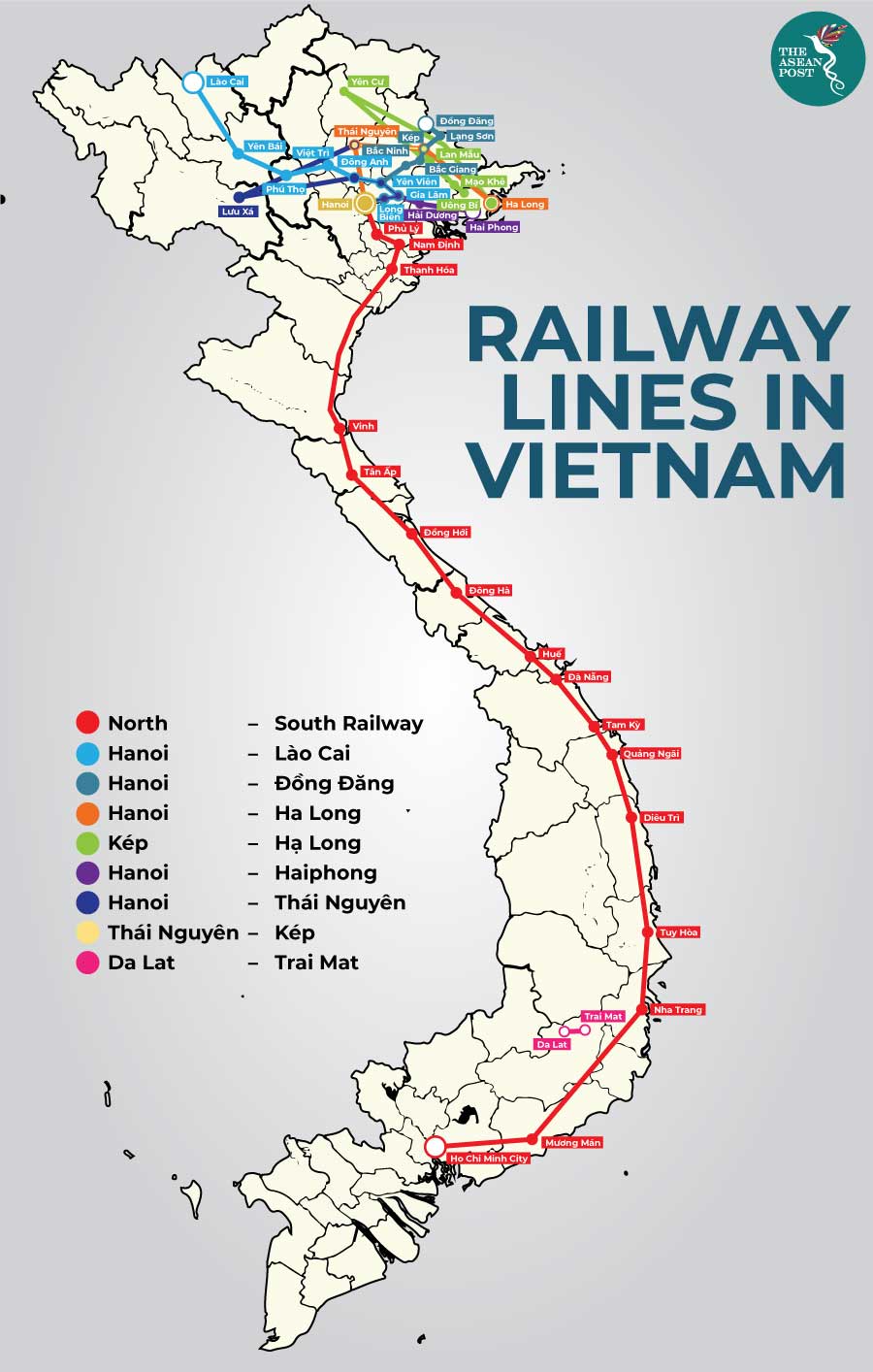 Vietnam Railway Authority's deputy head, Khuong The Duy said last year that relocating these houses to create a 15-metre boundary may cost as much as US$2.2 billion based on 2013 estimates. The actual cost could now be significantly higher. In some cases, these squatter houses have grown into large urban areas.
In June 2017, the government of Vietnam decided that rail is crucial to the national transport network. It amended the Railway Law, which came into effect in July 2018. Investors are offered easy access to land and funding, cheap loans and tax waivers.
The revived HSR plans call for construction to be done in three parts: Hanoi to Vinh city (285 km); Vinh City to Nha Trang (364 km); and Nha Trang to Ho Chi Minh City (896 km). The first and third sections would be developed in the first phase at a cost of over US$24 billion.
The Tedi-Tricc-Tedis consortium said high-speed trains with speeds of up to 350 km/h can compete with air transport. However, it recommended limiting speeds to 200 km/h in the first phase of operation and increasing it upon full completion of the line.
The BRI gave rise to HSR projects in Lao PDR, Thailand, Malaysia and Singapore, to create an HSR connection from China to Singapore (Malaysia has since postponed plans for its HSR link to Singapore). Only Cambodia and Vietnam lack HSR.
It may be a bitter pill to swallow today for Vietnam as the country laid claim to having the first and most modern railway system in Southeast Asia back in 1881; with the 70-kilometre Saigon (now Ho Chi Minh City) to My Tho line. The French who occupied Saigon then, continued with several other rail projects, including the North-South railway.
Despite competition from budget airlines and the unpopularity of rail travel, developing a modern HSR system may just be more a matter of pride for Vietnam.
Related articles:
Trans-Asian Railway chugs closer to becoming a reality