Once again Vietnam has set another local record in its solar sector. This time it is for rooftop solar installation. At the end of 2020, the country's rooftop solar installations added 9.3 gigawatts (GW) to its national grid. 
Vietnam outdid itself with a new record by creating an eight-fold increase in rooftop solar by the end of December 2020 from only 378 megawatts (MW) in 2019. What is more jaw-dropping is that 6 GW out of the 9.3 GW was built in the last month of 2020; when the solar rooftop feed-in-tariff from the government was about to expire.   
Vietnam raised the bar even higher after its first unexpected solar boom in 2019 when the country racked 4.5 GW worth of installations in less than two years after the feed-in-tariff was launched. The recent achievement has effectively made Vietnam the world's third-largest solar market in 2020.  
Even though 2020 was a quite bleak year as signs of progress in the ASEAN energy sector were pushed back due to the COVID-19 pandemic, Vietnam showed that the impact could be minimal for renewable energy (RE), especially solar, if mitigation measures for the pandemic and policy intervention for RE were done right. 
Vietnam's take on policy support for rooftop solar is quite distinct from the rest of its ASEAN neighbours. While other ASEAN Member States (AMS) are pushing for rooftop solar using a net-metering scheme aimed at self-consumption like in Malaysia and Thailand or mainly focused on residential usage like in Indonesia, Vietnam has policy support in place for solar rooftop using Feed in Tariff (FiT), just like it has done for ground-mounted solar. 
The price for the first round of rooftop solar is also the same for utility-scale solar plants, which is far above the price offered under typical net-metering. This scheme is quite favourable for the investor if they want to install rooftop solar, either for self-consumption or selling to the grid. 
With the inclusion of not only residential but industrial and commercial in terms of participation, Vietnam has attracted a huge deal of investment leading to around 101,000 rooftop solar installations to date. In short, Vietnam is trying to amplify its utility-scale solar, but instead of on land, they want it on the roof.
Bigger Role
This successful initiative for RE has influenced the country's planning for its electricity generation. The new Power Development Plan (PDP) 8 draft shows that Vietnam intends to allow RE a bigger role to play in the sector up to 2030 and even further to 2045. With high RE uptake in their grid, Vietnam will require a significant transmission capacity increase and an upgrade to more flexible grid operation which means coal capacity needs to be reduced. 
PDP 8 foresees significant cancellations of new coal-power plants. The country will see no additional coal-fired plants during 2026-2030 with 9.5 GW coal projects scrapped as outlined in the previous PDP as well as a 7.6 GW coal project pushed back until after 2030. Solar and wind are predicted to make up 28 percent of total system capacity in 2030 and 41 percent in 2045. 
The implications of the current solar boom to the country's electricity sector are quite clear. Vietnam's future power sector decisions and directives (such as the need for infrastructure investment and capacity upgrade, and increasing flexibility of the power system) will be shaped around the current RE success. But what does this bring to the ASEAN regional bloc?
If Vietnam keeps growing RE at its current pace, the country might help ASEAN to achieve its 23 percent target of RE in its overall energy mix by 2025.
With Vietnam being the new ASEAN tiger in terms of RE in the region, outstripping Thailand as the previous pioneer, it could likely bring the region closer to its RE target for 2025. In 2017, the ASEAN RE share in primary energy supply was still around 13.7 percent.  
According to the 6th ASEAN Energy Outlook, in order to fill the gaps and achieve its target, ASEAN will need to pursue a cumulative 138 GW RE capacity addition in the next five years, with solar (56 percent) and hydropower (22 percent) leading the composition of this addition. To have that much RE capacity expansion, ASEAN will require US$149 billion in additional cumulative investment until 2025. 
If Vietnam maintains its current pace of growing solar, it could do a great service by closing the gap in the region's current RE targets. Most importantly, Vietnam's experience with solar bloom – twice – has shown that seemingly impossible things can be possible, serving as inspiration for other AMS to follow a similar path, especially Indonesia, which has a big slice of the region's energy supply share. 
All hands indeed need to be on the deck for ASEAN to reach its RE targets, but with Vietnam in the lead, the bloc is well on its way to achieving its RE targets.  
Vietnam can also provide a great push for the ASEAN Power Grid, creating a new interconnection pathway with Vietnam as another main power trader.
Currently, the showpiece of multilateral power trading in ASEAN is the Lao-Thailand-Malaysia (LTM) power interconnection project which is expanding to include Singapore (LTMS). Lao PDR as the 'battery of ASEAN' has a significant role in bilateral or multilateral power trading due to its great hydropower resources.  
However, current climate change risks such as prolonged drought have heightened the challenge in sustaining supply for these power export-import interconnections in the Mekong region during the dry season.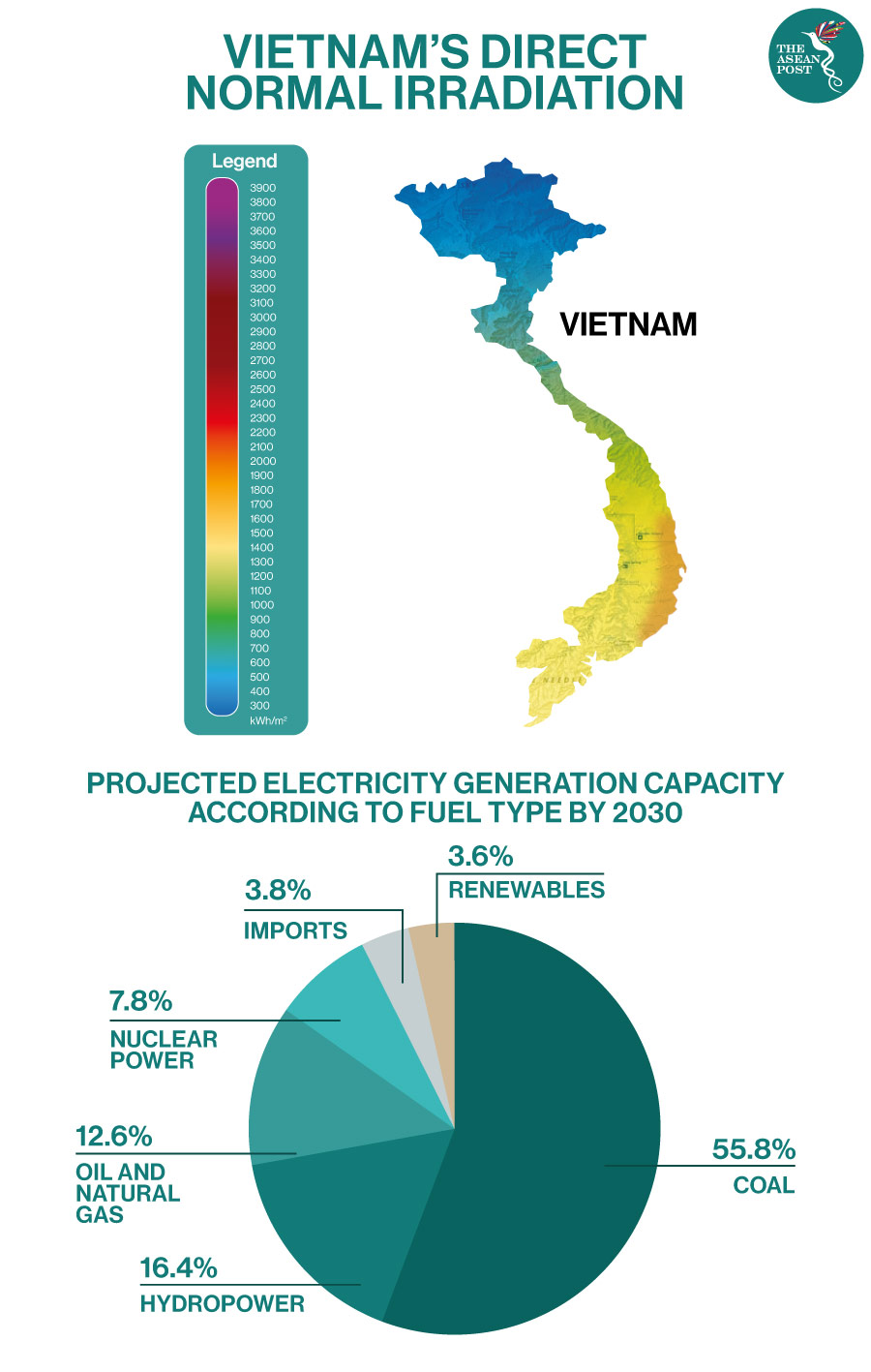 With surging solar and wind installation located mainly in the southern part of Vietnam, a possibility for making new interconnections with its ASEAN neighbour is becoming more feasible. The current solar boom has made Vietnam another RE trading option for ASEAN other than Lao PDR. It is possible that soon, the RE boom in Vietnam could ignite new multilateral trading under the ASEAN Power Grid.
With current and projected RE development, it could also be a possibility for Vietnam to sell excess RE generated electricity to Cambodia which perhaps can turn into a Vietnam-Cambodia-Thailand-Malaysia (VCTM) interconnection in the not-so distant future.
Global Investment 
Vietnam has put ASEAN on the global investment map, the rest is now up to the region.
Having twice experienced a solar boom – from a solar FiT program in 2019 to rooftop solar in 2020 –Vietnam has captured the global spotlight for RE investment. Becoming the third-largest market for solar in 2020, Vietnam has gained traction from global investors. This opportunity could bring the region a fortune as Vietnam opens the door for ASEAN countries to also receive a flock of investments for RE from foreign investors if only the regulatory framework is set right. 
With the region being the sixth-largest economy in the world, ASEAN is expecting a rapid growth of electricity demand from sustainable sources. This means that billions of dollars in RE investments are needed. 
If other AMS are quick enough to realise this opportunity and create a competitive market and conducive investment climate to allow such investments to come into their respective countries for RE, it is possible that the success of Vietnam can be replicated in other AMS. 
The solar boom in Vietnam has created a golden opportunity for ASEAN to accelerate its energy transition. Vietnam has provided a boost to the region's lagging confidence that the 23 percent RE target of 2025 is indeed achievable, provided all AMS can show similar vigour and spirit in developing RE as Vietnam has.
Related Articles:
Vietnam Leading ASEAN's Solar PV Market