Pressures from population growth and an economic boom have increased demand for water in Vietnam, risking depletion of the valuable resource and threatening the country's gross domestic product (GDP) by up to six percent by 2035 – a year's worth of GDP growth.
About 8.5 million urban citizens in Vietnam lack access to clean water, and in rural areas, about 41 million dwellers do not have clean water supply. Water outages in Vietnam expanded nearly threefold between 2009 and 2015, and within 25 years, the urban population is expected to require twice the daily water supply that current systems can provide – a worrying prediction considering Vietnam's population is steadily growing, rising from about 60 million in 1986 to 97 million in 2018.
Even in the country's largest urban centre, Ho Chi Minh City, nearly a quarter of its 8.6 million people depend on water tankers as their primary source of water. 
As the World Bank noted in a press release last month, ensuring future water security in Vietnam will depend on meeting a host of critical challenges including emerging water stress, fast deterioration of water quality and rising water-related disaster risks.
Vietnam's rapid increase in water demand will lead to water stress in 11 out of 16 river basins in the country by 2030 during the dry season, and there is growing competition among multiple sectors for water against a backdrop of worsening water quality. In addition, climate change is intensifying water challenges, creating an even greater need to manage water effectively.
"Unless decisive steps are taken, water, which has been a driving force behind Vietnam's rapid growth, will become a brake on development," warned the World Bank's country director for Vietnam, Ousmane Dione.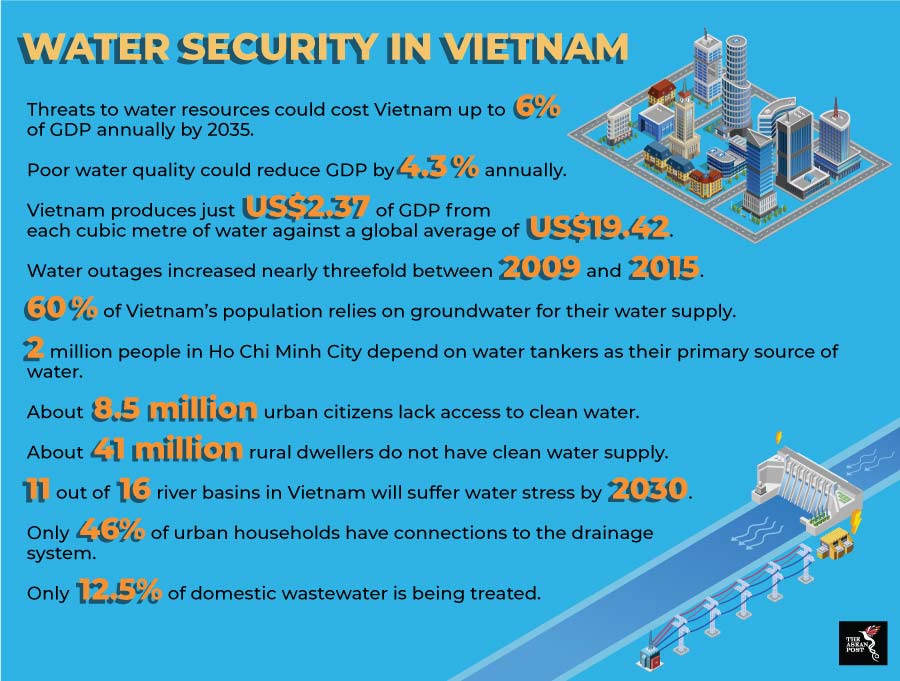 Source: World Bank
Strong economy 
With the state playing an increasingly important role in Vietnam's economy since the mid-1980s, more than half of the country's population has been lifted out of poverty. Vietnam's GDP per capita has also multiplied 10-fold since 1985. 
Fast-forward to 2019, and Vietnam is the biggest winner from the trade war between China and the United States (US). Japanese investment bank Nomura this week stated that Vietnam gained almost eight percent of GDP over the past year as importers from the world's two largest economies change suppliers to avoid paying increased tariffs with most of the gains coming in Vietnam's electronics industry.
All this is now at risk.
Apart from the possible six percent dent to its GDP by 2035 as pointed out by the World Bank's 'Vietnam: Toward a Safe, Clean, and Resilient Water System' report released last month, other findings include the low productivity of water use in the country – particularly in the agriculture and aquaculture sectors which account for 92 percent of Vietnam's water usage.
One cubic meter of water produces just US$2.37 of GDP in Vietnam against a global average of US$19.42, proving that the country has potential to generate far greater economic benefit from its water.
Threats  
While the four river basins that generate 80 percent of Vietnam's GDP — the Red-Thai Binh, Mekong, Dong Nai, and South East River Cluster — are all expected to face water stress in the dry season by 2030, there are further water related challenges to sustainable socioeconomic growth including ground-water overexploitation, surface and groundwater pollution, aging water supply infrastructure, emerging water-sharing conflicts and increasing natural disasters. 
Water pollution, though, is the greatest threat to GDP and it could cost Vietnam up to 3.5 percent of GDP annually by 2035. Urban development, discharge of untreated industrial wastewater and use of agricultural fertilisers and pesticides are placing unrelenting stresses on water bodies, and according to data from Vietnam's Ministry of Construction, only 46 percent of urban households are connected to the drainage system.
Just 12.5 percent of domestic wastewater is being treated, a figure which does not include the untreated wastewater from industrial facilities outside industrial zones. 
Reverse trends
In order to reverse these trends, it is vital that the government of Vietnam strengthens and enforces regulations to improve water quality along with use of cost-effective solutions to control pollution.
Opportunities to use water more productively, such as by switching to crops and irrigation systems that give 'more income per drop', are also key, as is reducing water usage through the implementation of innovative technology and having appropriate tariff mechanisms to create incentives for efficient and productive use of water.
As Tran Hong Ha, Vietnam's Minister of Natural Resources and Environment stressed last month, Vietnam will soon have no water unless its water resources are managed in a uniform and coordinated way and shared and used reasonably and effectively.
Related articles:
Water stress and its link to renewables in ASEAN
ASEAN to gain most from trade war