Vietnam's numbers are looking impressive so far in 2018. The country's business environment grew tremendously at the start of the year with over 26,000 new enterprises established. In addition to that, the government there highlighted that foreign direct investment (FDI) disbursement reached over US$3.8 billion in the first three months of this year, up 7.2 percent from 2017. Overall, the socialist state's gross domestic product (GDP) grew by 7.1 percent year on year in the first six months of 2018 – the fastest growth recorded since 2011. Among the best performing sectors is manufacturing, with an output growth of 13 percent in the first half of the year.
Vietnam's rapid growth over the past decade is mostly due to the country's move away from a strict controlled economy to a system that's more liberal. For the past decade, the country has taken on reforms like deregulation which has seen an influx of private enterprises and foreign investment.
Doi Moi Policy
Vietnam first began its economic reform in 1986 by adopting the Doi Moi policy. The Doi Moi policy came into being after Vietnam faced an economic crisis which resulted in its inflation rate going up to 700 percent. Furthermore, at the time, Vietnam was staunchly communist in an era where Cold War politics was at its height. Vietnam was facing embargoes and had difficulty carrying out trade. The country was also still recovering from its war with Cambodia in 1975 and the war with the United States (US) before that.
The aim of Doi Moi was to establish a "socialist-oriented market economy". With Doi Moi in place, Vietnam saw reforms that encouraged privately owned enterprises. The Communist Party also overturned its policy on collective farming and recognized private land use rights. Prior to Doi Moi, there was no private sector in the country, but today it has become a crucial component in Vietnam's growth.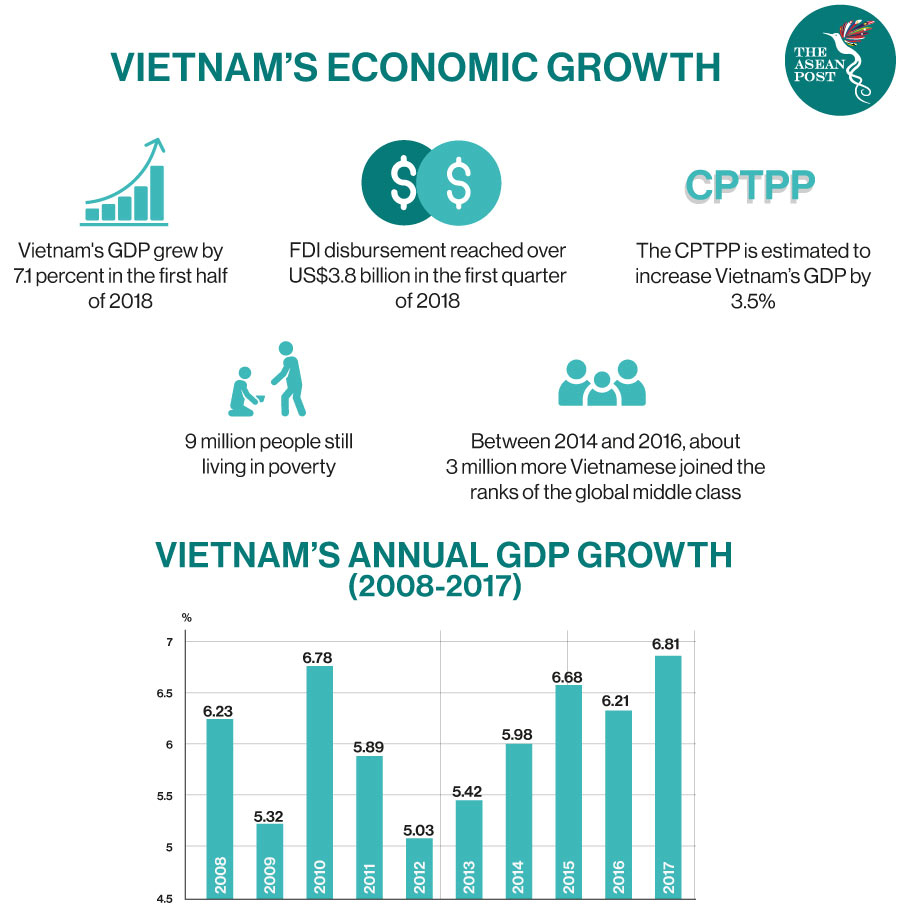 30 years on and the spirit of Doi Moi still lives on. The economic reforms carried out by the Communist Party has made Vietnam one of the region's fastest growing economies. The World Bank has also pointed out in its Global Economic Prospects report that Vietnam is one of six countries in East Asia with real GDP growth of more than six percent.
The government of Vietnam has announced further reforms to their economy this year. Most recently, in an effort to make Vietnam more regionally competitive, Prime Minister Nguyen Xuan Phuc revealed that the country will cut corporate income tax rates from between 20 to 22 percent to 15 to 17 percent. Furthermore, in March, the Ministry of Transport proposed to enhance services in maritime areas and multi-modal transportation by easing business conditions and regulations. If their ministry's proposal goes through, 314 out of the current 500 regulations will be cut.
Another notable step Vietnam has taken to open up its economy is by signing the Comprehensive and Progressive Agreement for Trans-Pacific Partnership (CPTPP), which the World Bank has estimated will increase Vietnam's GDP by 3.5 percent.
The benefits of Vietnam's reforms are also enjoyed by its people. In the World Bank's latest report titled "Climbing the Ladder: Poverty Reduction and Shared Prosperity in Vietnam," Vietnam has successfully reduced its rate of poverty by 13 percent last year. However, while many are out of poverty, income inequality is now on the rise in Vietnam. According to global aid and development charity organisation Oxfam in 2017, the yearly earnings of Vietnam's 210 richest people is enough to lift 3.2 million people out of poverty and end extreme poverty in the country.
Poor Political Reforms
Despite its stellar growth, Vietnam's political reforms haven't really matched the reforms seen in its economy. Rights groups have often criticised Vietnam for its treatment of bloggers and dissidents. According to Human Rights Watch (HRW), the government there convicted and imprisoned at least 27 rights bloggers and activists under various abusive laws in the first six months of 2018.
"Vietnam seems to be contending for the title of one of Asia's most repressive governments," said Phil Robertson, deputy Asia director of HRW.
Vietnam may be enjoying its highest economic growth in modern times, but reforms are needed to ensure the Communist Party stays accountable. The state has taken great strides to increase the nation's wealth, but what's the point of prosperity if its citizens are unhappy?
Related Articles:
Special Economic Zones to spur Vietnam's growth
Vietnam sets its sights on solar