Coronavirus cases worldwide are fast approaching the 22 million mark with over 700,000 fatalities related to the disease. As the pandemic threatens lives, ravages livelihoods, businesses and the economy in general, scientists across the world are racing to develop a vaccine for the illness. Until a viable vaccine is found, the new normal such as obligatory mask wearing and virus restrictions are likely to stay indefinitely. 
A week ago, it was reported that Russian President Vladimir Putin announced that a locally developed vaccine for the new coronavirus has been given regulatory approval after less than two months of testing on humans. Officials said that they plan to start mass vaccination in October. 
The vaccine has been dubbed 'Sputnik V' and developed by the Gamaleya Research Institute of Epidemiology and Microbiology in Moscow, part of Russia's Ministry of Health. The Sputnik V, a reference to the 1957 Soviet Union satellite, is expected to provide immunity from the SARS-CoV-2, the virus that causes COVID-19, for up to two years. It is said that the vaccine would be administered in two shots, 21 days apart. 
Despite global scepticism over its safety and effectiveness, some countries have shown interest in the Sputnik V.
It was reported that ASEAN member state Vietnam is looking to buy a bulk order of Russia's coronavirus vaccine. Whereas Malaysia's Deputy Health Minister, Aaron Ago Dagang said that the country would adopt a wait-and-see approach towards the Sputnik V vaccine.
Over in the Philippines, President Rodrigo Duterte expressed his "huge trust" in Russia's efforts to stop the contagion. 
"I believe the vaccine that you have produced is really good for humanity," the president said, praising Putin. "I will be the first one to be experimented on," he added.
Nevertheless, his spokesman Harry Roque later said that Duterte will not receive the inoculation until regulators guarantee its safety. "May 1 is when the PSG (presidential security group) may allow him, once all requisite tests have been finished," Roque told reporters.
Is It Viable?
More than 100 vaccines around the world are currently in early development, with some of them being tested on people in clinical trials. Nevertheless, despite progress, many observers believe that any vaccine would not become widely available until next year.
"When candidate vaccines make it to human clinical trials, they first go through Phase 1 trials primarily to test the vaccine's safety, determine dosages and identify any potential side effects in a small number of people. Phase 2 trials further explore safety and start to investigate efficacy on larger groups. The final stage, Phase 3 trials, which few vaccines ever make it to, are much larger, involving thousands or tens of thousands of people, to confirm and assess the effectiveness of the vaccine and test whether there are any rare side effects that only show up in large groups," explained  the Global Alliance for Vaccines and Immunisation (GAVI).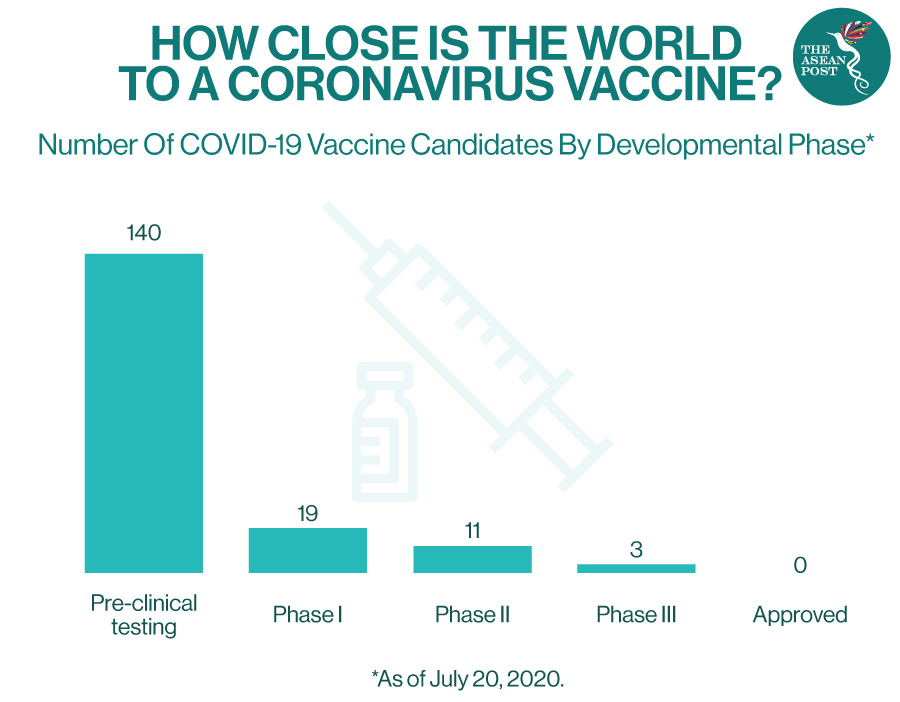 However, Russia's speed of work in the case of the Sputnik V vaccine has raised concerns among experts, many suggesting that researchers might be cutting corners. According to the media, the Russian vaccine has not yet completed its Phase 3 trials, but they claim that volunteers in the Phase 1 and 2 trials were well after taking the vaccine, showing no negative side effects.
Last week, it was announced that a Phase 3 trial involving over 2,000 participants in Russia, and several Middle Eastern and Latin American countries had begun. Nevertheless, as stated by GAVI, this crucial stage would typically involve testing tens of thousands of people.
According to Dr Scott Gottlieb, former commissioner of the United States (US) Food and Drug Administration (FDA), the number of people that the vaccine had been tested on so far was the equivalent of a Phase 1 trial.
But Russian Health Minister Mikhail Murashko believes that the vaccine had "proven to be highly effective and safe", claiming it as a big step towards "humankind's victory" against the new disease.
But without data and completed Phase 3 trials, it is uncertain if the Sputnik V vaccine is entirely effective.
Responses
The Russian vaccine is not among the World Health Organisation (WHO)'s list of vaccines that have reached Phase 3 clinical trials. But media reports say that the WHO is in touch with Russian authorities to review details of the trials.
Some scientists and health professionals have expressed concerns that the vaccine could cause dangerous side effects. Other than that, it is said the Sputnik V also may not provide protection against the novel coronavirus. If people take the dosage and believe that they are immune – when they aren't – it could put many at risks of contracting the virus.
Despite criticism from experts, the Russian Health Ministry said that the country has already produced the first batch of its COVID-19 vaccine. The Sputnik V vaccine will be rolled out by the end of the month.
"I hope that the Russians have actually, definitively proven that the vaccine is safe and effective. I seriously doubt that they've done that," said Dr Anthony Fauci, director of the National Institute of Allergy and Infectious Diseases in an interview.
The question now is whether the Sputnik V vaccine is safe and effective or not. 
Related Articles:
Duterte To Skip Philippine Trial Of Russia Vaccine