Despite the devastating impact that single-use plastic has on the environment, none of ASEAN's 10 member countries are anywhere near joining the 80 other countries which have implemented complete nation-wide bans on it.
Half of all plastic produced is designed to be used only once before being thrown away, and only a dismal nine percent of plastic produced globally since 1950 has been recycled – with the remaining either incinerated or ending up in landfills, dumps or marine environments.
With an estimated five trillion plastic bags used worldwide every year, it is easy to see why the United Nations Environment Programme (UNEP) predicts that the world's oceans could contain more plastic than fish by 2050.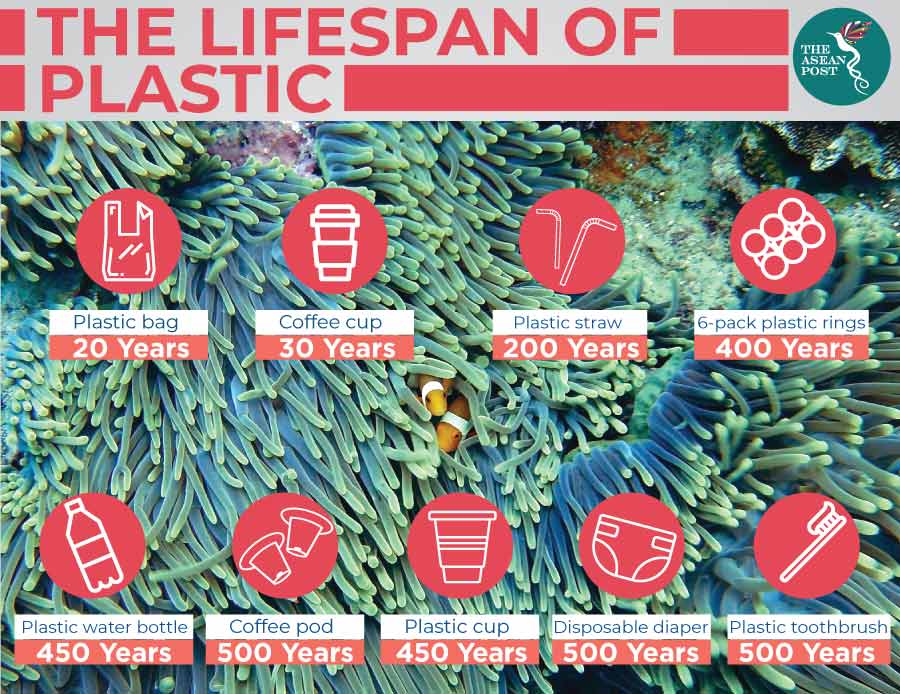 As a region which hosts a third of the world's coastal and marine habitats, ASEAN simply cannot afford to see more clogged waterways and choked marine life – and its politicians and business leaders are now growing increasingly aware of the dangers of single-use plastic.
Political will
In the Philippines – one of the world's worst plastic polluters – President Rodrigo Duterte only proposed a nationwide ban on single-use plastic earlier this month. 
Environmental group Global Alliance for Incinerator Alternatives estimates that the Philippines discards 60 billion pieces of sachets and 34 billion pieces of plastic bags each year, and there are several bills currently pending in Congress which aim to address plastic pollution in the Philippines.
In Thailand, where environmental group Greenpeace says about 75 billion pieces of plastic bags end up in garbage each year, Prime Minister Gen Prayut Chan-o-cha used International Plastic Bag Free Day on 3 July to announce that the government will end the use of certain plastic bags, straws, cups and food containers by 2022.  
Retailers have welcomed the move, and 43 department stores and convenience stores have promised they will stop providing single-use plastic bags to customers from January 2020.
Across the border in Vietnam, Prime Minister Nguyen Xuan Phuc launched a campaign to fight plastic pollution, pledging to ban single-use plastic nationwide by 2025 and removing it from urban markets, convenience stores and supermarkets by 2021.
While Malaysia's Ministry of Energy, Science, Technology, Environment and Climate Change admits there is no uniform approach to address single-use plastic in the county, its 'Roadmap towards Zero Single-Use Plastics' released in October 2018 outlines the country's plan to abolish single-use plastic by 2030.
In Singapore, over 270 food and beverage (F&B) outlets agreed in July to remove straws completely from their premises – or provide them only upon request – in a major industry push to reduce the use of plastic disposables as part of PACT (Plastic ACTion), a World Wide Fund for Nature (WWF) initiative supported by the National Environment Agency (NEA) and non-governmental organisation (NGO), Zero Waste SG.
"Local support to reduce unnecessary plastics has grown in tandem with awareness about the environmental impact of plastic disposables," said Pek Hai Lin, Manager of Zero Waste SG. 
"With more people now opting to bring their own reusable containers, bags or straws, we hope to see the movement encourage businesses to reduce other single-use plastic disposables too." 
Shift in mindset
But is this all too little too late?   
New Zealand became the latest major economy to ban plastic bags in July, and according to the UNEP, more than 80 countries have already introduced similar bans on single-use plastic.
In ASEAN, though, while certain cities have introduced levies or adopted bans on single-use plastic – such as Balikpapan in Indonesia, Penang in Malaysia, Naypyidaw in Myanmar and Muntinlupa in the Philippines – no country has yet to adopt a nation-wide ban.
Such bans on single use plastic have been proven to work in Southeast Asia.
Take for example the Indonesian city of Banjarmasin, which saw an 80 percent reduction in the consumption of plastic bags just one year after a ban was introduced in 2016.
Considering the facts, it is surprising that more has not been done to increase the use of alternatives to single use plastic such as utensils or packaging made out of natural materials such as banana leaves, coconut fibre or bamboo sticks.
Clearly, the political will to push laws through and strict enforcement to ensure these laws are adhered to, has to be present.
However, underlying all these laws has to be a change in mindset from consumers – who have to understand the damage that single-use plastic has on the environment.
Consumers have to realise that a wiser approach to their consumption patterns is the only way to stop single-use plastics from continuing to pollute ASEAN's most valuable natural resources.
Related articles:
Oceans under increasing stress  
Philippines has massive plastic waste woes