Standard and Poor's (S&P) Global Market Intelligence recently commissioned an inaugural report on the growth of e-money in Southeast Asia. 
The report, titled "The 2019 Southeast Asia E-Money Market", involved five ASEAN countries (Indonesia, Malaysia, Singapore, the Philippines and Thailand) – also known as the ASEAN-5 - and found that the number of e-money transactions in the region increased by more than 31 percent in 2018, with Indonesia and the Philippines showing the greatest growth potential for non-bank e-wallets.
The report also found that e-money has dethroned debit and credit cards as the reigning payment method in Southeast Asia, with more than 10 billion aggregate transactions in 2018. Of the more than 10 billion e-money transactions in Southeast Asia last year, 34 percent occurred in Singapore – making it the largest hub of cashless transactions in the region.
Nevertheless, Indonesia is driving e-money growth in the region. S&P Global Market Intelligence estimates that e-wallets' share of total e-money volumes in Indonesia grew to 36 percent in 2018 from less than 10 percent in 2017.
"The number of e-money transactions in ASEAN-5 countries exceeded 10 billion in aggregate in 2018 and grew more than 31 percent in 2018. The popularity of these instruments surpasses that of debit and credit cards in the region," the report noted.
The number of cashless transactions in Indonesia rose to over two billion in 2018, accounting for around 20 percent of the total 10 billion transactions in Southeast Asia.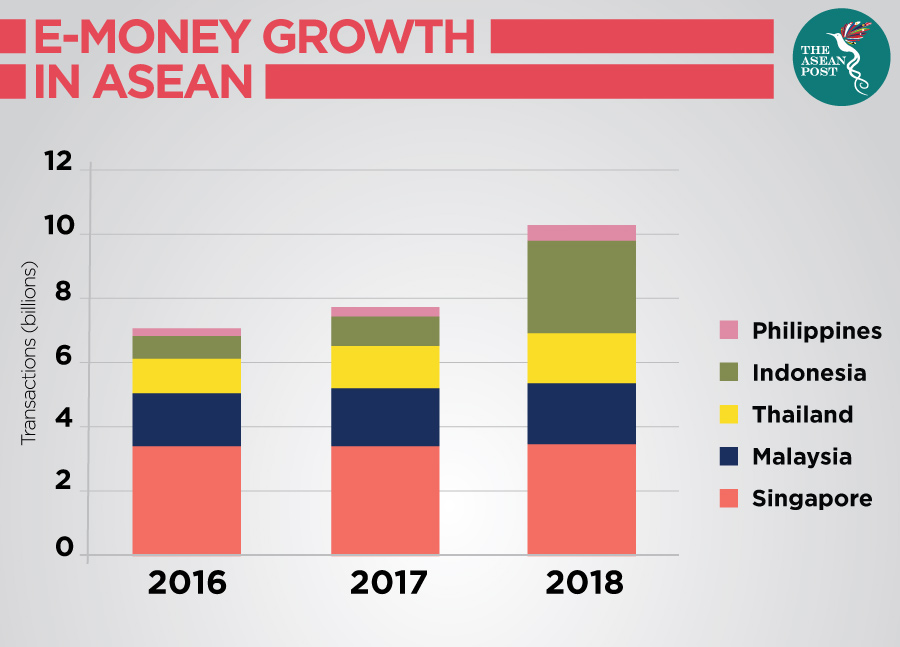 S&P Global Market Intelligence's review of payment trends and underlying infrastructure also shows that e-wallets run by non-banks have the highest growth potential in Indonesia and the Philippines. 
"The growing mismatch between the high availability of smartphones and low banking penetration in cash economies creates the potential for strong e-wallet uptake," the report added. 
Earlier in May this year, Market research firm Canalys named Indonesia as the fastest growing market for smartphones in Southeast Asia. The smartphone market in Indonesia grew 20 percent throughout the year, spurred on by its people's lifestyles and a growing economy.
According to We Are Social, there were 355.5 million mobile subscriptions in Indonesia (133 percent of the total population) as of January 2019. The higher number could be due to the fact that some users have more than one smartphone. 
Go-Jek
According to the report, based on the number of transactions, the market share of e-wallets in the overall e-money space in Indonesia was largely driven by the Go-Pay e-wallet embedded in ride-hailing app, Go-Jek.
Indonesian ride-hailing service Go-Jek's value has been estimated at US$10 billion by a United States (US) market intelligence company, putting it in the ranks of start-ups known as decacorns.
New York-based CB Insights has listed Go-Jek among 19 decacorns around the world, along with the likes of Uber Technologies Inc. That would make Go-Jek Indonesia's first start-up to join the US$10 billion market-valuation club, and the second in Southeast Asia after rival ride-hailing service, Grab.
The S&P report estimates that Bank Mandiri, Bank Rakyat Indonesia and Bank Central Asia collectively held a 67 percent share of the e-money market in Indonesia in 2018, as measured by transaction volume. However, the three banks' stranglehold on the market may be broken by Go-Jek's Go-Pay as well as the payment platform, Ovo. 
"Within two years of its launch, Go-Pay's e-wallet accounted for more than 26 percent in e-money transactions in 2018, according to our estimates. Ovo's e-wallet has emerged as another strong contender to lead the e-money market in Indonesia thanks to its partnerships with ride-hailing company, Grab and e-commerce company, Tokopedia." 
The report also noted that recent trends suggest that non-banks have already emerged as dominant e-money providers in Indonesia. Outstanding value of funds in e-money accounts held with non-banks accounted for 36.4 percent of total e-money outstanding value at the end of 2018, but that percentage grew to 54.6 percent as of August 2019. 
"While banks accounted for more than 67 percent of e-money usage, based on number of transactions, we expect banks to concede their dominance to non-banks in 2019."
With Indonesia's large and mostly young population, its embrace of smartphones and the cash economy, S&P's forecast might be right on the money.
Related articles:
Need for regulation grows in tandem with e-payments push in Southeast Asia