This year has been eventful and it's still just the middle of March. The world greeted 2020 with paranoia and caution as the COVID-19 novel coronavirus spread around the globe. Malaysia is no exception to the outbreak with over 100 people tested positive for the virus as of 12 March. 
In late February, the country was in turmoil as former Prime Minister Dr Mahathir Mohamad resigned from his position and an alleged 'backdoor government' was formed. Political drama and claims of betrayal from various parties headlined the local news. The king then appointed Muhyiddin Yassin, the former deputy president of Pakatan Harapan (Pact of Alliance) as the eighth Prime Minister of Malaysia. 
Muhyiddin's new coalition, Perikatan Nasional (National Alliance) includes the United Malays National Organisation (UMNO), the political party of disgraced ex-prime minister Najib Razak, as well as the Malaysian Islamic Party or Parti Islam Se Malaysia (PAS) that wants tougher Islamic laws to be implemented. The list of Malaysia's new Cabinet ministers was announced on 9 March, 2020 and some Malaysians are not too happy about the line-up.
One of the most discussed appointments was that of Siti Zailah, who serves as the new deputy minister of the Women, Family and Community Development (KPWKM) Ministry in Malaysia.
Siti Zailah has been criticised on social media, particularly on Twitter as her old tweets regarding child marriage have resurfaced and are going viral.
According to local media reports, back in 2017 in a parliamentary debate on the Child Sexual Offences Bill – a member of parliament (MP) from Kulai, a district in the southern state of Johor in Malaysia, proposed to include a minimum age for marriage in the bill. However, Siti Zailah argued against the bid and used religion to exclude this clause from the bill.
The minister was then reported to have said that there is a difference between sexual offences against children which is an act of violence - and underage marriage. This sparked an outcry from local activists.
Although most of these reports on Siti Zailah's stance on child marriage are from the past, her predecessor, Hannah Yeoh has expressed concerns that the issue of child marriage is going to be brushed aside due to the appointment of the new KPWKM deputy minister. 
Child brides are not unheard of in Malaysia. According to a United Nations (UN) report from 2010, over 80,000 married women in Malaysia were girls between the ages of 15 and 19. However, the actual number could be higher as many couples do not register their marriages.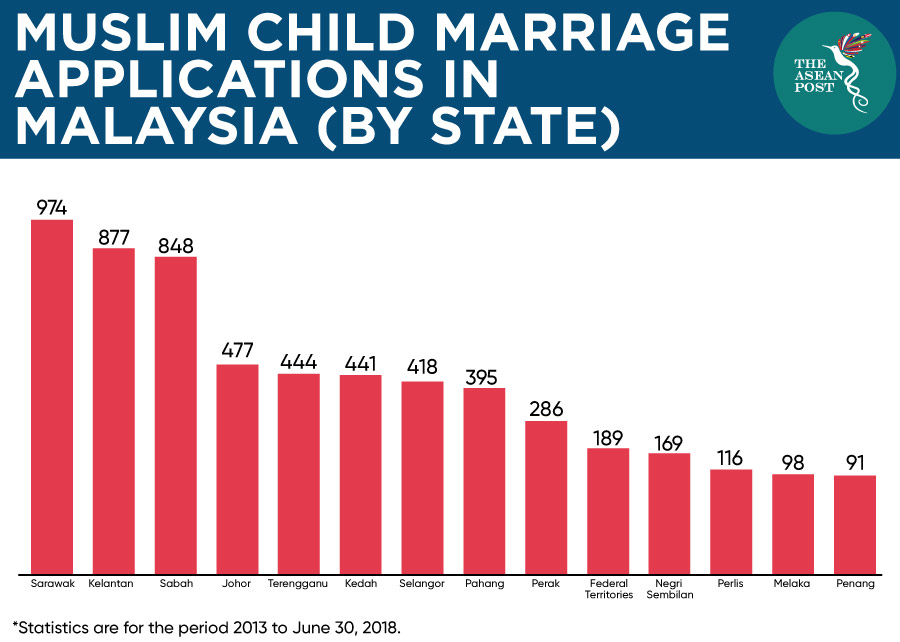 Girls Not Brides, an organisation committed to ending child marriage stated that child marriage in Malaysia is driven by a few factors which include trafficking, traditional attitudes, gender norms and pre-marital sex. 
There have been many cases in Malaysia where parents are too poor to support their children and would marry off their young daughters to older men so that they are taken care of. According to reports, some young wives were alleged victims of marital rape – which has yet to be criminalised in the country. 
Some conservatives would also argue that it is better for girls to marry at a young age in order to curb pre-marital sex in the Muslim-majority country. In 2014, the UN expressed concern that authorities in Malaysia were encouraging child marriage to curb pre-marital sex and children born out of wedlock. Sex outside of marriage is an offense in Malaysia. This often drives youths into marriage out of fear of prosecution. 
Five-year plan
In 2018, following public outcry over the case of a 41-year-old man who married an 11-year-old girl in the east coast state of Kelantan in Malaysia, the government at the time responded by saying that it was in the process of drafting a bill that would ban child marriages in the country. 
In 2019, former KPWKM minister and former deputy prime minister, Dr Wan Azizah Wan Ismail stated that the federal government could not enforce a total ban on child marriages nationwide as seven states in Malaysia disagreed with the proposed bill. Only the state of Selangor in which the capital of Malaysia, Kuala Lumpur is located has successfully amended its laws on child marriage. Five other states have also agreed to amend their laws.
Earlier this year, Dr Wan Azizah Wan Ismail launched the national strategic plan to address the causes of underage marriage. The plan comprised of seven objectives, 17 strategies and 58 programmes to tackle the causes in the next five years. 
Among the causes identified are poverty; lack or no access to reproductive health education; lack of access to education and society's stigma that marriage is the best choice to solve problems.
"These causes will be addressed through policy changes, to amend the relevant laws and the implementation of awareness programmes and activities," said Dr Wan Azizah Wan Ismail. 
Child marriage strips girls off their right to a proper education and better opportunities. Hopefully, Siti Zailah and Rina Harun, who was appointed as KPWKM minister will continue with the efforts and initiatives of their predecessors in fighting for women's and children's rights in Malaysia.
Related articles:
Malaysia in crisis as Mahathir rejects new PM