Other than preying on humans, the deadly COVID-19 virus has severely affected livelihoods, local businesses and the economy in general. Major industries such as tourism and aviation have been hit hard by the pandemic. According to the International Air Transport Association (IATA), which includes 290 airlines among its members – the sector faces a revenue drop of a mammoth US$113 billion due to the coronavirus crisis.
Many have also lost their jobs, and millions more will lose theirs in the near future. The Asian Development Bank (ADB) has said that the pandemic will threaten the employment of 68 million workers across Asia if it goes on until September.
The World Economic Forum (WEF) in partnership with global professional services group, Marsh & McLennan and the Zurich Insurance Group recently released a report titled 'COVID-19 Risks Outlook: A Preliminary Mapping and Its Implications' which taps into the views of nearly 350 senior risk professionals who were asked to look at the next 18 months and rank their biggest concerns in terms of likelihood and impact for the world and for business.
According to the report, the economic fallout from the COVID-19 pandemic dominates companies' risks perceptions. Two-thirds of the professionals identified a prolonged global recession as the number one worry for businesses. Whereas some cited the increase in data fraud, breakdown of IT infrastructure, and another pandemic as critical concerns. 
Recession
It was recently reported that Japan's economy had entered a recession for the first time since 2015. Experts believe that more countries will soon follow this grim trend. Over in Singapore, the central bank of the island-state said that a recession in the country's trade-reliant economy could be deeper than forecasted. A local news agency stated that Singapore's hard-hit economy shrank 2.2 percent in the first quarter of 2020 – its sharpest contraction since the 2009 Asian financial crisis.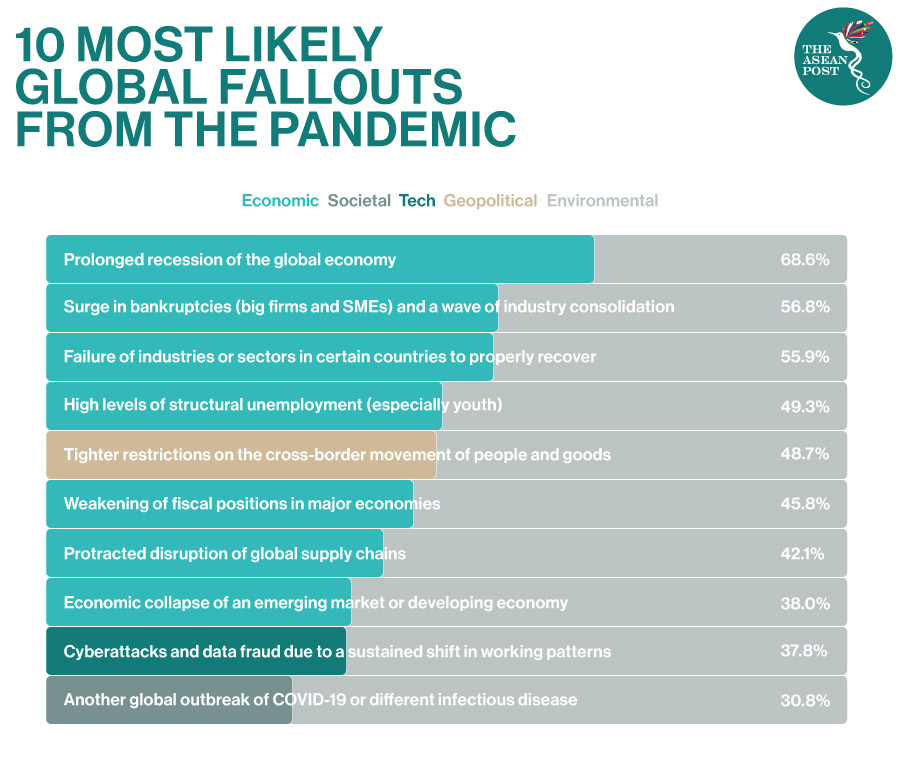 According to media reports, most economies in the ever-developing Southeast Asia have not suffered a recession since the Asian financial crisis of 1998. Nevertheless, growth in Asian economies is predicted to slow by almost four percentage points in 2020 in a best-case scenario as a result of the pandemic, according to the World Bank. This could push the region into recession and plunge 11 million people into poverty, the bank noted in a report.
Southeast Asia's second largest economy, Thailand foresees the reality of a recession to hit sooner than expected. Media reports in the country have stated that the ASEAN member state's economy contracted at its sharpest pace in eight years in the first quarter of 2020. "The outbreak impact in Q2 will be much bigger than in Q1," said Phacharaphot Nugtramas, an economist at Krung Thai Bank, who predicts the Kingdom's economy will shrink 8.8 percent this year.
Neighbouring Malaysia is also reported to be facing the worst recession in its history.
Cyberattacks
One of the most worrisome fallouts for companies according to the WEF report is the increase in cyberattacks and data fraud. COVID-19 has accelerated the adoption of a digital culture worldwide. From people using computer gadgets to work from home, to contact tracking applications and devices, fast data exchange and processing, technology has been a vital part of the response to the pandemic. 
This means that cyberattacks and data fraud are likely to happen more often. A simple example is this; the demand for information on COVID-19, accompanied by fear and anxiety has created opportunities for cyber criminals to deliver malware (malicious software such as viruses), ransomware (a type of malware that threatens to publish the victim's data unless a ransom is paid) and phishing scams (fraudulent attempt to obtain sensitive information). 
"The techno-optimism that accompanied the rise of the internet was already dampened by rising cybercrime, concerns about the security of networked technologies, the risk of cyberwar and suspicions about data manipulation to shape perceptions. As the COVID-19 crisis accelerates dependency on technologically-enabled economic processes, it is also exacerbating those cyber-risks," stated the WEF in the report.
Another Outbreak
To date, nearly five million people have been infected with the COVID-19 virus, taking with it over 300,000 lives. In order to flatten the coronavirus curve, governments across the globe have imposed strict measures such as nationwide lockdowns and travel curbs. Fortunately, these measures seem to be working for most countries. ASEAN member states, Malaysia and Thailand have reported that they will be gradually easing their virus restrictions as cases gradually drop. 
Nevertheless, without a viable vaccine, fears of a second wave or outbreak looms over nations worldwide. According to news reports, over 100 million people in China's northeast region have been placed under lockdown once again as new clusters of infections have been growing recently. The region is now in "high alert" after lifting its virus curbs not long ago.
Based on WEF data, around 30 percent of respondents worry that another global outbreak of the disease or a different infectious virus will arise. Could the world be facing a second wave of COVID-19 as countries relax their lockdowns? Some observers believe so.
Other top concerns mentioned in the WEF report include high levels of unemployment, tighter restrictions on the cross-border movement of people and goods, and disruption of global supply chains – among others. These are valid concerns amid the pandemic. On a positive note, the WEF stated in a press release that a "green recovery" and more resilient, "cohesive, inclusive and equal societies" can emerge if world leaders act now.
"To create the conditions for a speedier recovery and a more resilient future, governments and the private sector need to work together more effectively. Along with major investments to improve health systems, infrastructure, and technology, one of the outcomes of this crisis has to be that societies become more resilient and capable of withstanding future pandemics and other major shocks," said John Doyle, President and CEO of Marsh. 
Related articles:
Will COVID-19 Trigger A Global Recession?