The COVID-19 pandemic has caused nations across the world to be under lockdown over virus fears. Governments have implemented drastic measures to contain the coronavirus from spreading further. It was reported that over four billion people are currently under lockdown across the globe. With restricted movement control and lockdowns implemented across ASEAN member states such as Malaysia, Singapore, and the Philippines – many are resorting to buying items online, now more than ever.
Nevertheless, the virus lockdowns have caused delays in consumers receiving their items from online sellers and merchants.
Dissatisfaction over e-commerce delivery times in Southeast Asia is nothing new. A survey conducted by Parcel Perform and the iPrice Group revealed that one in three (34 percent) online shoppers in the region are unhappy with their delivery service.
The survey also found that 90 percent of customer complaints and negative feedback are related to late delivery or a lack of communication about delivery statuses – noting that this then affects customer satisfaction and retention. Parcel Perform is an e-commerce parcel tracking platform while iPrice offers price comparisons on products and brands.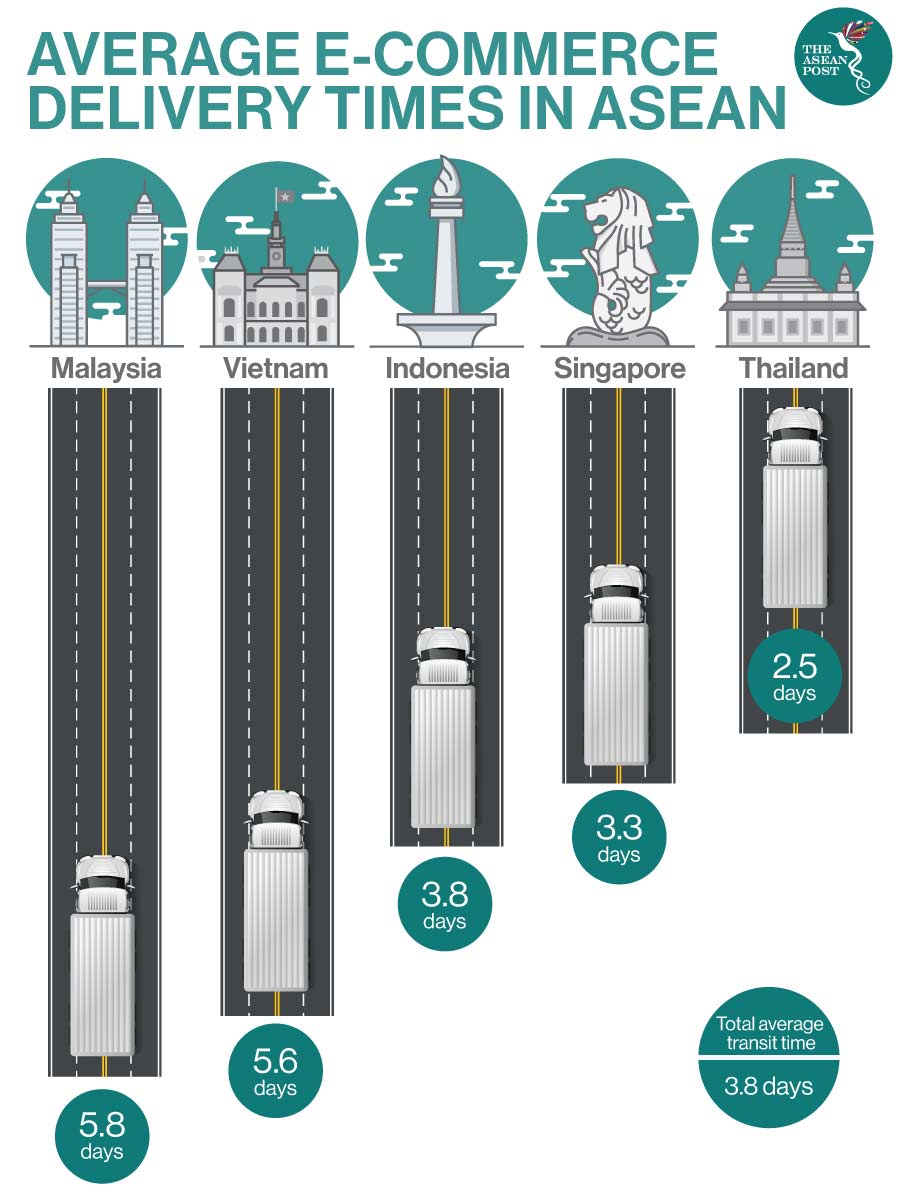 In general, the study of 80,000 e-commerce consumers found that those in Singapore, Thailand, and Vietnam are more satisfied with their e-commerce delivery experiences than consumers in Indonesia and Malaysia.
As transit times increase, happy customers (defined as those with a satisfaction rating of four to five) decrease by 10-15 percent for each time bracket. Faster parcel deliveries lead to higher customer satisfaction ratings, and the direct relationship between parcel transit time and customer satisfaction ratings shows that quick, punctual and responsive customer service continues to rank high in importance when it comes to e-commerce customer satisfaction.
However, customers' expectations on delivery can be managed successfully if merchants keep them in the loop with regular delivery notifications and updates.
"Due to the proliferation of options in online retail today, consumers in Southeast Asia are extremely savvy e-commerce shoppers and are increasingly more discerning when it comes to selecting when, how and who they purchase from," said Jeremy Chew from iPrice Group.
"Besides making price comparisons across platforms, consumers are also getting more demanding in the post-purchase delivery process. Merchants will have an edge if they provide a fully visible post-purchase delivery experience with constant communication and engagement."
Surge In Demand
Even before the COVID-19 virus outbreak which forced people to stay at home, e-commerce has been a booming business in Southeast Asia where deliveries have grown from 800,000 per day in 2015 to more than three million per day in 2018 according to a report by Google and Singapore's sovereign wealth fund, Temasek.
E-commerce has been the most dynamic sector of the digital economy in the last few years, and the report noted that while it accounted for just over US$5.5 billion in gross merchandise value (GMV) in 2015, e-commerce has grown more than four times since then and exceeded US$23 billion in 2018. That sum is expected to reach US$100 billion in 2025 on the back of increased consumer trust and confidence.
Popular platforms such as Shopee and Lazada are now among the most trusted names in e-commerce, and they were the top two most visited e-commerce platforms in Southeast Asia with a total average of 184.8 million visits and 179.7 million visits, respectively in the first quarter of 2019 according to a study by iPrice Group and App Annie – an app analytics platform. Tokopedia, which is only available in Indonesia, was the third most visited e-commerce platform in Southeast Asia. Collectively, it is estimated that these three platforms have grown more than sevenfold since 2015, well above other players in the sector.
The trio's success comes down to their tens of millions of products on offer, world-class mobile user experiences, frequent consumer promotions and far-reaching logistics networks – all of which have made them firm favourites for online shoppers. As Southeast Asian consumers – especially those unserved by urban retail outlets – increasingly rely on these platforms to make shopping easier and cheaper, it will take a lot more than a late delivery or two to break e-commerce's dominance in Southeast Asia.
Related articles:
Online Shopping: The New Reality