Generation Z (Gen Z) is the first cohort to have Internet technology readily available at a young age and they are inherently tech-savvy. Some of these digital natives are now self-made social media stars, online entrepreneurs and tech experts. Born between 1995 and 2010, Gen Zs are now between the ages of nine and 24-years old. 
In Malaysia, Gen Z makes up 26 percent of the nation's population, according to a 2019 Nielsen's insight article on 'Understanding Malaysia's Gen Z… and how to reach them,'. The report revealed that nearly all of Gen Z owns a smartphone (99 percent) and Internet penetration among them is at 98 percent. 
The insight also found that 71 percent of Gen Z get their news from social media, 44 percent from the TV news and 43 percent through friends via instant messaging. Moving towards a paperless era, only 23 percent of Gen Z read newspapers. 
This trend is echoed by the 2018 Edelman Trust Barometer report where 45 percent of Internet users chose to disengage from the main news channels for their news source, opting for social sites instead.
Truth tampering on social media
Choosing social media platforms to get their news raises the risk of Gen Z being exposed to truth tampering on social media or 'fake news'. Social media platforms are fundamental in the construction of fake news and its virality due to the number of online users. The medium also allows a barrage of misinformation to swamp the platform without accountability. 
Instant messaging such as WhatsApp and WeChat also contribute to the dissemination of fake news. The users simply forward the received messages and the number of receivers multiplies very quickly.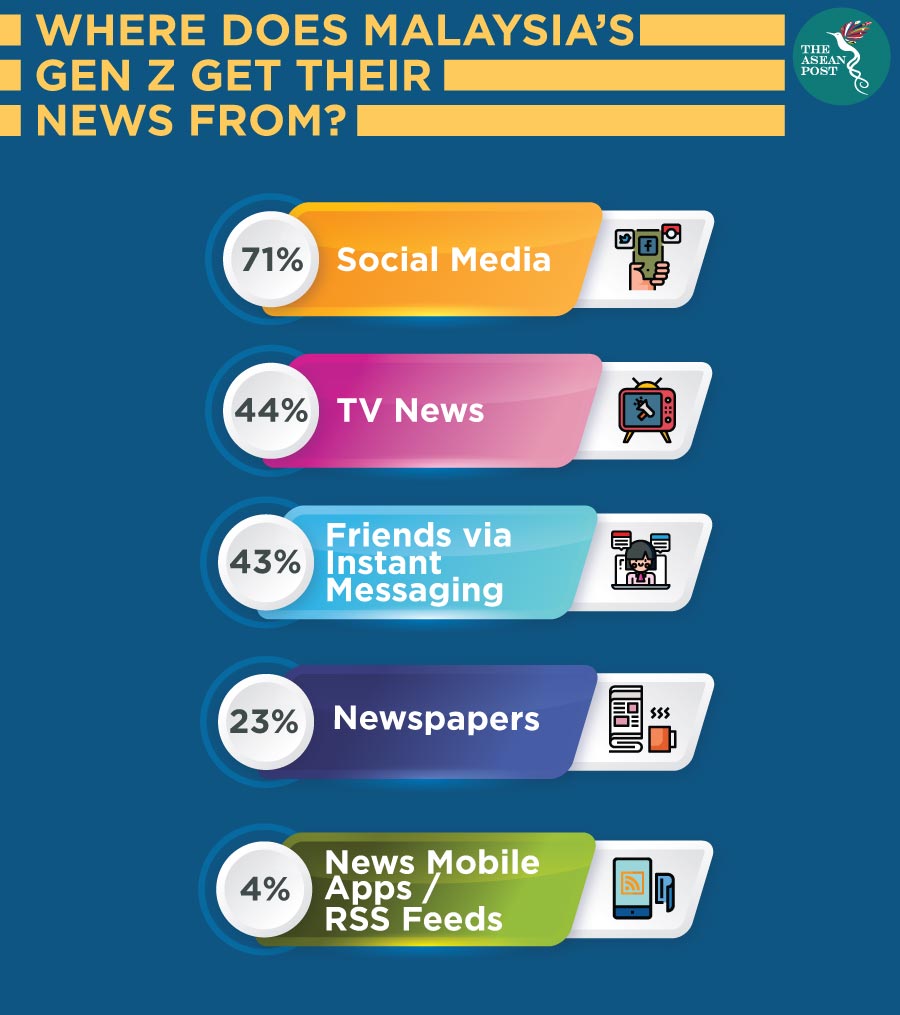 A 2018 study by Ipsos on 'Malaysians' susceptibility towards fake news,' revealed that 50 percent of Malaysians admitted that they have taken a piece of fake news to be true, even when 74 percent of them believed that they can spot fake news themselves. 
In Malaysia, Internet fraud and fake news are on the rise. Based on Cyber Security Malaysia's (CSM) statistics, there have been 2,977 reported incidents from January to April 2019, with cyber fraud recording the highest number of incidents with 1,963 cases. CSM chief executive officer Dr Amirudin Abdul Wahab said among Internet fraudulent activities were the dissemination of fake news, impersonation and offering non-existent services.
"News, reports, audio and video recordings that are either completely or partially false have been disseminated, sensationalised by certain parties to 'discredit' certain individual or organisations. Sometimes to gain money," Dr Amirudin told a Malaysian media, adding that "every fake news has a big impact on the perception and the reputation of those involved in the news."
'Rumours and good journalism' 
"To make it worse, 63 percent of Malaysians could not distinguish between rumours and good journalism," Dr Amirudin lamented.
Not being able to distinguish between fact and fake news is troubling as some can simply accept the information without checking their validity. The action of impulse sharing perpetuates the spread of fake news.
On social media, Gen Zs get their information from voices or 'opinion-based' news, usually in the form of influencers or social commenters. These influencers give updates on current issues, but they may also parrot misinformation they have received online or speaking based on their inherent social biases and prejudices. Influencers have also been known to buy followers. Last year, Instagram launched an initiative to remove fake accounts, reportedly to be in the millions. 
In the Ipsos survey, 48 percent of Malaysians think other people don't care about facts anymore as they believe only what they want. 
"In the age of populism, it is increasingly visible that media and public figures try to appeal to the heart rather than the intellect of the population. This leads to a situation where the public will believe what they want to believe rather than taking facts into consideration. Fake news is playing to this psychology amongst Malaysians," said Arun Menon, the Managing Director of Ipsos Malaysia.
Web evaluation
The government has set up agencies such as the Malaysian Communications and Multimedia Commission (MCMC) to monitor and investigate any activities involving Internet misuse through the provision of Section 233 of the Malaysian Communications and Multimedia Act 1998.
Last year, an Anti-Fake News Act was passed to protect Malaysia's citizens from fake news. But the act has since been seen as a law to stifle free speech.
But is there a support system in place to help the young navigate the internet and judge the information that affects them as citizens? Dr Amirudin believes that the most effective weapon against fake news on the Internet is public awareness.
The web is now dominated by astroturfing (the deceptive practise of presenting an orchestrated marketing), search engine optimisation (a calculative process of maximising the number of visitors to a website), and lobbyists posing as academics and scientists. 
Though it is not difficult to see why young people are confused by the information they come across social media platforms, the tech-savvy Gen Z should be more aware of who and what they are engaging with online.
Related articles
Eco-conscious Gen Z taking action
Fake news a big worry for ASEAN millennials