2018 was a whirlwind of a year for Southeast Asia. The region experienced tragedies, achievements and faced many challenges in between. To commemorate the year as it draws to a close, The ASEAN Post would like to take readers on a journey to revisit key events and happenings in this region throughout 2018.
JANUARY
The effects of Myanmar's crackdown on the Rohingya in 2016 is still felt to this day. The crackdown triggered a refugee crisis which saw more than 700,000 refugees crossing the border into Cox's Bazar in Bangladesh.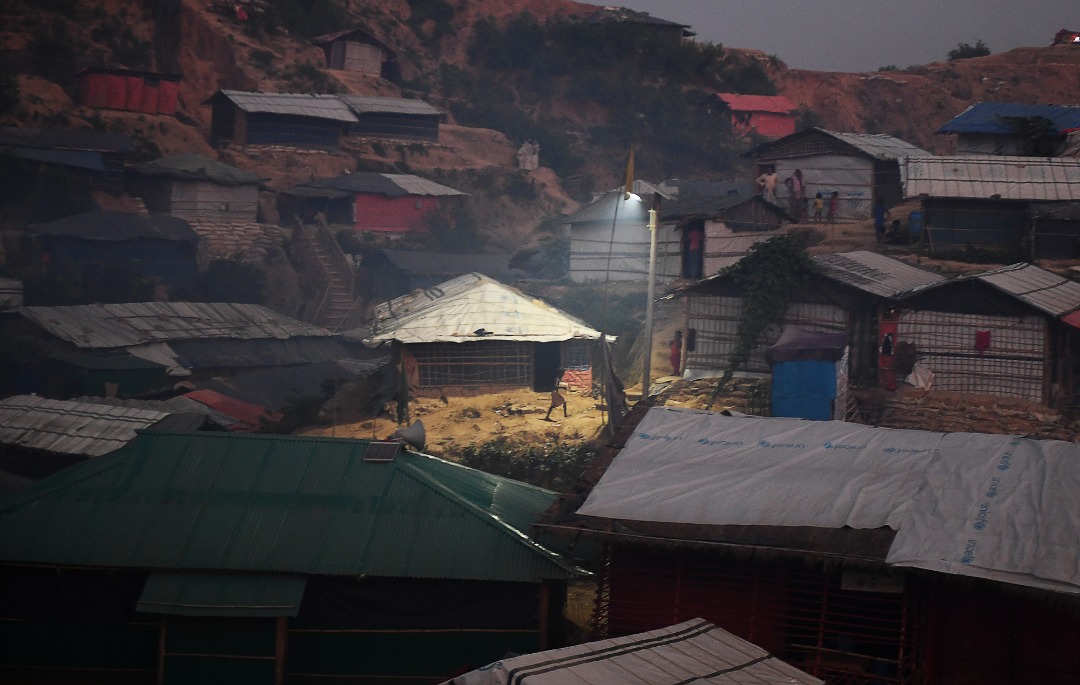 Rohingya refugees walk back to their tent during dusk at the Kutupalong refugee camp on 18 November 2018 (Dibyangshu Sarkar / AFP)
In January, Bangladesh announced that it will work with the UN to repatriate the Rohingya refugees back to Myanmar. However, weeks after that the repatriation plan was postponed amid intense criticism that the refugees would be sent back into the same system they fled from. This postponement set the tone for other failed repatriation attempts throughout the year. While both countries share the desire to repatriate the refugees, the refugees – along with backing of international agencies and organisations – do not intend to return to conditions which some experts have described as "ethnic cleansing".
FEBRUARY
The dispute between China, the United States (US), and Southeast Asian nations over the South China Sea have long dominated headlines in this region. New developments in the region are being reported every other day.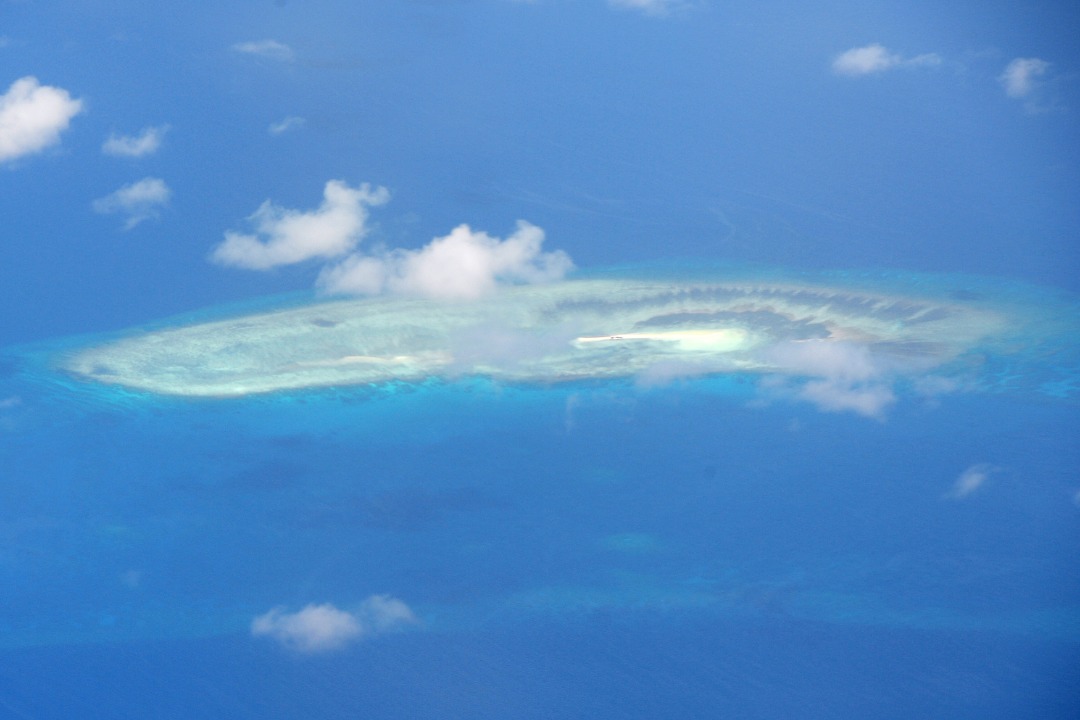 This photo shows an aerial shot of a reef in the disputed Spratly islands on 21 April 2017(Ted Aljibe / AFP)
In February, things took a turn for the worse when satellite images of China's island building activities revealed that the country was building military bases in the South China Sea. The photos revealed that the reefs within the Spratly Islands have been transformed into artificial islands that would act as air and naval bases. These islands are reportedly equipped with runways, aircraft hangars and communications facilities.
MARCH
While not exactly an ASEAN specific event, the events that occurred in the halls of the White House in March soon became the defining moment for the global economy – particularly economies in Southeast Asia – in 2019.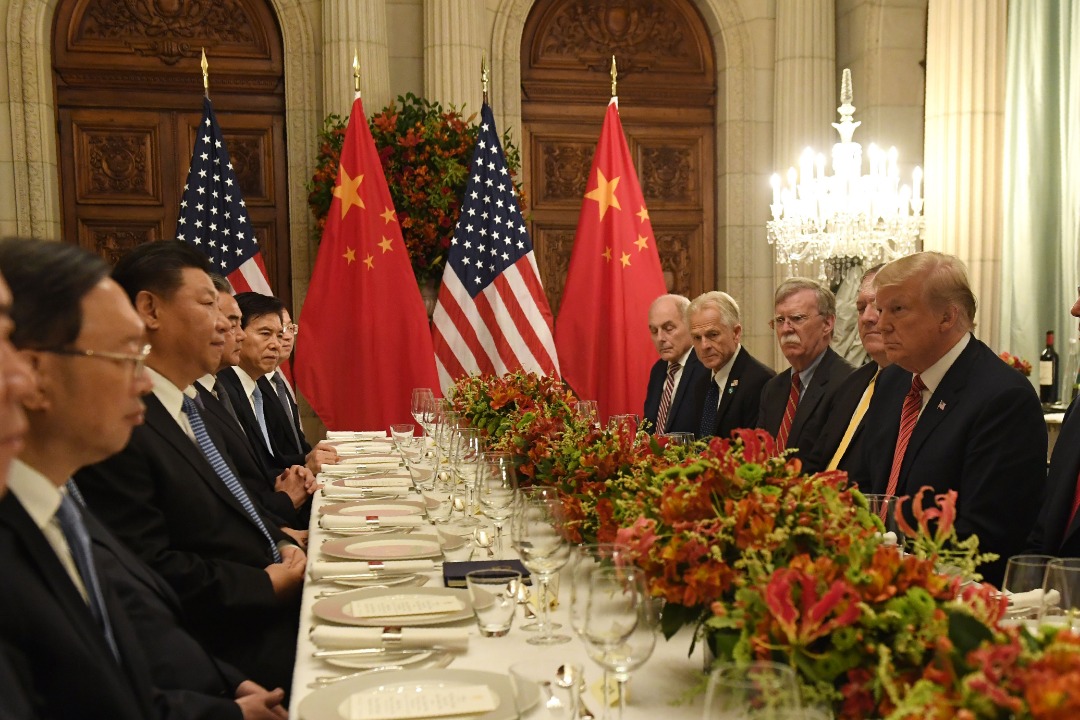 US President Donald Trump (R) and China's President Xi Jinping (C-L) hold a dinner meeting at the end of the G20 Leaders' Summit in Buenos Aires, on 1 December 2018. (Saul Loeb / AFP)
Just like many of Donald Trump's policies, Trump's decision to impose tariffs on steel and aluminum which later sparked the trade war between the US and China was first teased on Twitter. Later that month, Trump signed a memorandum which called for the government to file a World Trade Organisation (WTO) case against China for their discriminatory licensing practices, restricting investment in key technology sectors and the imposition of tariffs on Chinese products. This resulted in retaliatory tariffs from China.
It has been said that due to shifts in the supply chain, some countries such as Malaysia and Vietnam could stand to gain from the trade war, while some industries based in the Philippines could face some disruption. Currently, both governments have agreed to a truce, but experts are skeptical that it could last.
APRIL
After months of speculation and even denials from Uber CEO Dara Khosrowshahi, Uber finally announced its exit from the Southeast Asian market. It was revealed that it would sell off its operations in eight countries in the region to its biggest rival - the homegrown ride-hailing app Grab. As part of the deal, Uber would get a 27.5 percent stake in Grab and Khosrowshahi will be given a seat on Grab's board of directors.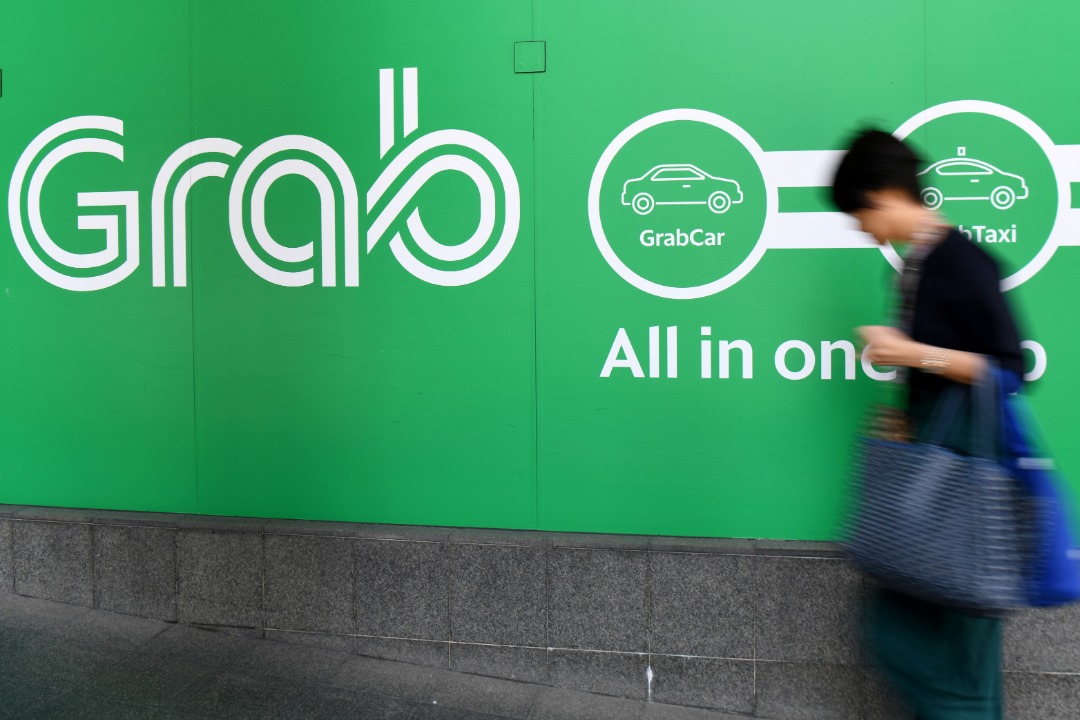 A woman walks past the Grab transport office in Singapore on 24 September 2018.(Roslan Rahman / AFP)
The merger did not go as smoothly as planned though as it faced some resistance from local regulators worried of a Grab monopoly. The merger went under scrutiny from authorities in Malaysia and Vietnam while Singaporean and Philippine authorities demanded a delay in Uber's exit.
MAY
All eyes were on Malaysia in May. On 9 May, Malaysians went to the polls in what was dubbed as "the mother of all elections." The stakes were higher than ever, then Prime Minister Najib Razak was embroiled in the 1MDB corruption scandal while former Prime Minister Mahathir Mohamed joined forces with his once mentee turned political nemesis Anwar Ibrahim to form a coalition to "save the country".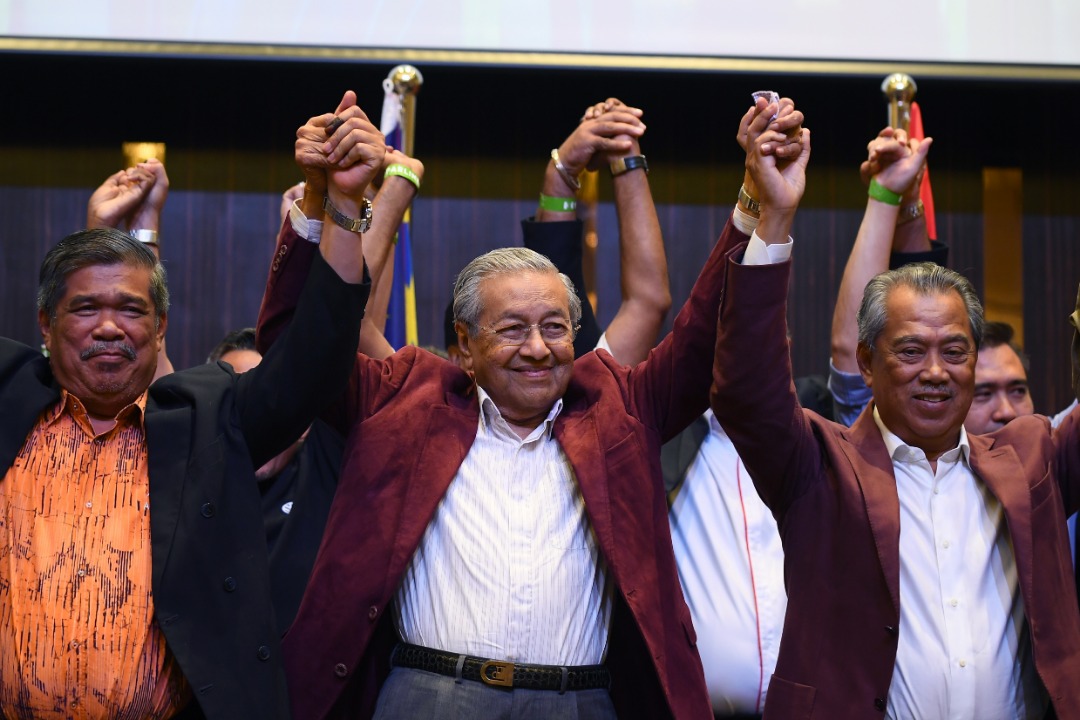 Former Malaysian prime minister and opposition candidate Mahathir Mohamad (C) celebrates with other leaders of his coalition during a press conference following the 14th general elections in Kuala Lumpur. (Manan Vatsyayana / AFP)
As results were slowly trickling in on that fateful night, it soon became clear the Najib's National Front (Barisan Nasional) had lost to Mahathir and Anwar Ibrahim's Alliance of Hope (Pakatan Harapan). For the first time in over 60 years, Malaysians witnessed a democratic transition to a new ruling power.
The watershed elections led to remarkable moments in Malaysian history. Most notably, Anwar Ibrahim was pardoned by the King of Malaysia for his sodomy charges and was released from jail immediately. Meanwhile, images of Najib's house being raided by police was on the front page of every national newspaper.
JUNE
Singapore will have etched itself in world history as it played host to the first meeting between the leaders of the US and North Korea. The historic meeting which took place on 12 June saw the US President Donald Trump and Supreme Leader of North Korea Kim Jong Un discuss the possibility of a peace treaty for the Korean Peninsula and denuclearization. At the end of the summit, both signed a joint statement agreeing to security guarantees for North Korea, new peaceful relations, the denuclearization of the Korean Peninsula, recovery of soldiers' remains, and follow-up negotiations between high-level officials.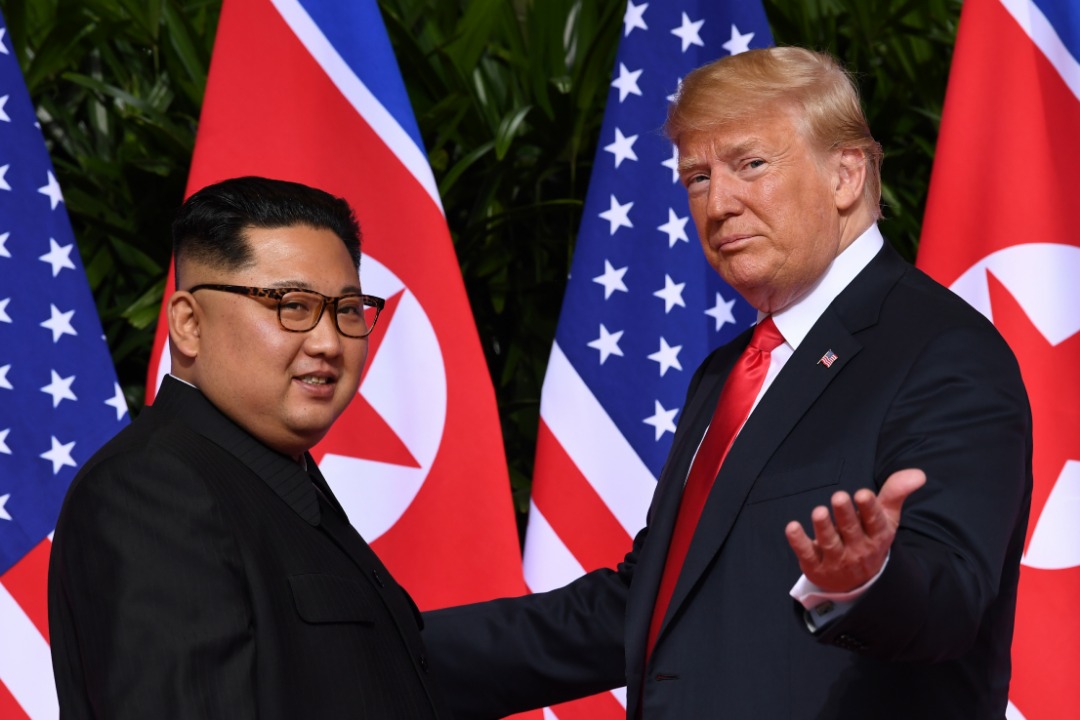 US President Donald Trump (R) gestures as he meets with North Korea's leader Kim Jong Un (L) at the start of their historic US-North Korea summit, at the Capella Hotel on Sentosa island in Singapore. (Saul Loeb / AFP)
The event marks an extraordinary turnaround by Kim and Trump whom, just last year, were at each other's throats – Trump threatening to rain "fire and fury" on Pyongyang and Kim referring to Trump as "mentally deranged."