The annual 11.11 Singles' Day Sale has become an event for both shoppers and e-commerce merchants across Southeast Asia, recording online sales that exceed all expectations. 
Singles' Day came to be after students at the Nanjing University in China, started celebrating their singledom, in what was known as anti-Valentine's Day back in the 1990s. Singles' Day was then adopted by e-commerce giant, Alibaba, in 2009. Alibaba saw the commercial opportunity in Singles' Day and began launching 'Double 11' deals. 
When sales almost quadrupled the following year, Alibaba trademarked Singles' Day as a shopping holiday to be celebrated on 11 November. The date, 11.11, was chosen because the number '1' resembles an individual who is alone. It is also known as "bare sticks holiday" due to how it looks numerically. 
Jack Ma, founder of Alibaba, now refers to the day as the '11.11 Global Shopping Festival'. The shopping event has become the most significant offline and online shopping day in the world, with Alibaba shoppers exceeding US$25.4 billion in spending in 2017. Its annual growth rate increased 27 percent from US$25.3 billion to US$30.8 billion in 2018, according to iPrice Group, an online shopping aggregator. The spending binge period has eclipsed both, Black Friday and Cyber Monday in the United States (US) for online purchases. 
Surge of consumers
Across Southeast Asia, the massive sales period has become one of the most critical digital periods with e-commerce platforms leveraging on the event for their businesses. This year, e-commerce platforms are allocating bigger budgets for their marketing strategies to drive traffic to their websites and to maximise customers' value. 
iPrice ranked Shopee as having the highest number of monthly active users, downloads and site visits in the region. In 2018, Shopee stated that it garnered a total of 11 million orders during the 11.11 sale, which was 4.5 times more as compared to 2017.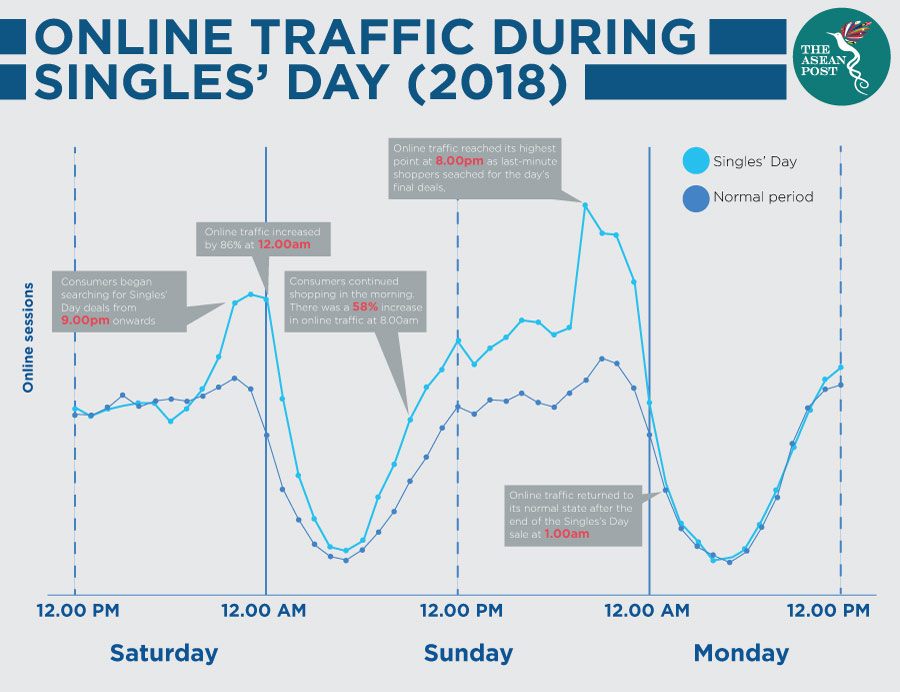 Lazada however, leads in monthly active users in four of the six major e-commerce markets – Malaysia, Singapore, Thailand and the Philippines. 
iPrice observed a surge of Filipino consumers beginning to browse and save products on their online 'shopping carts' as early as 9 p.m. prior to 11 November. Singles' Day in the Philippines was overwhelming for many merchants including Lazada which reported that it needed to expand its local warehouse due to the after-sale surge. Juan Spencer, Lazada Philippines' CEO of Logistics said that its continued growth prompted the company to scout for another logistics hub that would raise its footprint from 60,000 square metres in warehouse space to 120,00 square metres by 2021.
Another trend observed for 11.11 is the emphasis on mobile campaigns, as it was noted that at least 72 percent of all online traffic now comes from mobile devices. In Vietnam, more than 82 percent of online traffic on e-commerce platforms for Singles' Day came from mobile devices. 
In Indonesia, Google experienced a big surge of interest in the keyword '11.11' as early as 26 October, more than two weeks before Singles' Day. Meanwhile, in Thailand, e-commerce merchants continued the Singles' Day sale two or three days after for consumers who missed the sale day.
Southeast Asia's increasing e-retail options and payment methods with faster internet speeds and rising affluence are making it easier for more people to shop online. The 2019 report, 'Riding the Digital Wave: Southeast Asia's Discovery Generation', by Facebook and Bain & Company, predicted that the region would be home to around 310 million digital consumers by 2025.
Malaysian shoppers
The Singles' Day shopping festival has gained wide attention in Malaysia this year as various e-commerce players have been actively promoting the day through unique campaigns. Smaller platforms such as FashionValet and Zalora are also joining the sale event, sparking much more interest from consumers across the country.
iPrice's analysis revealed that in 2018, four out of six online platforms offered in-app promotions and flash-deals specifically for mobile users. Among them is Shopee who introduced in-app games which required users to play games at specific timings to create a sense of urgency. Other types of promotions available for the 11.11 event include coupons, brand-exclusive promotions, member rewards, free shipping, credit card discounts, tax-free shopping and live shows. 
Last year, consumers in Malaysia began searching for deals as early as 9 p.m. on 10 November, and online traffic increased by 86 percent at 12 a.m. Consumers continued shopping in the morning with a 58 percent increase in online traffic at 8 a.m. 
Nonetheless, the surge in demand presented several issues, including unsatisfactory after-sales service, where consumers were unable to complete the purchase due to the influx of orders. Lazada posted an apology message on its social media platforms confirming that the spike in online traffic overloaded Malaysia's payment infrastructure. Hopefully, this year, e-commerce platforms have improved their payment gateways and third-party services to avoid similar issues from happening again. 
As consumers across Southeast Asia prepare for the biggest annual shopping frenzy tonight, one thing is clear - the 11.11 sales will definitely attract a lot of shoppers. Who knew celebrating lonely hearts would turn out to be this lucrative. 
Related articles:
Shopping trends for Eid-ul-Fitr