Except for a few bright spots, press freedom in ASEAN continues to be a foreign concept.
Self-censorship, restrictions on media access and outdated and oppressive laws are among the reasons Southeast Asia continues to lag behind their global counterparts in the World Press Freedom Index – with half the countries in the region falling one spot in the 180-country index.
This year's edition of the annual index compiled by France's Reporters Without Borders (RSF) and published on Thursday shows that for the most part, press freedom in Southeast Asia has either worsened or remained unchanged since last year.
The level of pluralism, media independence, transparency and self-censorship in each country were among the factors taken into account when the index was created, and its scores are calculated from the answers to a questionnaire that was completed by experts throughout the world and supported by qualitative analysis.  
Except for Malaysia, Thailand and Brunei, all the other seven Southeast Asian countries either failed to improve their rankings or fell behind one spot.
Malaysia was the biggest mover in ASEAN, shifting 22 places to 123 thanks to the changed political ecosystem after last year's general elections. Thailand jumped four spots to 136 and Brunei's ranking rose by one place to 152. 
Two ASEAN countries, Indonesia (124) and Singapore (151), maintained their positions from last year while the remaining five countries – Philippines (134), Myanmar (138), Cambodia (143), Lao PDR (171) and Vietnam (176) – all fell by one spot.
Norway remains at the top of the index for the third year running while Finland jumped two spots to second and Sweden slid one spot to third.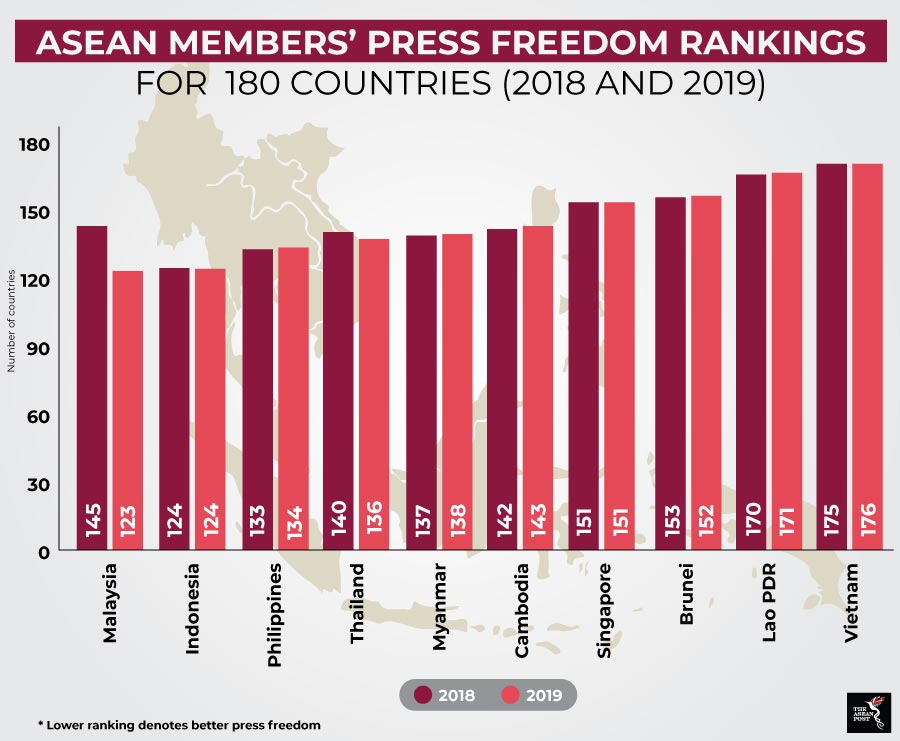 Source: World Press Freedom Index 2019
'Intense climate of fear'
Media organisations in ASEAN aren't the only ones having to put up with suppressive working conditions.
Totalitarian propaganda, censorship, intimidation, physical violence and cyber-harassment are just some of the issues journalists across the world are facing, and RSF – a Paris-based independent non-governmental organisation which has been creating the index since 2002 – said that media freedom around the world has declined as journalists are faced with increased fear and violence.
Noting that "an intense climate of fear has been triggered", the RSF stated that just eight percent of the countries in the index have a media climate that can be considered "good", with the environment in more than three-quarter of the 180 countries studied termed "problematic", "difficult" or "very serious." 
Not only do journalists in Indonesia have to face intimidation, and even violence, from the military eager to punish those who report about their abuses, there have been cases where journalists' personal social media accounts are spread to groups – and are then subjected to shaming and slander.
Despite promises of political reforms when Aung San Suu Kyi and her National League of Democracy (NLD) won Myanmar's general elections in 2015, press freedom has deteriorated there and its biggest blow arrived in September 2018 when Reuters journalists Wa Lone and Kyaw Soe Oo received seven-year prison sentences for investigating the ethnic cleansing of Myanmar's Rohingya minority.
Over in the Philippine, three journalists were killed in 2019, most likely by agents working for local politicians. Apart from judicial harassment campaigns targeting news outlets critical of President Rodrigo Duterte's "war on drugs", pro-Duterte troll armies also launched cyber-attacks on alternative news websites and the National Union of Journalists of the Philippines' website.
These are just some of the many "occupational hazards" that journalists in Southeast Asia have to put up with, which if not addressed, may spell the eventual demise of the profession.
"If the political debate slides surreptitiously or openly towards a civil war-style atmosphere, in which journalists are treated as scapegoats, then democracy is in great danger," warned RSF secretary-general Christophe Deloire.
"Halting this cycle of fear and intimidation is a matter of the utmost urgency for all people of good will who value the freedoms acquired in the course of history."
Related articles:
Cambodia's cyberbullied children