ASEAN is set to become the world's fourth largest economy by 2030, and it is a transition that will be championed by an increasingly tech-savvy younger population which is rapidly rising up the socio-economic ladder. 
ASEAN's digital economy – a collective term for all economic transactions that occur online – will progress in hand with this, and is expected to expand 6.4 times from US$31 billion in 2015 to US$197 billion by 2025 according to the Economic Research Institute for ASEAN and East Asia (ERIA).
Nevertheless, according to the World Bank's Director of Digital Development, Boutheina Guermazi, the full potential of ASEAN's digital economy is not being fully realised.
Take for example micro, small, and medium-sized enterprises (MSMEs). They account for at least 95 percent of all business establishments and more than half of total employment in ASEAN. Despite their pervasiveness, ERIA estimates that MSMEs only contribute 30 to 53 percent of ASEAN's gross domestic product (GDP) and 10 to 30 percent of its imports. 
"Even though ASEAN's population has embraced digital services, adoption by businesses and governments has generally been slower (and) regulatory bottlenecks and a lack of trust in electronic transactions stifle the growth of digital systems," said Guermazi.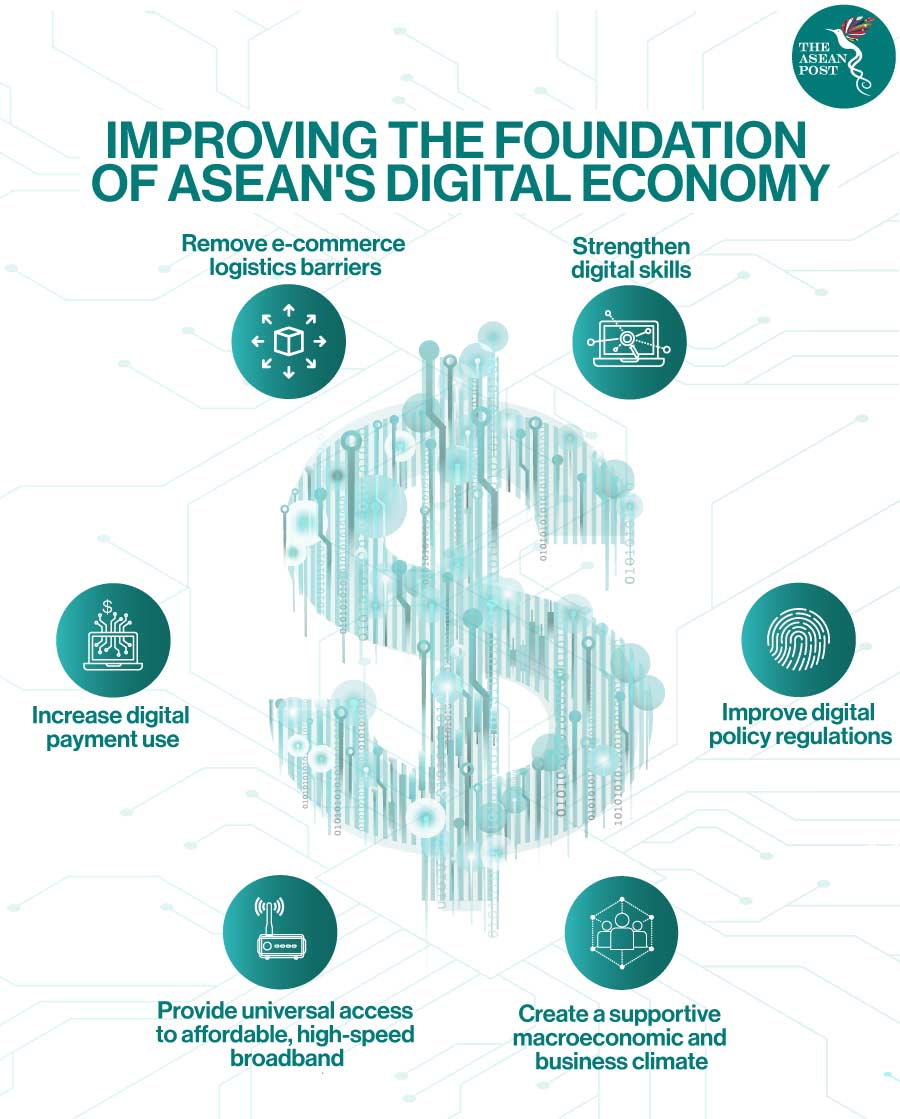 Connectivity And Skills
A report by the World Bank in 2019 titled, 'The Digital Economy in Southeast Asia – Strengthening the Foundations for Future Growth' identified six main areas of improvement for ASEAN's digital economy – with the expansion of connectivity the first item on the agenda. 
Although half of the region's population uses the internet – which is on par with the global average – this can be further expanded with policies and actions that will significantly lower prices, increase speeds and bring reliable broadband internet to underserved areas.
In addition, strengthening the digital skills of ASEAN's population of 680 million people will ensure that opportunities and benefits reach everyone. Although the region already has good literacy and numeracy rates, education systems need to be more flexible in developing the skills needed to operate in a digital economy.
These skills range from basic computer knowledge to advanced skills like coding and data analytics. So-called "soft skills" like collaboration and communication are also essential.
Contactless, Digital Payments
Expanding the use of digital payments, a cornerstone of a digital economy, is another priority.  World Bank data shows that only 19 percent of financial account holders in the region access their accounts via the internet, well below the average for the world's middle-income countries and Sub-Saharan Africa at 27 and 24 percent, respectively. 
However, in recent months as the world battles the COVID-19 pandemic, more people are staying home due to virus fears and coronavirus preventative measures. This has prompted many to opt for digital banking and doing payments from home when conducting transactions. In early March, the World Health Organisation (WHO) even recommended the use of cashless transactions in order to help curb the virus. As a result, contactless payments have skyrocketed amid the pandemic. 
Moreover, the 2019 World Payments Report also shows that the value of non-cash transactions in Asia is projected to grow from US$96.2 billion in 2017 to US$352.8 billion by 2022. With many service providers and food services offering contactless options paired with the change in consumer behaviour during the crisis, the demand for digital and contactless payments will increase.
Logistics And Policies
Logistics remains a barrier in e-commerce, and getting products to reach their destinations in a cost-effective and reliable manner is one of the industry's biggest challenges. E-commerce shipments face unpredictable customs procedures in many countries, and World Bank data has shown that customs is the weakest area of performance in the region's logistics sector.
Finally, policies that promote trust in areas such as data privacy, cybersecurity and consumer protection will also help grow participation in the digital economy. Fewer than half of ASEAN's member states have comprehensive data protection laws, and authorities have limited capacity in terms of data protection. Policies are also not coordinated regionally, making it hard for individuals and businesses alike to know what regulations apply when their data moves across borders.
Although frameworks such as the ASEAN Economic Community (AEC) Blueprint 2025 and Masterplan on ASEAN Connectivity 2025 address some of the issues noted above, more research, astute policy-making and coordinated regional involvement will ensure Southeast Asia is better positioned to unlock the full potential of its digital economy.
Related Articles:
Southeast Asia's Internet Economy Booming