In Southeast Asia, the rise of e-commerce has changed how people shop. Throughout 2016, Singapore, Malaysia, the Philippines, Indonesia and Thailand generated US$14.8 billion in online sales. A 2019 report from Facebook and Bain & Company found that ASEAN's digital consumers' spending will triple by 2025. 
However, traditional retail has not gone into extinction; instead, it has flourished. So much so, there is now a glut of shopping malls across Southeast Asia. While online sales provide convenience and discounts, consumers still want to see and touch products before making a purchase, either offline or online. Retailers are picking up on this trend to offer consumers online services as well as brick-and-mortar retail. 
Shopping complexes in Bangkok are thriving in the form of interconnected malls along the city's crowded skywalk. Perhaps in the region, the biggest threat to shopping centres is not e-commerce but "more shopping centres," noted Andrew Brien, CEO of Suria KLCC in Kuala Lumpur. 
Urban centres in Malaysia are facing a glut of retail malls with Kuala Lumpur expecting 42 new shopping complexes in the incoming supply and another 27 complexes in planning. Malls are also added into new townships or serviced apartment developments to provide convenience to tenants and added services for buyers. 
According to a report by Knight Frank Malaysia, the cumulative retail space supply in the Greater Kuala Lumpur area grew to 59 million square feet (sq ft) last year. Megacities in Southeast Asia are reshaping public spaces through the creation of new shopping malls.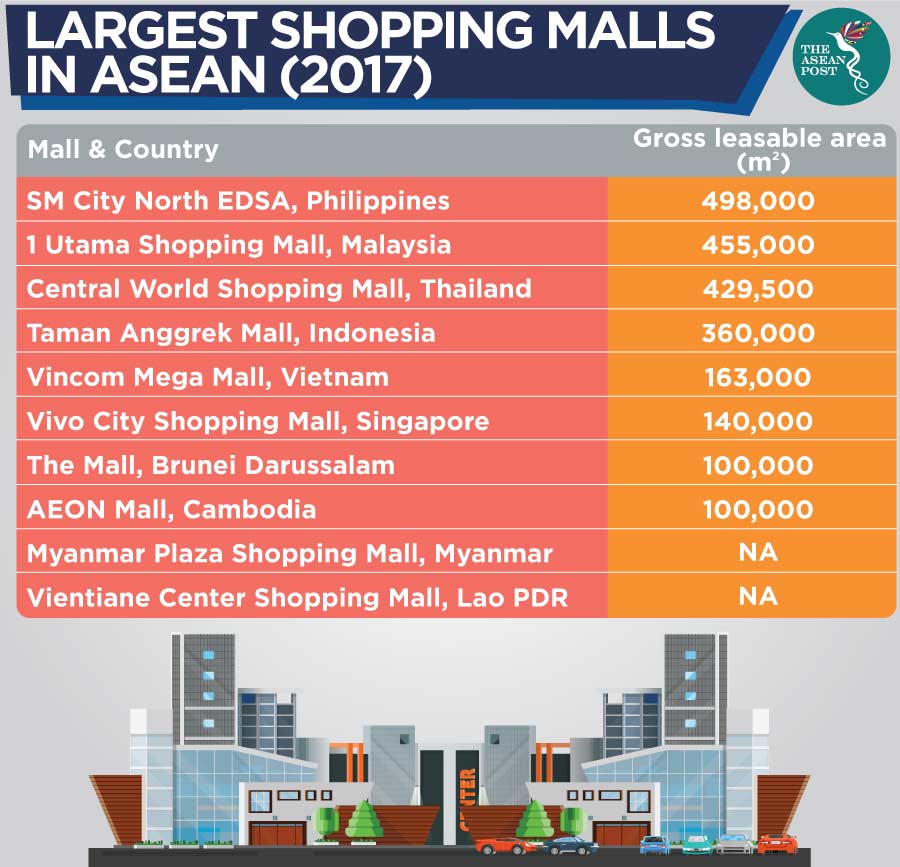 Reshaping public spaces 
To attract consumers, mall operators sell concepts and experiences by turning their complexes into a destination. In addition to standard retail, food courts and cinema halls, shopping malls now provide exhibition halls and spaces for social and marketing events, such as concerts and fashion shows. Allan Soo, deputy executive chairman of Savills in Malaysia says that retail is merely one of the many parts of the mall experience.
Chan Hoi Choy, CEO of Sunway Malls and Theme Parks in Malaysia, said that even though consumers are technologically advancing, "it doesn't mean we will be spending less time physically in pursuit of leisure and entertainment."
Malls now come with indoor sports arenas, skating rinks, green spaces and even theme parks under one roof. This experiential factor will continuously attract consumers. And if consumers are adventurous, they can walk next door or across the street to patronise another mall. 
To compete in a sea of newer and bigger malls, older malls are now creating niche retail concepts such as premium retail. According to Boston Consultant Group (BCG) the mass-affluent will make up 20 percent of consumers, or 137 million people in Southeast Asia by 2030. The mass-affluent class spends more on premium goods and services. 
Yet, this niche concept will create social barriers, especially with lower-income communities. 
Reclaiming public spaces
With the offer of a 'free' destination, shopping centres are now celebrated as family places where people can spend their time together. The modern family is determined by a consumer society, skewing the ideas of healthy social relations. Even the inventor of the mall, Victor Gruen, ended up hating the very thing he created, calling malls "customer traps, [disfigured by] the ugliness and discomfort of the land-wasting seas of parking."
Despite the inclusion of parks, activities and open spaces, shopping complexes are not public places. They are privately owned spaces, controlled, cooled and created for consumers. Two minutes of sitting on the floor of Suria KLCC in Kuala Lumpur will get you a friendly reminder from mall guards to "move along". 
A 2017 article by Ecosistema Urbano on the transformation of malls, described the shopping centre as a model found in different geographies and cultures with minimal variations: the same brands, the same gastronomy in a generic atmosphere and disconnected from the outside world, both physically and culturally. 
Although public transportation has greatly improved due to the numbers of malls created, road systems have increased, further wrapping cities with a network of roads rather than streets.
"Car culture would be one of the biggest obstacles," said Ethan Kent, co-director of Placemaking-X, adding that "walkable scale within the city" allows people to participate more directly. The ASEAN Post met up with Kent at the Placemaker Week ASEAN event last week, organised by Think City. 
"Placemaking is a means to disrupt but reconnect people for broader impact," and "an ongoing question of how to work together to shape our public realm for shared value," Kent said. 
For him, placemaking is not just about creating "spaces we consume as liveable, but co-create as lovable, places we are attached to." Some efforts at placemaking are short-term actions, but they can be "tools to building people's capacity to shape their communities." Putting value to public spaces can be done "when cities create a square or destination of people first," said Kent, who is also a senior fellow at Project for Public Spaces (PPS), a hub for Placemaking movement.
Kent proposed the idea of "placing community markets in every neighbourhood that supports tons of businesses, local markets, access to healthier meals and lifestyles, can be a planning program that would reinvent cities around a destination." 
While more malls are adopting the experiential concept to ensure their malls' continuing appeal to consumers. The reality is that these malls belong to operators and developers. Perhaps reclaiming public spaces can be done through placemaking, where people are able to shape their spaces and be co-creators of their future and not just consumers of it.
Related articles: 
Chatbots: Automating customer service in ASEAN
ASEAN's premier shopping destination