Vietnam's robust economic growth has transformed the country from one of the world's poorest nations into a lower-middle-income country. Yet, Vietnam still faces social challenges such as poverty, unequal access to public health and education, and the need for environmental sustainability.
Nevertheless, businesses in Vietnam are realising that investing in ways that protect the environment and advance social outcomes is not just an act of philanthropy or charity but also makes good business sense. The country now boasts a diverse, vibrant and growing social enterprise sector.
A balanced model
The United Nation Development Programme (UNDP) has been closely working with social start-ups, government agencies and founders of start-up ecosystems to support the development of the social impact business (SIB) sector in Vietnam, to "ensure that SIBs are aware of their potential of being a major partner for Vietnam to achieve its United Nation (UN) Sustainable Development Goals (SDGs)," said Catherine Phuong, the UNDP's Assistant Country Director in Vietnam. She added that a strong SIB sector would help Vietnam fulfil its SDGs by 2030.
A report released by the UNDP in 2018, defined SIB as "organisations that have both trading activities and a commitment to positively impacting society/environment as the two central tenets of their strategic operations." The report, 'Fostering the growth of the social impact business sector in Vietnam,' stated that a "balance of social mission with a for-profit business model allows SIBs to solve social and environmental challenges sustainably."
"These organisations can create the value necessary to scale both their businesses and the social impact efforts," said Phuong.
Vietnam is one of the few countries with legal recognition for social enterprise (SE). Similar to a SIB, a SE operates with the dual aim of generating a financial return while simultaneously advancing a social mission. But unlike SIBs, SEs are registered under the Enterprise Law which came into practice in 2015 with at least a 51 percent commitment to reinvest their profits.
However, businesses do not want to be identified as SEs perhaps due to public misconception that SEs have a less developed business model and that social mission as the ultimate objective does not reflect their business model for profit. These companies prefer the term 'SIB' because it is business-oriented and is seen as more attractive to investors. 
"SEs are mostly small-sized, and not proficient in management, finance and social impact measurement, that makes them have less potential for (impact investors) to invest in," revealed an anonymous quote from the UNDP's report.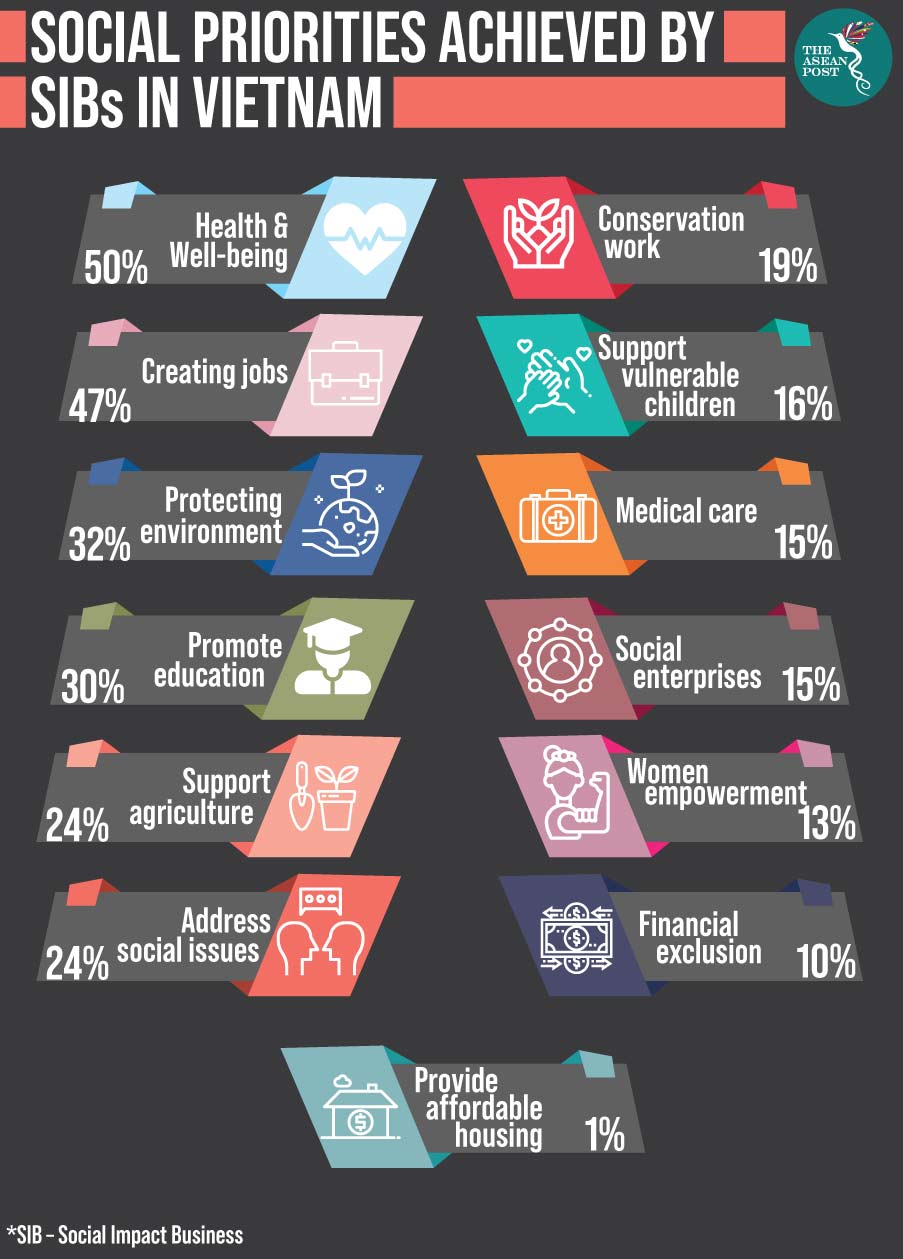 Source: UNDP Vietnam, 2018
Nonetheless, the change in Enterprise Law was an important milestone enabling the ecosystem to further develop with stakeholders' support. SIBs have a more flexible and open definition of SEs. The UNDP includes four groups under SIBs which are SEs, social businesses, social impact start-ups and inclusive businesses.
"Currently, 84 percent of SIBs are registered under the Enterprise Law 2015, of which 72 percent are registered as for-profit enterprises with only 12 percent registered as SEs," explained Phuong.
A 2019 British Council report titled 'Social Enterprise in Vietnam', estimates the number of SEs in Vietnam at 19,125, while the UNDP puts the total number of SIBs at 22,000.
Increased coordination
A sustainable business model involves developing an "inclusive approach to economic growth, through innovation and technology, improving productivity whilst addressing key social and environmental challenges faced by the country," Phuong explained.  
SIBs promote diversity and inclusion. Almost all SIBs employ female staff and up to three-fourths of them have people with disabilities in their workforce.
The UNDP's statistics show that 70 percent of SIBs focus on profit-taking, 59 percent opt to balance social and economic objectives, whilst 34 percent focus on their social mission. Jobs creation, health and well-being and environmental protection make up the top three areas of impact for SIBs.
Increased coordination among various government agencies, social organisations and other related parties are also essential for SIBs. There are already several laws and policies supporting the SIB sector with government assistance comprising of tax incentives, grant awards, subsidies and research and training. However, there have been limited efforts to develop specific policies or design activities to foster growth. 
Editor-in-Chief of the Economic and Forecast Review, Le Xuan Dinh attributes the shortage of capital and human resource capacity, lack of efficient corporate governance, as well as recruiting staff, as the biggest challenges for SIBs in Vietnam.
To support the growth of the SIB sector, the UNDP suggests increasing access to sources of capital and other innovative financing methods; strengthening the connection between SIBs and the wider private sector; and the establishment of a representative network for the SIB sector.
Business models which can balance profit-making and social mission can have a direct and lasting impact on society and Vietnam's SIBs are optimistic on their prospect for growth. 
Related articles:
It's getting tougher for ASEAN's start-ups