Singapore has been ranked as the best country in the world for a child to live in for the second year in a row, by Save the Children. The Lion City not only managed to beat the likes of Sweden and South Korea for the top spot, it is miles ahead of any other ASEAN country in the rankings (Brunei came in second at 63).
Save the Children's Global Childhood Report 2019 involved a total of 176 countries, and took a look at indicators such as children's healthcare, education, nutrition and protection. Singapore, scored 989 out of a maximum 1,000 points in the End of Childhood Index, performing the best among all countries in all eight categories - child death, malnutrition, access to education, child labour, child marriage, teen pregnancy, displacement due to conflicts and child homicide.
"While it is highly competitive, the school system (in Singapore) is regularly ranked as among the best in the world. Singapore also has a very high GDP (gross domestic product) per capita, which it invests in high-quality public services like education and healthcare," said Hassan Muhammad Saadi Noor, regional director of Save the Children Singapore.
"These policies are conducive to creating an environment that protects children from the moment they are born." 
This is certainly wonderful news for the ASEAN country, especially it's children. Singapore should be proud of itself for being able to attain such a position but it should also take advantage of knowing its country is the perfect place for children. 
Unfortunately, Singapore has not been making the most of this. At least, not yet.
Low fertility rates
In February, Minister in the Prime Minister's Office Josephine Teo revealed that Singapore's total fertility rate (TFR) dropped to 1.14 last year, making it the lowest figure ever recorded for the island state. 
Statistics on the TFR - which measures the average number of children per woman - have been available since 1960. The 1.14 mark continues a declining trend since 2014 (1.25), 2015 (1.24), 2016 (1.20), and 2017 (1.16).
The low fertility rate is worrying for Singapore due to the country's ageing population. According to Teo, for the population to replace itself without immigration, women need to have an average of 2.1 babies.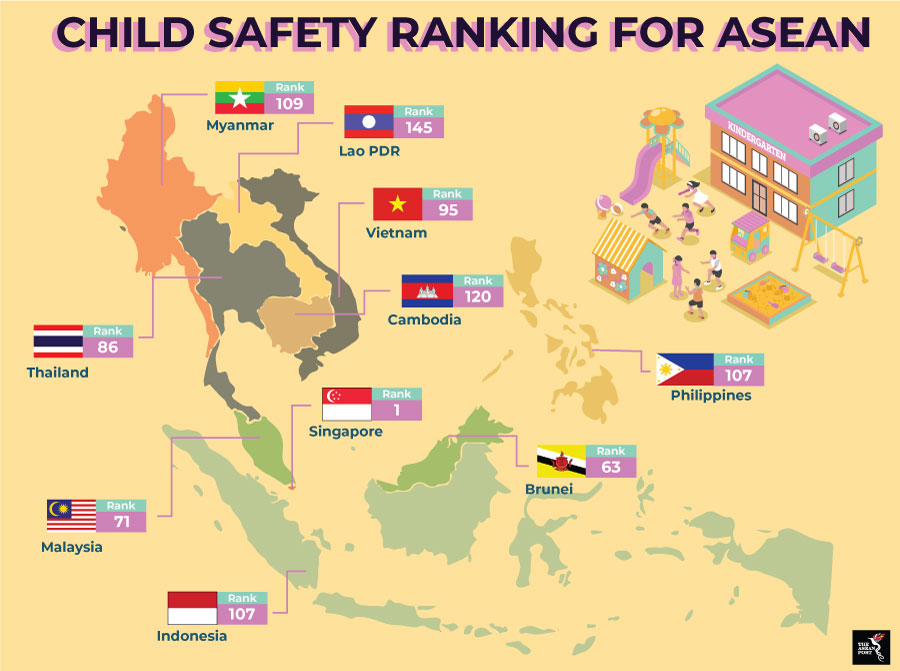 Source: Save the Children
Low fertility rates could be a sign of pinched pockets as it's a given that it costs quite a bit of money to ensure a good life for a child. This, however, does not seem to be the case in Singapore as, despite the low fertility rates, baby-related businesses are actually enjoying a boom. This has been attributed partly to increased individual wealth, as well as larger social networks, government endeavours, the gig economy, and e-commerce.
Citing online research website Statista, the report noted that the sector for toy manufacturing earned US$154 million this year and most likely will be growing by over 20 percent per year, with a projected market worth US$320 million by 2022.
"The government is also doing its part in encouraging people to have more babies, including offering benefits and cash grants - and in the process has also helped to grow the childcare industry," the report noted, pointing to the Singapore Health Promotion Board's implementation of the World Health Organisation's (WHO) Baby-Friendly Hospital Initiative (BFHI) guidelines.
The guidelines specifically pertain to breastfeeding in public hospitals and have caused a surge in the demand for products and services related to breastfeeding, with lactation biscuits as one example.
One could pin Singapore's relatively small geographic structure as part of the reason for its low-fertility rates too, but as has been mentioned before, the government is actually encouraging partners to have more children.
Whatever the reason for Singapore's low fertility rates, its people need to start realising the importance of replacing the old with the new, regardless of how grim that may sound. With increased individual wealth, government support, and being home to the best place in the world for children, there is little excuse for those who are already married to consider making more babies. 
Related articles:
Can an ageing ASEAN stay competitive?