With the advancement of smart technologies and digitalisation, it seems like the world is rapidly moving into the era of the Fourth Industrial Revolution or Industry 4.0. The industrial Internet of Things (IIoT) market, which some have called Industry 4.0, describes the widespread integration of information and communication technology (ICT), particularly cyber-physical systems (CPS), in industrial manufacturing.
No industry is immune to the disruptions brought about by digital technologies. Media and banking were some of the first sectors to feel the full force of these new technologies – and manufacturing is now coming into the crosshairs. 
Asia is known as the manufacturing hub of the world and some countries in Southeast Asia such as Singapore and Malaysia are preparing their workforce for Industry 4.0. 
In 2018, Malaysia launched its National Policy on Industry 4.0 (Industry4WRD) to drive the country towards becoming the Industry 4.0 hub of Southeast Asia. Then Prime Minister, Mahathir Mohamad said that there was no choice but to be aggressive in adopting Industrial Revolution 4.0 in view of the accelerated speed in which new technologies evolved. 
According to a report by McKinsey & Company, the monetary impact of Industry 4.0 in ASEAN could be between US$216 billion to US$637 billion a year by 2025.
"The Fourth Industrial Revolution is a dynamic and continuing process," said Singapore's Prime Minister, Lee Hsien Loong. 
"We cannot predict how exactly it will unfold, but I am optimistic about ASEAN's future because ASEAN has its own competitive strengths, and by pooling our ideas and resources and integrating our economies, we will be in a strong position to ride on this fourth wave to bring tangible benefits to our economies and our peoples," he added.
Nevertheless, the level of adoption of Industry 4.0 in many developing countries such as ASEAN member state Cambodia, is still relatively slow.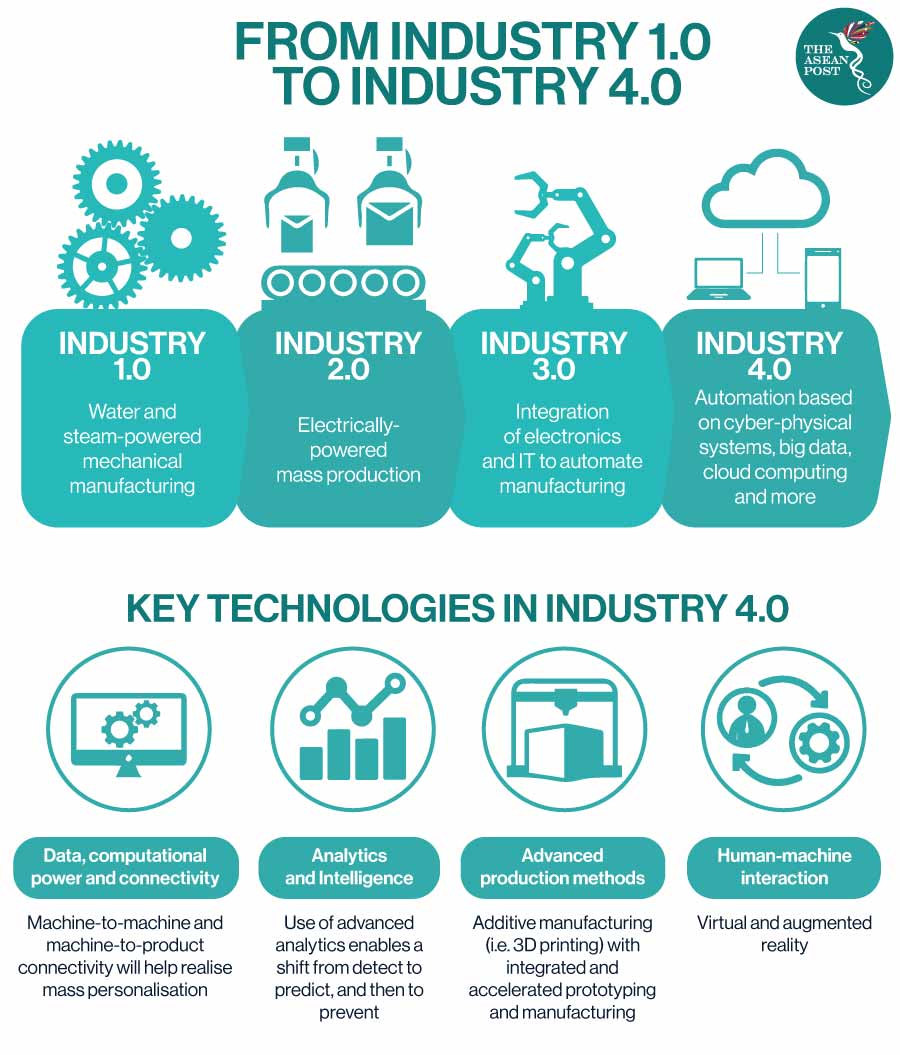 Challenges For Cambodia
Cambodia has made crucial progress over the years as its economy has grown at an annual rate of above seven percent since 2011, and the share of people living in poverty has more than halved in the last decade.
Nevertheless, a recent report by the United Nations Development Programme (UNDP) Cambodia titled, 'Adaptation and Adoption of Industry 4.0 in Cambodia' stated that the ASEAN member state must tap into the potential of new technologies to upgrade and diversify its economy in order to become an upper-middle income country by 2030 and high-income country by 2050. 
Unfortunately, the development of new technologies in developing countries is particularly difficult as basic innovation capabilities are still in the early stages. 
"Endogenous knowledge generation is usually scarce and there are limited – or no – technology transfer mechanisms. As a result, developing countries tend to rely on imported technologies, making the process of adaptation and adoption more challenging, considering the cultural and physical distances between the technology developers and the adopters," noted the report.
The UNDP cited shortage of STEM professionals, underdeveloped cybersecurity, data protection and data privacy regulation, limited internet services, financial constraints, and gaps in skills such as languages and digital, among others as key barriers and holdbacks for adopting Industry 4.0 technologies in Cambodia.
"Far too few enterprises in Cambodia are aware of, let alone have access to, new Industry 4.0 technology. As a result, the economy is missing out on big productivity gains and workers are missing out on high skilled jobs and better pay," said Nick Beresford, UNDP Cambodia's resident representative.
Cambodia's manufacturing sector contributes to 17.7 percent of the kingdom's gross domestic product (GDP) and provides 1.4 million jobs. Nevertheless, manufacturing in the kingdom is concentrated in two main sectors which are the garment and food industries. 
But Cambodia does have the opportunity to build on a number of conditions to support the adoption of new technologies, stated the report.
"Cambodia has a growing economy with increasing FDI (foreign direct investment) flows and a demographic dividend of young people."
"A number of initiatives are being put into place to promote technology and innovation in the country, including a strategic framework for Cambodia's digital economy."
"Opportunities exist to exploit technological spill-overs from FDI, to leverage the participation in global value chains, and to further develop established international economic partnerships."
The UNDP has also identified five key areas where improvements are needed to enable the adoption and adaptation of Industry 4.0 in the kingdom, they are; basic and digital infrastructure; institutional framework; network linkages; skills development; and innovation capabilities and access to knowledge.
Related Articles:
Exploring The Potential Of 4IR