The coronavirus crisis has severely affected livelihoods, local industries and the economy in general. Nevertheless, compared to North America and Europe – Southeast Asia does not seem to have been hit as hard by the pandemic in terms of total deaths and confirmed cases. To date, cases across ASEAN member states are inching towards the 200,000 mark with over 4,500 fatalities. Indonesia and the Philippines are some of the worst affected countries in the region, but Vietnam, Cambodia and Brunei seem to have managed to control their respective outbreaks.
According to the Global Health Security Index 2019 report, ASEAN member state Cambodia is ranked 89th out of 195 countries in preparedness for an infectious disease outbreak. To date, the kingdom has reported 141 COVID-19 cases with zero fatalities. Nevertheless, observers fear that the coronavirus is spreading undetected in the country – perhaps due to the lack of testing capacity to detect the deadly virus.
But media reports have pointed out that Cambodia's initial response strategy in tackling its COVID-19 outbreak by implementing aggressive contact tracing, temporarily suspending foreign visas, imposing travel restrictions and cancelling the Khmer New Year celebrations, all seem to have been somewhat effective.
Like fellow ASEAN member states Malaysia and Thailand, the kingdom is gradually easing its virus restrictions. But strict standard operating procedures (SOPs) are being implemented to avoid a second wave of infections. For example, it was announced last month that all foreign travellers entering Cambodia will have to pay a deposit of US$3,000 upon arrival at airports for mandatory COVID-19 testing and potential treatment services.
Despite Cambodia's rather low number of official coronavirus cases – like any other country around the world hit by the pandemic – the economic outlook is still a concern.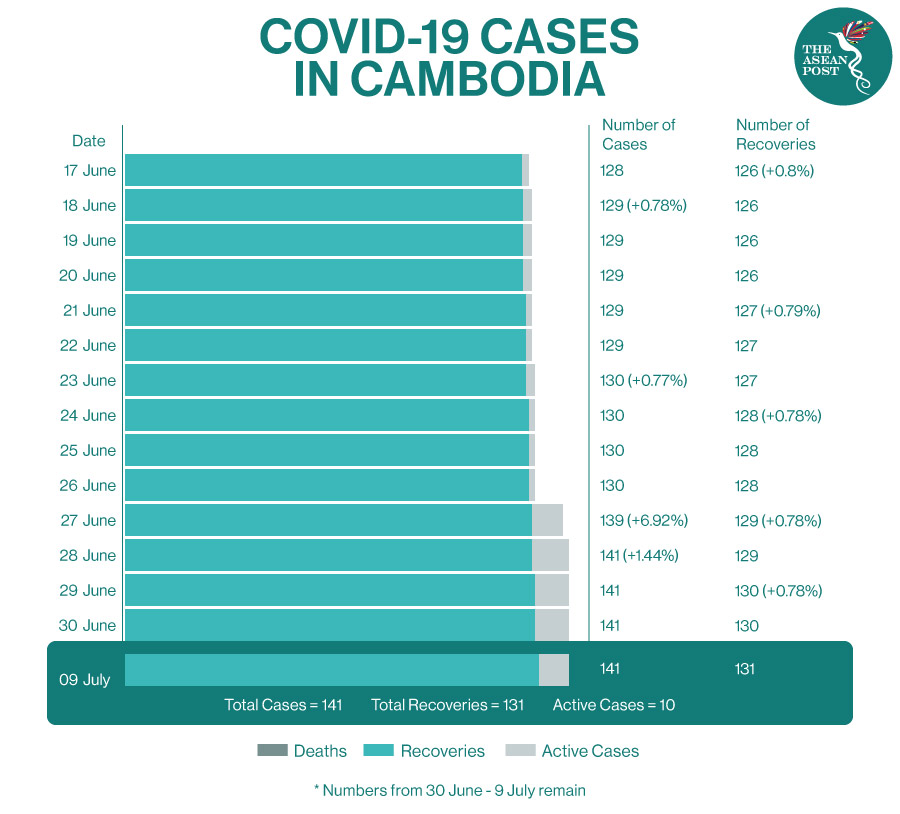 The Economy
The World Bank has stated that Cambodia's economy is likely to shrink between one percent and 2.9 percent this year, making it the worst performance for the country in a quarter of a century. The coronavirus crisis will put 1.76 million jobs at risk as a result of losses in tourism, manufacturing and construction, which together account for more than 70 percent of growth and 40 percent of employment, noted the bank in its report.
Nevertheless, Dr Ky Sereyvath, an economist and director of the China Study Centre at the Royal Academy of Cambodia is optimistic and believes that the kingdom's economy will bounce back soon. 
"I think in the fourth quarter of 2020, COVID-19 will hopefully end and the economy will  recover because I believe that in the next three months the vaccine will be ready following some positive signs of announcing a vaccine from many countries," he said in a recent interview with local media.
Dr Sereyvath explained that a small country such as Cambodia which depends on other countries – will drive growth based on other "big countries." If its trading partners such as the United States (US), China and ASEAN – grow, the kingdom will also grow. He also called on ASEAN to be more united and to strengthen intra-ASEAN trading.
"If the COVID-19 era ends, the ASEAN member states must think about trading within ASEAN. ASEAN members are trading with the region and the world, but they do not trade among ASEAN members themselves, so when there is a crisis, they will also fail."
Dr Sereyvath told the media that one of the ways to push the kingdom's economy during the pandemic is through local consumption. The economist also believes that the crisis presents an opportunity for small- to mid-size enterprise (SMEs).
"The issue of SMEs is that we cannot compete with imported products. Now, our borders with neighbouring countries are closed, so why can't the SMEs take this opportunity and make it work for them?"
Aid For The Poor
In the wake of the pandemic, millions of people across ASEAN have lost their jobs. One of the hardest hit sectors when the crisis first emerged was the tourism industry. The World Travel & Tourism Council (WTTC) reported recently that more than 197 million jobs worldwide could be lost in the travel and tourism industry if barriers to global travel such as restrictions and quarantine measures remain in place. The impact of the pandemic on the tourism industry can already be seen in Southeast Asia where hotels have shuttered and workers have lost their employment. 
In Cambodia, over 100 factories have announced their suspension, with more than 100,000 workers laid off, said Dr Sereyvath. "Therefore, it lost about 16 percent of the total number of garment workers (nearly 1 million)," he continued.
In June, it was reported that the government of Cambodia had launched an emergency cash transfer program for poor families hit by the pandemic. The kingdom's premier Hun Sen said it will help deliver aid to more than 500,000 families – or some 2.3 million citizens classified as poor and vulnerable by the Ministry of Planning.
The prime minister stated that he plans to spend some US$30 to US$40 million to register the impoverished "to make sure that no one starves to death," reported local media.
Related articles:
Tourism In Thailand And Cambodia Take A Virus Hit