According to the Organisation for Economic Co-operation and Development (OECD), at least 63 percent of the world's fake goods originate from China. Nevertheless, some nations across Southeast Asia are also infamous for producing, trading and trafficking counterfeit products. Some of these countries include ASEAN member states Singapore, Thailand, Vietnam and Cambodia. 
Product counterfeiting is a form of consumer fraud: a product is sold, purporting to be something that it is not. In recent years, counterfeiting has reached an alarming rate, causing huge revenue losses to governments across the region.
If you were to walk along popular night markets in some of the cities or larger towns in Cambodia or Thailand, chances are you will come across counterfeit versions of products from international brands such as Louis Vuitton, Nike, Ray Ban, and even medicines, among others.
Piotr Stryszowski, Senior Economist of Public Governance and Territorial Development Directorate of the OECD said that high-end brands used to attract counterfeiters, but now any product with a logo is a target.
"These days counterfeit goods can range from branded consumer products, spare parts, batteries and business-to-business goods to common consumer goods such as toothpaste, cosmetics and food," he explained.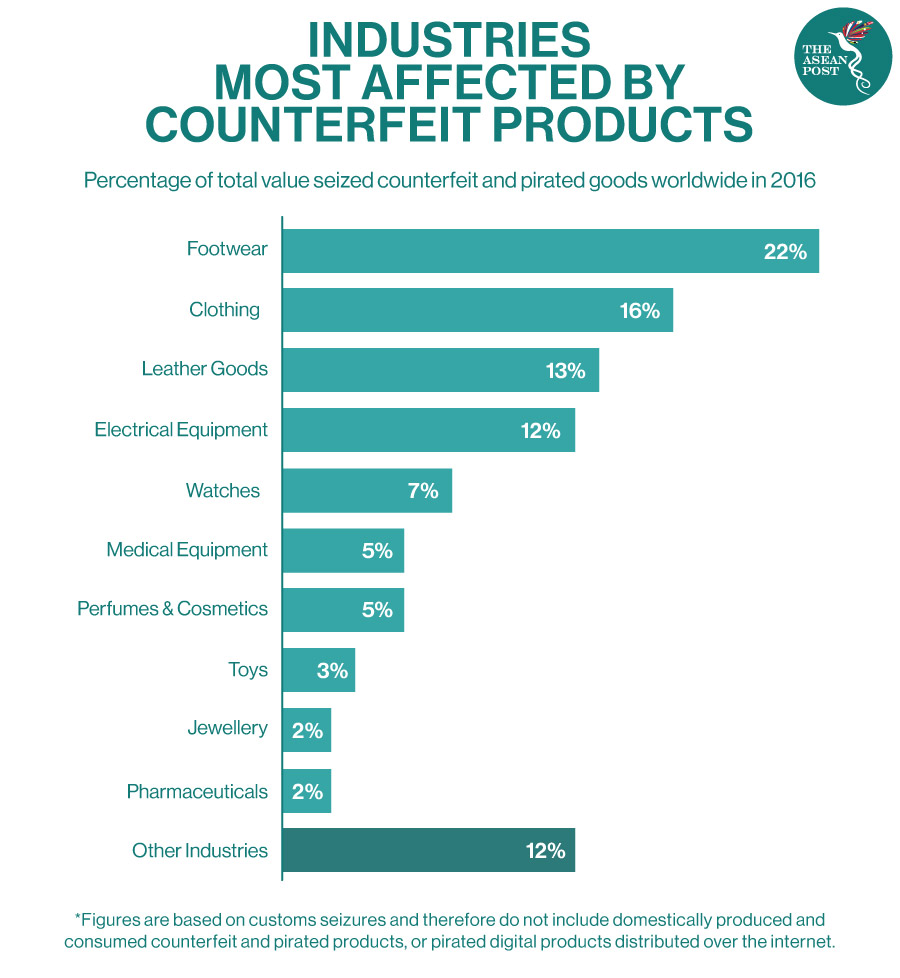 In recent years, ASEAN member state Cambodia has seen a surge in counterfeited products. In a 2010 study by Cambodian-based law firm, BNG Legal titled, "Survey of Counterfeits in Cambodia," it was revealed that of the 870 malls and market stall surveyed, a majority (52 percent) sold at least one counterfeit. 
Amid the current coronavirus pandemic, the Cambodian government has also warned against criminals selling fake COVID-19 medicine. The country's Anti-Cyber Crime Department said that they have identified those seeking to capitalise on the ongoing outbreak through online sales and will take legal action on those found guilty.
Counterfeit Crackdowns
Cambodia has been vigorous in its war against fake goods in recent years.
Just last year, the Kingdom's Interior Ministry destroyed more than 100 tonnes of seized counterfeit goods. It was reported that there were 12 types of items burned including medical products, cosmetics, cigarettes and alcohol.
According to a report by the Counter Counterfeit Committee of Cambodia (CCCC), crackdowns last year uncovered 60 cases of counterfeit products being sold in the country. The CCCC noted that most items were mainly medicines, poor quality foodstuff and cosmetics containing toxic chemicals.
Back in September 2019, the CCCC and the European Chamber of Commerce in Cambodia (EuroCham Cambodia) signed a Memorandum of Understanding (MoU) on Cooperation in the Fight Against the Importation, Production and Distribution of Counterfeit Products into the Kingdom of Cambodia. 
The aim of the CCCC is to make counterfeiters and illegal importers aware their infringements will be subject to legal repercussions and also to inform the public of the health risks associated with using fake pharmaceuticals.
In order to achieve this goal, the CCCC has signed agreements with trade chambers and organisations to support its efforts and to set up common strategies. Cambodia has also been working with other countries such as Thailand and recently, France to combat falsified and substandard medical products and counterfeit goods. 
"The Anti-Economic Crime Department will continue to cooperate with relevant units to crack down on all economic crimes and hope all related authorities will join to crackdown the crimes," said Chan Vanthoeun, Director of the Interior Ministry's Anti-Economic Crime Department.
As mentioned, the crackdown on fake goods has continued this year.
Last February, authorities in Kampong Thom province's Kampong Svay district destroyed more than 20 types of counterfeit products weighing more than eight tonnes. A few months later in June, 130 tonnes of seized counterfeit medical drugs and supplies were destroyed by the CCCC.
"The destruction of these products is part of our effort to eliminate counterfeit products in the Kingdom to ensure the public can trust in and buy real, quality medical products in Cambodia," said Mam Bun Heng, the Kingdom's Minister of Health.
As of September, an estimated 530 tonnes of counterfeit and fake products have been seized this year.
Nevertheless, despite Cambodia's gung-ho approach to eradicate counterfeit products and the illicit trafficking of fake goods, it remains a problem not just in the country, but also in the region. 
Long Sreng, Deputy Anti-Economic Crime Department Director in Cambodia's Interior Ministry cites a lack of understanding, low levels of law enforcement and poverty as reasons why counterfeit products sell across the Kingdom.
"Although the government and the related authorities have been taking measures to crack down on and prevent counterfeit products from being imported, produced and circulated in the country, we could not stop or eliminate it," he added.
Perhaps relevant authorities should invest in educating the public about purchasing counterfeited products as some of them such as fake medicines, coffee, alcohol and cigars, among others can be detrimental to one's health.
Related Articles: