The Cambodian government plans to install hundreds of security cameras along major roads in Sihanoukville next year. The cameras, which the government will be paying for, is mean to monitor traffic as well as increase security in the town.
Major General Chuon Narin, chief of Preah Sihanouk provincial police, was recently quoted as saying that a total of 600 cameras will be placed in 500 central locations in Sihanoukville, including along 34 newly-constructed roads.
"600 cameras will indeed be installed in 500 important places to monitor activities related to security. A command centre will be in the Preah Sihanouk police headquarters," local media quoted him as saying.
He also said that provincial authorities and experts have already surveyed the locations intended for the cameras, adding that technology plays an important role in ensuring public security.
"The cameras will help alert police when people are trying to hide their infraction or crime – they will not be able to do that. They will not be able to argue against their mistakes anymore. Security is important for a developing country."
Sihanoukville was once a sleepy coastal town. But after Chinese investment flooded in, driven by the Belt and Road Initiative (BRI), Sihanoukville became what it is today - an enclave of Chinese investments. Today, the town is peppered with Chinese-run, -operated and -patronised hotels, apartment towers, restaurants and gambling dens. The area is also dotted with Chinatowns, festooned with neon signs in Mandarin taking the place of Khmer and English language signs.
But development and money are not the only things the mainland Chinese brought in.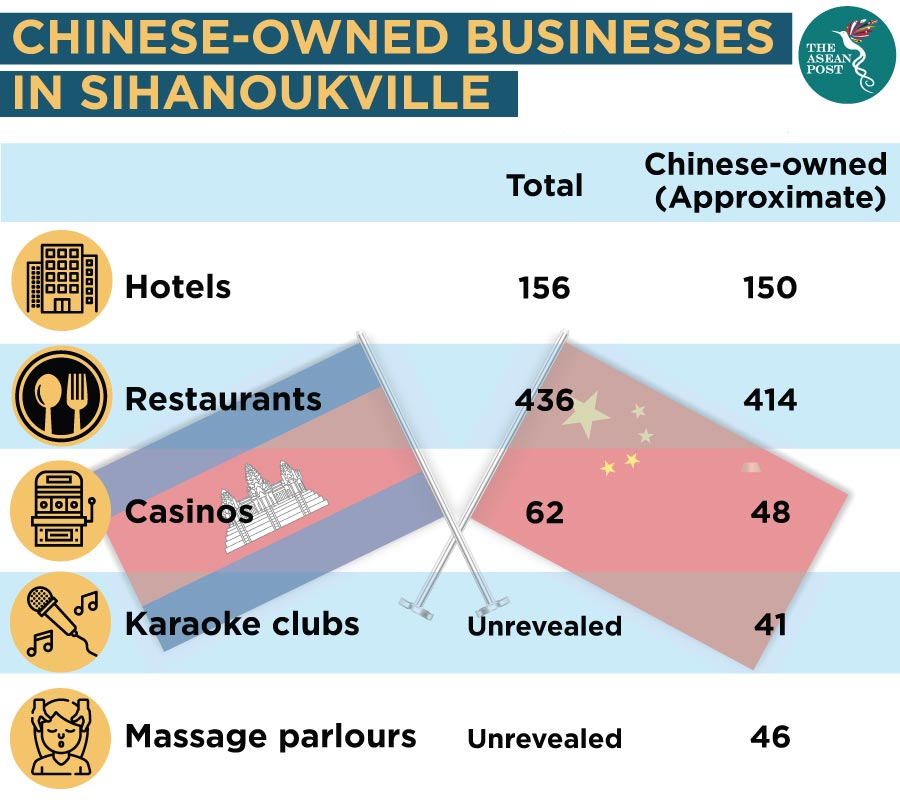 Imported crime
Early in 2018, the Sihanoukville governor at the time, Yun Min complained that the crime rate in the province was increasing. According to the former governor, part of the reason for this was due to the influx of "Chinese mafia who disguise themselves to commit various crimes and kidnap Chinese investors … causing insecurity in the province".
In May, it was reported that the Chinese embassy in Cambodia was investigating a video of a gang, supposedly from Chongqing, that was threatening to seize control of the city of Preah Sihanouk. A video circulated on Facebook, shows a Chinese man speaking to the camera while surrounded by about 20 other Chinese men, some of them sporting tattoos and cheering.
"Kampong Som, in the next three years, whether it will be safe or chaotic is under my control," the leader said in Mandarin, referring to Preah Sihanouk by its alternative name.
The video was released mere days after a 7 May report from Cambodia's Ministry of Interior which had identified Chinese nationals as the most criminally active foreigners in Cambodia. In the first quarter of 2019, 341 foreigners were detained, 241 of whom were Chinese nationals. Vietnamese were the next most likely to be arrested, with 49 detentions.
Earlier, in August 2018, it was reported that about 50 Chinese nationals had been detained in Cambodia as part of a crackdown on prostitution rings in Sihanoukville. A police report said the police had confiscated leaflets offering sex services, featuring naked women and phone numbers, during raids at massage parlours.
Safety concerns and a rise in "imported" crime in Sihanoukville has even prompted authorities to create specialised groups aimed at curbing crimes being committed by foreigners. In August, the National Police formed an 11-member working group, drawn from senior officials from various departments to evaluate the security situation in the province. It reported that an increase in investments from China had led to mainland Chinese setting up criminal networks.
Interior Minister, Sar Kheng also ordered the creation of a taskforce to provide additional support for provincial authorities to crack down on crimes. He noted that crimes plaguing Preah Sihanouk include murder, drug trafficking, gambling, extortion and kidnapping.
When asked by local reporters whether the cameras will address crimes being committed by Chinese nationals, Narin told them that the police will treat every suspect equally.
"We are the authorities – we will prioritise tackling crime and stand with the law. We will enforce the law on everyone without discrimination."
Major General Heng Chantheary, director of the National Police's traffic police and public order department, said the cameras will be ready to monitor activities in Sihanoukville by the middle of next year.
Related articles:
Does Sihanoukville belong to China?