One of the main concerns of enforcing nationwide lockdowns is the economic repercussions of the strict measures and the fear that it would have a lasting impact on social wellbeing and economic performance in the country. 
With China as the epicentre of the COVID-19 outbreak, governments in ASEAN have now put stringent measures in place to contain it; threatening to stall economic growth in major markets. ASEAN equity markets, already suffering from foreign outflows, are now at the brink of witnessing bear markets for some members states as the coronavirus-induced sell-off continues.
In Malaysia, retailers are experiencing drastic sales decline at their outlets located at tourist zones, following concerns over the COVID-19 outbreak according to reports in the local media. 
A spokesperson at Bonia Corp Bhd, an international luxury fashion retailer based in Malaysia, said sales of its Bonia branded goods have fallen significantly, and by as much as 77 percent in at least one location. "The key factor is COVID-19, which has made tourists numbers decline, while local consumers are shying away from crowded malls during their weekend outings," he said.
Retailers in Malaysia have called upon all shopping malls and shophouse owners to give tenants a six-month rental rebate, from 30 to 50 percent from this month onwards due to the COVID-19 outbreak.
Singapore also saw the worst blow to its retail sector since 2013. More than 300 retailers in the island state have banded together to ask their landlords for a lifeline amid plummeting sales. 
"The premise is simple. Many mall landlords in Singapore are property giants such as real estate investment trusts and they will talk down to individual retailers. Only by banding together do all small and medium sized retailers have a chance at getting some sort of a fair deal," he told the media.
Can retailers stay afloat?
The Bain Macro Trends Group's (BMTG) analysis of the global COVID-19 outbreak suggests that businesses should activate first-level contingency procedures that include mitigating immediate threats to staff, such as restricting non-essential travel to avoid stranding travellers due to quarantines; reviewing and even deferring nonstrategic investments; and planning for a business environment that's equivalent to a quarter-of-a-year recession.
The private sector has the resources and ability to act much faster than their respective governments to ensure the safety of employees as well as protecting business interests. In particular, many large employers have moved to partial or full work-from-home policies.
This is especially relevant to countries in ASEAN that have not yet enforced any kind of movement control measures such as Thailand, Cambodia and Indonesia. At time of writing, ASEAN countries had recorded 2,238 confirmed cases. Malaysia has the highest number of cases at 900 while Cambodia's number stands at 37. Myanmar and Lao PDR have yet to report any cases. 
As the crisis grew in February, 80 percent of Chinese consumers expressed a preference for online grocery shopping, though only about half could make purchases due to supply shortages.
Supply chains pose a huge challenge for most companies. Production and distribution centre activity slowed down significantly (or stopped) in China due to forced extended holidays and quarantined workers. Restrictions on travel networks will create logistical bottlenecks, exacerbating inbound and outbound supply chain obstacles. These constraints have left some suppliers unable to meet the surge in demand for staple items.
It is recommended that companies take preparatory measures at the earliest stage. Supply is likely to become the biggest issue for retailers. As a result, all buying teams should shift their focus away from traditional buying negotiations and toward ensuring continuity of supply. For the most critical categories, this could mean living with compromises that would normally be unacceptable, such as looser payment terms. 
Leadership teams should also focus more on cash flow over the coming weeks – the increased focus on cash can go hand in hand with measures to reinforce the balance sheet, including drawing down all existing credit lines, and stopping or postponing all nonessential capital spending.
While comprehensive data on retail performance in Southeast Asia is not yet available, trends across the globe – namely in China, Europe, and the United States (US) – illustrate the impact that COVID-19 will eventually have on the ASEAN economy. Comprehensive steps must be taken to protect businesses from restrictive actions (such as quarantines or closing schools and public places) that will result in labour shortages and considerable disruption to supply and demand, retail operations and logistical flows.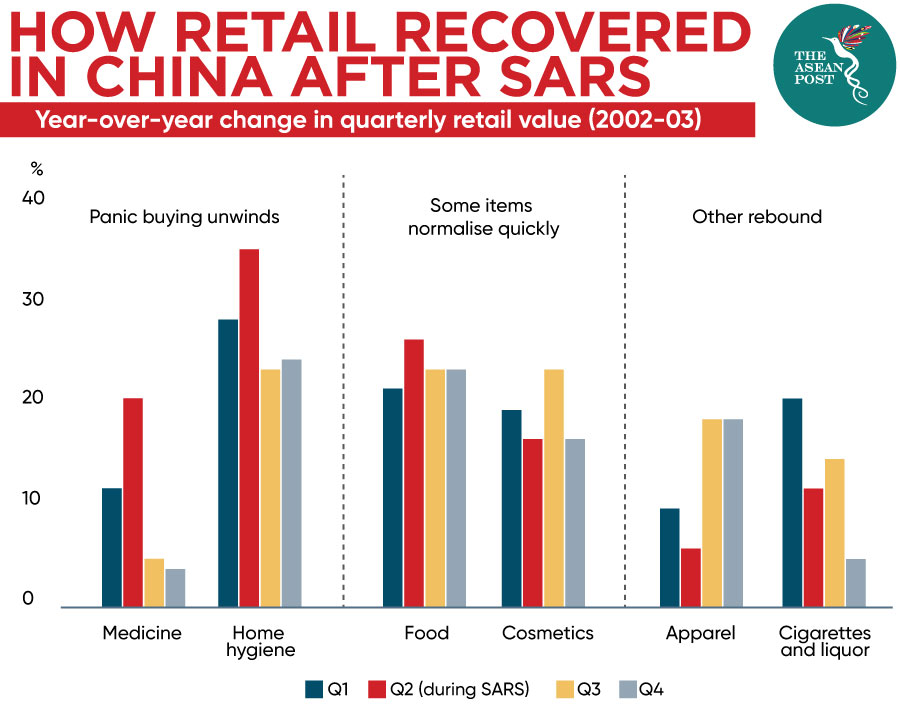 Preparing for recovery
Market trends indicate that there is a major increase in online purchases of consumer goods. Consumer demand has prompted many traditional offline stores to launch online-to-offline (O2O) collection and delivery services for orders placed online – a sign that the COVID-19 epidemic may dramatically accelerate the ongoing move of consumer goods sales to online channels.
Stopping the pandemic may require repeated shutdowns which would save lives but would also come at a staggering cost in terms of lost jobs and livelihoods. Measures to suppress the virus are helping for now, but if they are relaxed could result in a second wave of infections. Therefore, simply waiting out the virus cannot be an option for retailers. Adaptive business practices is crucial at this stage. 
China's recovery from the SARS outbreak of 2002-2003 featured a sharp drop in sales growth in some categories prone to stockpiling, such as home hygiene products, but a strong rebound in others where there was pent-up demand, like apparel. Executives need to incorporate distortions such as these in order to restart standard statistics for automated reordering, shipment and price adjustments. 
Related articles: