Several ASEAN countries are facing the problem of an aging society. This is the reality for countries like Singapore, Brunei, Malaysia, Thailand and Vietnam. The worry is that as citizens age, and pregnancy rates drop in these countries, it will become harder and harder for them to remain competitive.
In the face of this concerning reality, ASEAN has been looking at how it can fully utilise the potential of its aging citizens. The ASEAN Post mentioned in particular that in Thailand, the government there has agreed to have an "active ageing" plan as part of its national agenda. The plan aims to provide and upgrade vocational skills for those over 60, in addition to looking at job creation suitable for that age group.
"The plan also urges employers to hire more elderly staff by providing benefits, as well as encouraging seniors to sign up for the National Savings Fund (NSF) to promote sustainable financial management in old age," the local media quoted deputy government spokesperson, Ratchada Thanadirek as saying.
According to 2018 estimates by the Central Intelligence Agency's (CIA) World Factbook, the majority of Thais (46.1 percent) are aged between 25 to 54 years old. Meanwhile, only 16.7 percent were 14 years old or younger, while 13.8 percent were between the ages of 15 to 24.
Ratchada said recently that as of 2018, the number of Thai citizens who are aged over 60 accounted for 12 million people, or 18 percent of the population as a whole. She was speaking after a National Elderly Committee Meeting where the Thai government discussed how best to help the ageing population to continue contributing to society while preparing for old age.
"Most of those aged between 60 and 64 are still in good health and capable of working. However, up to 41 percent of them are unemployed or have voluntarily stopped working, meaning that they now have an inactive lifestyle. Furthermore, statistics show that many Thai people are entering old age without proper preparation," she said.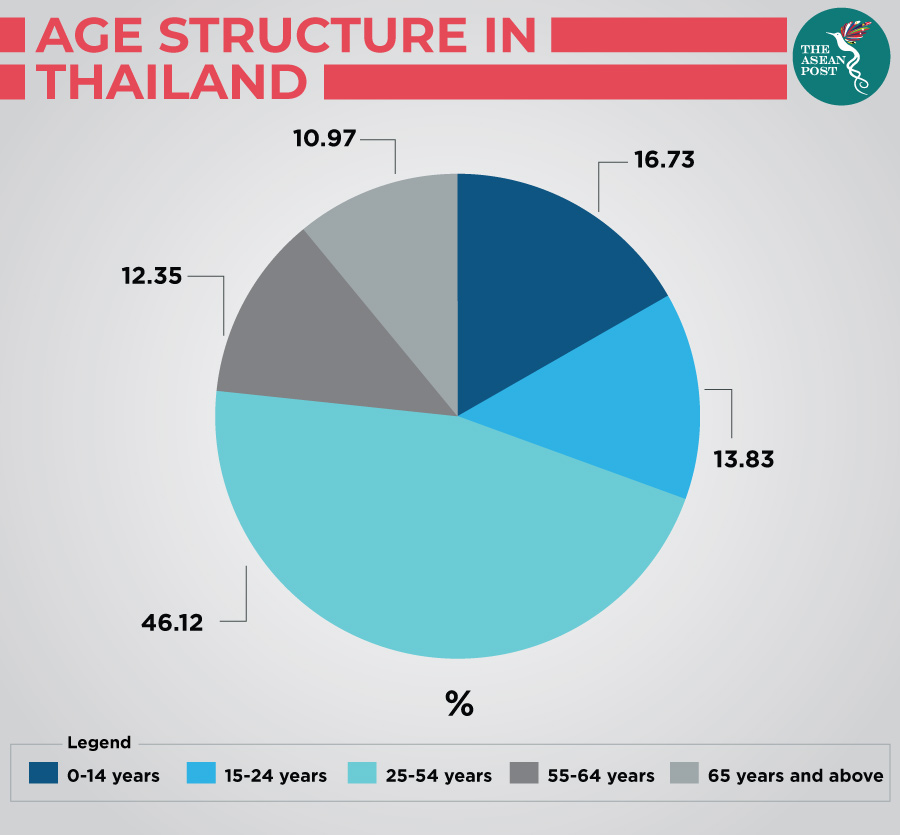 Technology
Recently, the Asian Development Bank (ADB) published a report titled "The Asian Economic Integration Report 2019/2020 (AEIR): Demographic Change, Productivity, and the Role of Technology". The report revealed that adopting technology policies that improve the health, skills and labour of elderly people would be beneficial for Asia as well as economies in the Pacific region.
"The aging trend is irreversible in much of Asia and the Pacific, but governments could turn that into a 'silver dividend'. Today's elderly are better educated and healthier than in the past. The right policies on technologies could extend working lives, generating a substantial contribution to the overall economy," ADB chief economist, Yasuyuki Sawada said in the report which presented the role of technology in boosting the productivity of aging economies.
It was also noted that the average healthy life span increased by nearly seven years from 57.2 to 63.8 years between 1990 and 2017 for economies in Asia and the Pacific, while the average years of education among 55 to 64-year-old people also increased from 4.6 in 1990 to 7.8 in 2015.
Countries that are fast aging with above-median education levels would benefit from adopting automation and labour augmenting technologies to supplement the low supply of labour for routine work. 
Thailand, as an aging ASEAN country, would do well to focus on both, education as well as creating avenues where technology could better help its aging society to continue working.
As mentioned in previous articles, Thailand is doing well as far as technological advancements are concerned. While there is still room to grow, the country has been diligently following its Thailand 4.0 plan and that seems to be working out well. 
Similarly, healthcare is also improving in the country. The one worry, as far as healthcare is concerned, is whether the Southeast Asian country can maintain the momentum of such good quality in the face of budget allocation cuts.
The one area that Thailand continues to face serious challenges – and has for a long time - is in its education system. This is most apparent when it comes to providing those in schools with a good education. As for those already in the workforce, there is at least some room for improvement.  
Meanwhile, the ADB report also suggests that older people would be encouraged to continue working if the labour market, social security, and tax system are reformed.
The Fourth Industrial Revolution has provided an avenue for people to continue working into their senior years. This is indeed good news for Thailand and other ASEAN countries with aging populations. Utilising this opportunity though will require willpower – something that Thais thankfully have in abundance. 
Related articles:
Can an ageing ASEAN stay competitive?