Leveraging on decades of experience working in the military, consultancy firm Check-6's emphasis on leadership, teamwork and discipline is improving human performance and reducing occupational hazards across various industries.
Mostly comprised of former military leaders with decades of combat involvement, their experience working in risky environments combined with attention to detail and planning means Check-6 are now being actively sought after to streamline processes in industries such as energy, medical healthcare, manufacturing and construction.
Known as performance coaches, Check-6's consultants are retired Special Operations, Army, Navy and Air Force leaders who utilise military planning processes and resource management techniques to improve efficiency and safety – with the majority of their work provided in high-risk environments such as offshore oil rigs.
Deriving its name from the popular military aviators' call for support, Check-6 is active in four ASEAN countries; Malaysia, Thailand, Indonesia and Brunei. The regional base, Check-6 Bakti was established in Malaysia in 2013 when Check-6 was awarded a contract by Malaysia's leading oil and gas company, PETRONAS.
After initially starting out with half a dozen foreign performance coaches and no locals, Check-6 Bakti currently boasts a team of 20 performance coaches who are all home-grown. Hiring local talent is one of Check-6's priorities as it allows them to communicate more effectively with the local communities they serve. 
Having also delivered projects for other oil and gas players such as Murphy Oil and ExxonMobil, Check-6 Bakti has since been given the mandate by PETRONAS – a Fortune 500 company – to deliver services to its operations in countries such as Gabon (Central Africa), Turkmenistan (Central Asia) and Mexico.
Core values
While connecting the dots in the military sector to the oil and gas industry may seem like a stretch at first, on closer observation, there are several parallels.
The teamwork culture on offshore oil rigs – where operations are managed and coordinated by crews and shifts working together – is the same as in the military, and both have a large number of crew which are deployed every few months. Crew members carry out a specialised task which is often stressful and involves long hours – making communication, coordination and the need to prevent complacency especially crucial.
"There are a lot of similarities," pointed out David Hazell, Senior Vice President of Check-6 Inc, in an exclusive interview with The ASEAN Post.
"It's all about working as a team. If you don't follow procedure, someone's going to die.
"We have real-world stories about being in combat situations and how important it is that all the processes are being followed, and we translate that into the environments we work in," he said, adding that Check-6 Bakti recently started consulting KPJ – a leading healthcare services provider in Malaysia.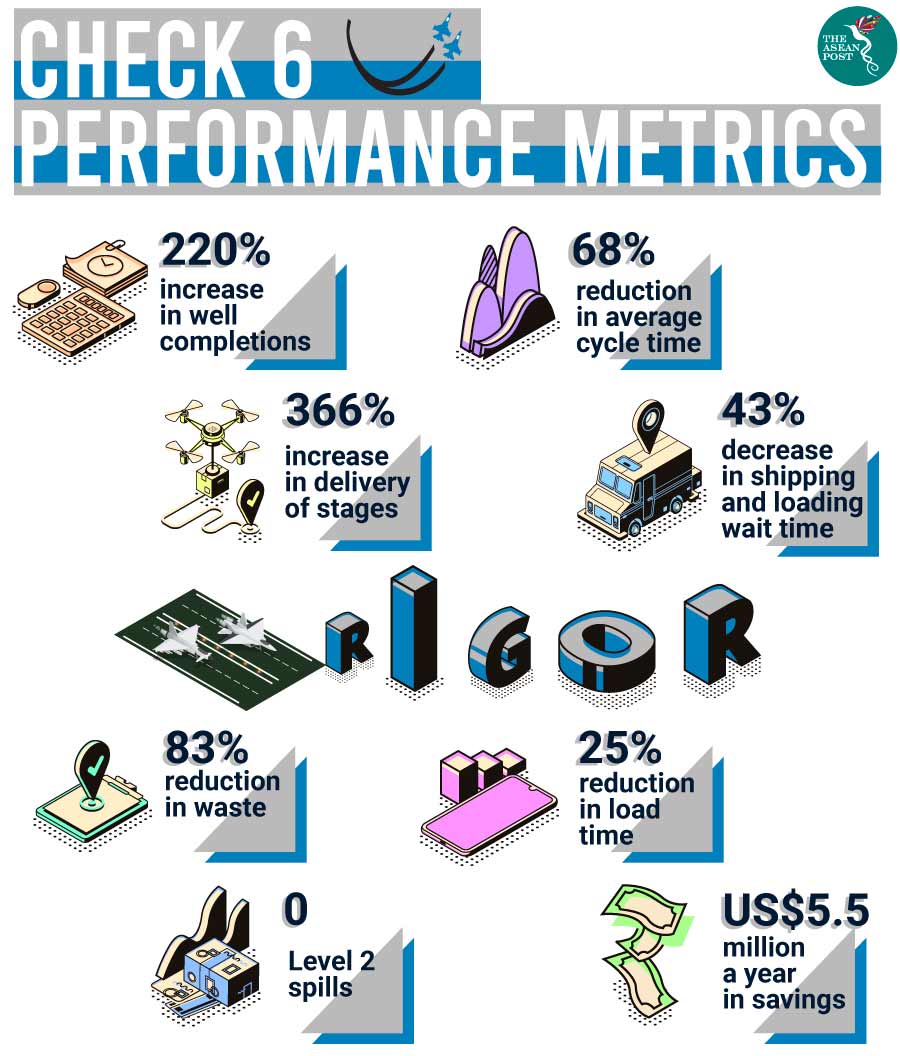 Source: Check-6
History
Check-6 was founded in 2007 by Brian Brurud, a former United States (US) Navy fighter pilot who had prior experience working in the oil and gas industry. The idea to start the company came from a friend in the industry who expressed concerns about accidents and inefficiencies in the sector after reading a 1995 white paper by industrial psychology expert Rhona Flin titled 'Crew resource management for teams in the offshore oil industry' which describes an operational philosophy and team training called crew resource management (CRM).
CRM was developed by the aviation industry for flight deck crews but has since been adapted for use in industrial settings such as offshore oil installations. In essence, CRM involves enhancing team members' understanding of human performance, in particular the social and cognitive aspects of effective teamwork and good decision making, wrote Flin in the study. CRM training is designed to reduce operational errors which could cause an accident and to give crews additional skills to deal with problems if they are faced with an emergency. 
What sets Check-6 Bakti apart from other consultancy firms is that their performance coaches are personally onsite with the teams from these organisations, working with them through meetings, workshops and one-to-one coaching and providing custom designed training curriculum and on-site consultation and implementation.
Mission accomplished
"While Health, Safety and Environment (HSE) officers are more focused on compliance, we are there to complement them," explained Col. (Rtd) Kamarul Baharin Mohd Yaacob, Check-6 Bakti's Managing Director, Global Business Manager and Country Manager.
"We're here to enhance companies' processes and provide additional value to their operations. We have experience leading thousands of people and bringing them back safely after the mission is accomplished – and it is this experience which we want to share. Every company wants safety and efficiency, both of which militaries have always placed strong emphasis on," he added.
Devinder Singh, Check-6 Bakti's Project Manager, also stressed that safety was a big concern in the oil and gas industry – where operations are carried out throughout the year in all weather conditions.
"We operate in high-performance, high-reliability jobs – and that means you have to get the job done right the first time, every time," he said. "Statistically, more than 80 percent of accidents happen due to human error, and we're here to reduce that," he added.
With their ability to improve safety and operational efficiency by incorporating best military practices, Check-6 Bakti look set to continue hitting the mark in a growing range of industries.
For more information on Check-6 Bakti and its services, please contact Colonel Kamarul Baharin bin Mohd Yaacob (Retired), Managing Director, Global Business Manager and Country Manager at +60192665150 [email protected]
Related articles:
Petronas wise move to cancel US$29 billion Canada LNG project
Oil and gas environmental footprint in Southeast Asia