Businesses are increasingly turning to Peer-2-Peer (P2P) financing to cater to their financing needs, with last week's tie-up between Malaysia's Funding Societies and regional e-commerce giant Lazada a perfect example of the current revolution taking place. 
P2P financing platforms such as Funding Societies connect credit-worthy local micro, small and medium enterprises (MSMEs) with individuals and institutional investors through a digital marketplace, significantly increasing access to financing in the MSME sector.
P2P lending is different from crowdfunding in that P2P investors lend to fund business expansions and meet other financial requirements. These investors are then repaid the loan amount plus interest, which is similar to conventional banking. Crowdfunding, meanwhile, helps fund projects or products in return for a product or a share of a business.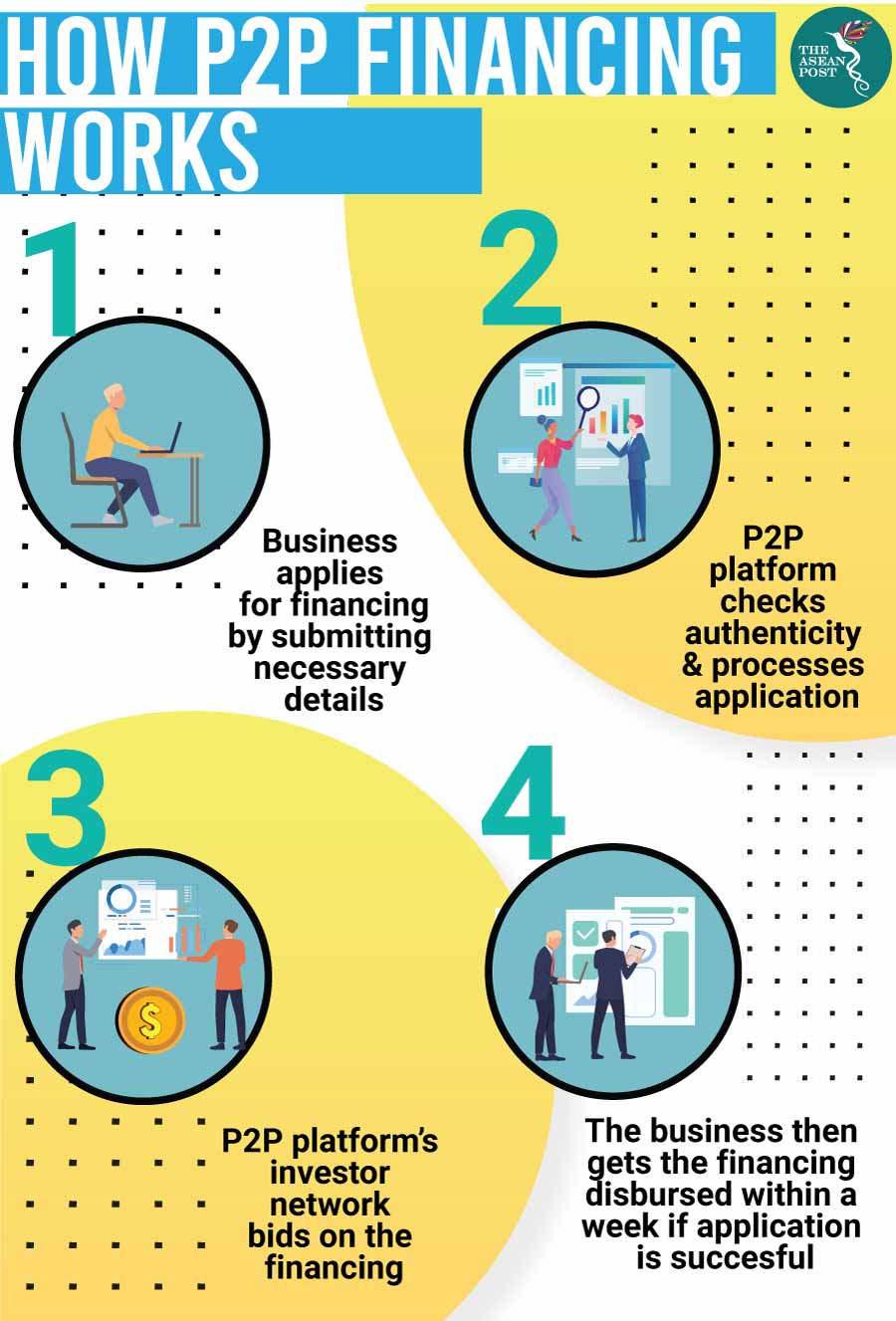 Source: Funding Societies
Offering lower interest rates and requiring fewer documents during the application process, P2P financing also involves repayment tenures between three to 12 months and the ability to disburse loans within five working days as opposed to 15 days for traditional banks. Such platforms are gaining prominence across the region – with Funding Societies alone having disbursed US$484 million in working capital to MSMEs across Southeast Asia since its establishment in early 2017.
Malaysia became the first ASEAN country to regulate P2P financing in November 2016 when the Securities Commission of Malaysia (SC) announced the registration of six P2P financing platform operators. The largest P2P financing platform in Malaysia, Funding Societies is also present in Singapore and Indonesia – where it is known as Modalku. 
MSME's financing difficulties
Creating jobs, promoting innovation and closing the poverty gap, it is no surprise that MSMEs have long been regarded as engines of socio-economic growth – especially in developing countries.
Although MSMEs only contribute 30 to 53 percent of ASEAN's gross domestic product (GDP) and 10 to 30 percent of its imports according to the Economic Research Institute for ASEAN and East Asia (ERIA), they make up at least 95 percent of all its businesses and more than half of total employment in the region.
While promoting growth in this sector is a priority for governments across ASEAN, this segment of the economy regularly lacks access to the financial tools and technology infrastructure which are the norm in bigger companies.
As the World Bank noted in an October 2017 research paper titled 'Addressing the SME finance problem,' MSMEs are less likely to have a formal bank loan or other lines of credit compared to large firms. Understanding the MSME finance problem is critical because difficulties in obtaining finance can hamper the ability of established smaller firms to invest and grow – hindering overall growth in economic activity and employment.
MSMEs such as e-commerce vendors tend to be informal, young, have less publicly available information and operate in unfamiliar sectors. Most of these firms also do not have enough assets that can be used as collateral – all of which discourages bank lending. Additionally, these firms might find it too costly to list in capital markets, and even when they do list, they might fail to attract enough capital market financing as investors in these markets prefer large companies which are less risky and more liquid.
"We hear and understand the struggles e-commerce merchants face when it comes to securing financing to grow their online business, oftentimes overlooked by traditional financial institutions," noted Wong Kah Meng, co-founder and Chief Executive Officer of Funding Societies.
"Our partnership with Lazada will enable such merchants to gain greater access to financing via its platform. This is made possible by leveraging alternative data from Lazada, with consent, as part of our risk assessment. As one of the emerging pillars of our economy, P2P financing will enable greater growth within the e-commerce industry and ultimately contribute to a stronger e-commerce ecosystem," Wong added.
Funding Societies has received around 500 applications from e-commerce merchants within just three days of launching, with the number expected to increase further. 
High Internet penetration rates are helping to fuel the current e-commerce explosion in ASEAN, and combined with the lower transaction costs and enhanced convenience that P2P financing offers, the foundations are in place to create a viable alternative to traditional financing for MSMEs.
Related articles:
CROWDE-funding Indonesia's small food producers