Cloud kitchens across Southeast Asia are disrupting the dining restaurant model, operating straight from individual cooking venues and delivering straight to customers' doors. Cloud kitchens are also called delivery-only kitchens, ghost kitchens and dark kitchens. 
The elimination of customer seating, air conditioning and lighting slashes rent costs and bills and also reduces the need to employ serving staff. All these reductions earn for itself the better economies of scale while catering to consumer preferences.
In 2018, research and consulting firm, Frost & Sullivan estimated the food delivery industry to be worth US$82 billion in terms of gross revenue bookings and is set to more than double by 2025, backed by a cumulative growth rate of 14 percent. And cloud kitchens address this strong growth in food delivery services. 
The range of cloud kitchen models is also increasing, from the independent model, to delivery-app owned kitchens and a fully outsourced model where no cooking actually takes place. Food delivery companies are venturing into their own cloud kitchens, while branded restaurants are building their delivery-only satellite kitchens to ensure wider reach and quick delivery of food to their customers. 
Competing with the "pure-plays"
Ride-hailing companies, Gojek and Grab have jumped on the bandwagon and have used their advantage of well-known brands and larger user databases to compete with food delivery "pure-plays" like Deliveroo and FoodPanda. It is not surprising that companies are venturing into the food delivery industry, as Southeast Asia's market is expected to grow from US$2 billion in 2018 to an estimated US$8 billion in 2025, according to Singapore state investment firm Temasek and Google. 
But Grab's delivery service aggregator, GrabFood has developed its cloud kitchen brand, GrabKitchen. With its recent expansion into Indonesia, Thailand and Vietnam, GrabFood now has 20 live kitchens across Southeast Asia.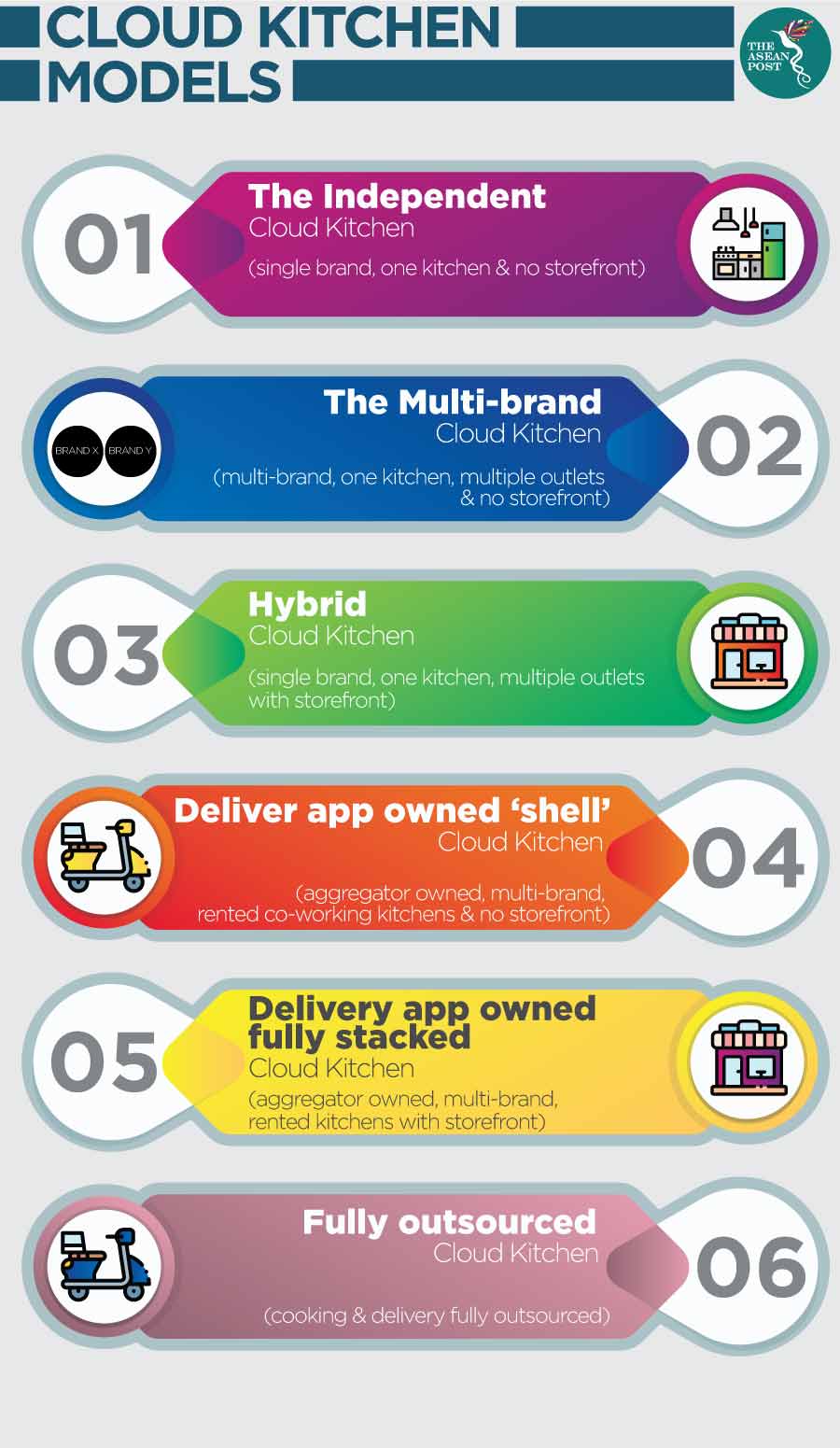 "We see GrabKitchen as a new solution that empowers our merchants to expand and grow, and for consumers to enjoy greater access to a wide variety of food," said Lim Kell Jay, head of GrabFood. They added that their kitchens are strategically located to bridge consumer demand and availability of food selections while reducing the time for food delivery.
By the end of 2019, GrabFood aims to operate a regional network of cloud kitchens totalling over 50 GrabKitchens across the region. 
Indonesia's decacorn Gojek, is in cooperation with India-based internet restaurant start-up Rebel Foods to start their cloud kitchen business.
Healthy options 
In Southeast Asia, the majority of food delivery is confined to fast food as this is what the mass population is familiar with. But, with the advent of cloud kitchens, customers no longer need to compromise on their food choices to keep up with their busy lifestyles because it is now easier to include healthy options in their diets. Together with delivery services, it is also easier to sustain a well-balanced diet.
Some cloud kitchens tailor menus for health and weight loss with options to pre-select ingredients before cooking. These services can cater food to individual needs such as high protein, low carb diet or gluten-free. There are also those offering services to a niche market like confinement meals for new mothers. Here, meal plans accommodate the special dietary needs of recovering mothers, adhering to their religious or cultural requirements. 
There are also home-delivered meals for older persons who are unable to leave their homes to shop or to prepare nutritious meals. 
Grain, based in Singapore, is a food delivery start-up that specialises in clean food and believes in improving lives through meaningful food experiences. Grain is a cloud kitchen that works with its chefs, menu and delivery team. 
Dahmakan, a food start-up based in Malaysia, uses unwanted retail spaces to cook up meals via digital orders. Catering niche food to the masses may still be difficult, especially when it comes down to the price of the food. But Dahmakan co-founder, Jessica Li, has found a way to "scale food production for thousands of deliveries while maintaining quality and keeping costs at 30 percent below comparable restaurant prices." Both Dahmakan and Grain have introduced 'satellite' hubs that allow them to serve customers located in different parts of the city efficiently.
Another Malaysian cloud kitchen, Kawkawveg, that offers vegan food told The ASEAN Post about the challenges of providing vegan food delivery services in Malaysia.
"In addition to the usual challenges that a food delivery service has (high cost of delivery, rider inconsistency), the main one a vegan food delivery has is the fact that we operate in a fairly niche market. Most people still don't view vegan food favourably," said Prabha Shanmugam, general manager of Kawkawveg. 
She is optimistic that people are slowly developing a taste for vegan or vegetarian diets as "that sentiment is slowly but surely changing. This means we have a small group of incredibly passionate supporters and customers [even if] the population at large is still quite apprehensive about it. This is what we aim to change. We hope to have enough market penetration that even regular meat-eaters try our food out, love it and eat it regularly."
There is a huge opportunity for the cloud kitchen business, though it does not mean the end of restaurants or retail as we know it. The major winners will be start-ups looking to break into the restaurant business with lower overheads. 
Related articles:
Food delivery services in Southeast Asia