The construction industry in Cambodia is booming due to rising foreign investments. In 2019, the country's construction sector attracted a total investment of US$3.39 billion, which is an increase of 57.5 percent over the same period last year. According to a report released in July by the Ministry of Land Management, Urban Planning and Construction (MLMUPC), the country had granted licenses to 2,047 construction projects during the January-June period this year, up 24.5 percent from the approved 1,643 projects over the same period, last year. 
In the report, Chhan Sophal, director-general of the MLMUPC, said that most of the new high-rise buildings and new towns are located in the capital Phnom Penh. Yet, the actual number of construction companies may exceed the official count. In 2018, the MLMUPC found that there were many unauthorised construction projects in Sihanoukville Province launched by opportunistic developers. These illegal projects affect the environment and lead to poor construction quality.
Workers at risk
Cambodian construction workers are facing many health and safety issues at work, with some losing their lives while others are often disabled. In June 2019, a seven-storey building that was under construction in Sihanoukville collapsed, killing 28 workers who were sleeping inside the building at the time. Many of these labourers had travelled far from home to earn a living. Forced to live in the structures they are building, it is a common practice for migrant workers in many construction sites across Cambodia. 
Despite the government's pledge to fix problems in the sector, workers interviewed by the China Labour Bulletin noted that unregistered construction and unsafe conditions are still commonplace one month after the incident.
The International Labour Organization (ILO) estimates that more than 1,500 workers are killed each year by occupational accidents in Cambodia. Most of these accidents occur in construction sites, brick kilns and small enterprises that have neither the knowledge nor system in place to protect workers. 
Labourers are often recruited by friends or family, though some unskilled workers can simply walk up to the site and seek for employment. Employment rarely comes with a written contract, allowing developers and contractors to slash costs at will.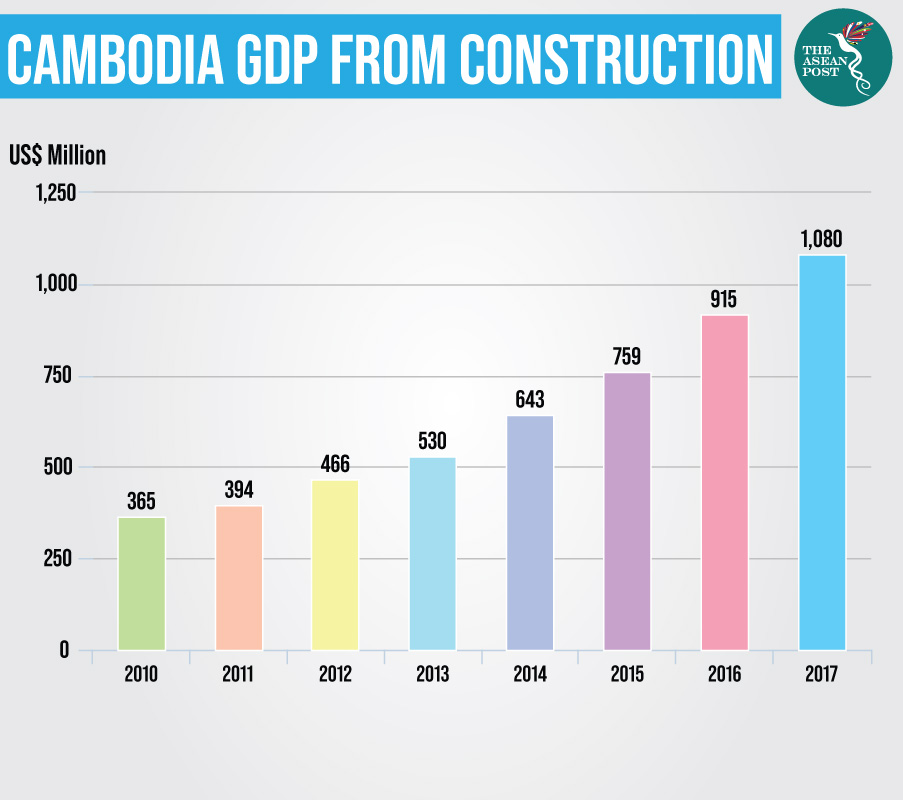 Source: Trading Economics / National Institute of Statistics of Cambodia
Penh Soeurn, who leads a group of workers specialising in brick and tile masonry says that "contractors always find a way to cut costs." Cost-cutting also affects safety measures which could lead to accidents. Some workers in Phnom Penh and Sihanoukville said supervisors would stop workers from entering the site without a proper helmet and footwear, but that was the extent of their efforts.
Call for safety
Cambodia has not been able to keep pace with its booming construction industry to ensure the safety and health of the sector's workforce. The ILO cited several reasons, including the absence of an Occupational Safety and Health (OSH) law and regulation for labour inspection in construction sites, lack of resources to enforce standards and unsatisfactory data on work-related accidents.
At least 200 members from construction sector unions gathered in front of the Ministry of Labour and Vocational Training in April 2019, to deliver petitions asking for issues facing construction workers to be addressed. 
"Because there is no responsibility, we now raise all the issues and submit [them] to the ministry for consideration. There are certain issues that can be resolved for the workers," said Sok Kin, president of Building and Wood Workers Trade Union Federation of Cambodia (BWTUC). He also blamed the lack of legal protection in the workplace as a principal factor in construction site issues. 
"Urban development must prioritise preventing environmental impact, as well as on sustainability and public safety which are the role of [the] State," said Sok Kin. 
According to the ILO, the majority of labourers do not belong to unions and aren't protected by minimum wage laws. Organisations like the BWTUC represent construction workers who cannot unionise, though Kin says that they have little power to confront foreign construction companies.
Khun Tharo, program coordinator for the Center for Alliance of Labor and Human Rights (CENTRAL) in Phnom Penh, says Chinese construction companies generally do not allow any unionisation on their sites. He also noted that the lack of registration and accountability presents problems for labour and safety inspections, which are mandated by law but not properly enforced even among registered companies. 
"Implementation of Occupational Health and Safety standards on construction sites must be strictly and effectively enforced," he said. 
CENTRAL is a non-governmental organisation (NGO) which aims to empower Cambodian workers to demand transparent and accountable governance for labour and human rights. Kun Tharo argues that vocational education and certification programs would boost workers' salaries, help them gain employment in registered companies which can improve safety on construction sites. Political will is important to achieve this. 
Sihanoukville's recent building collapse was the result of a lack of government oversight, where not enough was done to organise project developments, or inspect building works leaving the door open to opportunistic developers and contractors to cut costs. Without changes, the fast-paced construction industry will put the lives of many Cambodian workers at risk and also limit their ability to earn a decent living. 
Related articles:
Does Sihanoukville belong to China?
Construction workers risk lives for ῾riches᾽