Work-from-home (WFH) has been one of the major topics discussed since the early days of the pandemic. 
The health crisis has drastically changed how we live our lives. Some daily norms are now reshaped by the pandemic and have been branded as the 'new normal'. For example, a simple handshake – the universal form of a friendly greeting might have to be squeezed out to reduce spreading the virus. Temperature checks for customers are becoming a requirement at restaurants before given the green light to dine in. A seminar is now called a webinar. 
According to online shopping aggregator iPrice Group, one of the product categories that has seen a surge in demand among consumers on e-commerce sites in Southeast Asia is computer gadgets. This follows restricted movements and lockdowns implemented by governments in order to contain the deadly outbreak. As half of humanity are under some form of lockdown and working from home –computer equipment has become essentials and very much coveted. 
Some companies have successfully embraced the new WFH routine and have even implemented it indefinitely. Recently, Twitter announced that they would let all their employees work from home in the future if that is what they want. Over in Malaysia, Permodalan Nasional Bhd (PNB) – one of the largest fund management companies in the country – has made WFH a permanent option for its employees.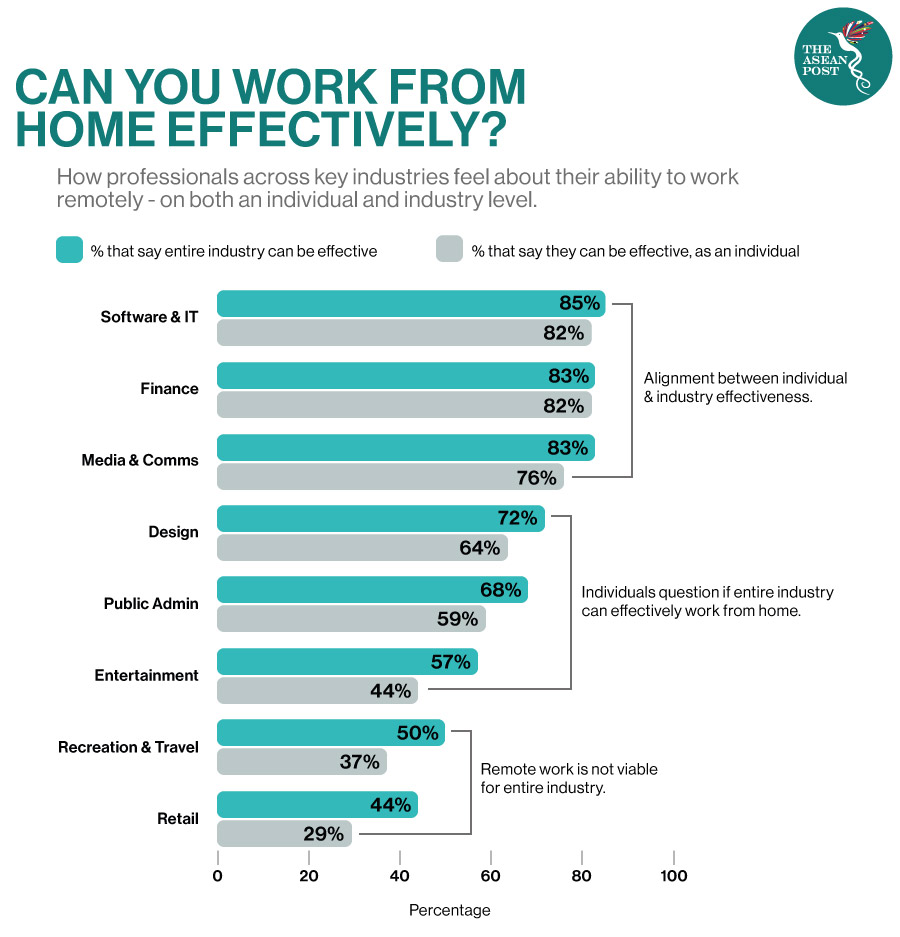 However, not every company is able to implement such flexible working arrangements. LinkedIn Workforce recently surveyed various industries to analyse how professionals in the United States (US) are taking to this new norm of remote working. According to the research, less than 50 percent believe in remote working for industries that involve human contact such as Retail, Recreation and Travel. This trend can also be seen everywhere around the world as it is difficult and near impossible for these industries to sustain themselves during an extended period of WFH.
Other companies are still in the process of evaluating WFH; taking the pandemic as an experiment on the feasibility of remote working.
One thing that many people don't miss about WFH is the commute to work. According to the World Economic Forum (WEF), commuting is "not going back to how it was" as the pandemic will perhaps change the operations of transportation services.
In Malaysia, public transport services such as the country's Light Rail Transit (LRT) and Mass Rapid Transit (MRT) systems resumed operations early this May as virus restrictions were eased. Spots and seats have been marked for passengers to maintain social distancing from others while at the platform and inside trains. It was also reported that only a certain number of passengers are allowed to be at the platform at any given time. This means that waiting and travel times are expected to be longer than usual. Temperature checks on all passengers will also be performed before allowing them to enter the station. Other than that, only those who wear face masks are allowed on board. These measures can also be seen in Indonesia's capital, Jakarta.
In the long run, this doesn't seem like an ideal solution as platforms and trains will be congested with people hustling to go to work. 
Yingling Fan, an urban planner at the University of Minnesota in the United States (US) suggests automatic vehicle-location and passenger-flow monitors to reduce congestion. In 2019, Google used crowdsourcing and traffic information to give users a heads-up on how packed they should expect public transportation to be. When integrated with mobile apps – all this information could reduce congestion by allowing passengers to avoid crowded platforms and vehicles, according to media reports.
In some cities in China such as Shenzhen and Guangzhou, pre-booking a seat is common on buses and trains. The option of pre-payment for fares online will also reduce the possibility of touching public kiosks while maintaining social distancing.
Co-Working Spaces
According to the WEF, co-working spaces in some areas may thrive after the pandemic. 
As companies and their staff realise the advantages of working remotely, experts agree that it will become more common for employees to split their time between WFH and working from an office.
"Co-working spaces have the potential to provide vital business services to support the remote workforce closer to where they are, especially as residual anxieties linger over taking public transit," says Brent Capron, design director of interiors at architecture firm Perkins and Will's New York studio.
In a research publication by Cushman & Wakefield, a global commercial real estate services firm, it was found that co-working is expanding rapidly in Southeast Asia due to its fast-growing economies and tech-savvy population. Higher internet penetration in the region along with the rapid development of e-commerce are behind the rise of co-working spaces. 
Co-working is a cheaper solution for office space in expensive cities such as Singapore. This platform – typically for freelancers and start-ups – is on the radar of large corporates who are driven by the demand for flexibility, cost, convenience, innovation and community. It was reported that large corporations are seeking alternative, activity-based workplaces to nurture employee talent and further business growth. 
The number of employees opting for flexible working arrangements would perhaps increase in a post-pandemic world. This could also result in the rise of co-working spaces.
While it is impossible to predict the future, especially when it comes to the challenges brought on by the coronavirus, there are endless possibilities and maybe even some opportunities that could potentially emerge from the pandemic. 
Related articles: