The COVID-19 coronavirus has tremendously impacted livelihoods, local industries and the economy in general. Governments around the world have imposed strict measures to contain the virus such as travel curbs and restricted movements. Currently, about half of humanity is under some form of lockdown or other. To date, nearly four million people have been infected with the deadly new coronavirus, taking with it over 270,000 lives. In order to flatten the curve, authorities have issued safety guidelines and everyone is urged to practice social distancing. 
Until a viable vaccine for the virus is developed, some of these measures are likely to stay indefinitely. According to a group of researchers from the Harvard T H Chan School of Public Health, some form of intermittent social distancing may need to be in place until 2022.
The COVID-19 pandemic has significantly changed the way people live their lives. Citizens and businesses are pushed to embrace the 'new normal' due to the virus. For example, a simple handshake – a universal form of a friendly greeting might have to be squeezed out to reduce spreading the virus. In fact, it was reported that two metres of separation is critical to prevent transmission of the virus. 
When the coronavirus first emerged in ASEAN member states, there were reports of mask shortages across the region. It was first dismissed as unnecessary for the public to wear them except if one is unwell or displays symptoms of the virus. Dr William Schaffner, a professor at Vanderbilt University's Division of Infectious Diseases stated that "the priority should be face masks to use in the healthcare environment, rather than in our community."
Nevertheless, in some countries where they have begun easing virus restrictions, wearing a face mask is now recommended or even mandatory. 
According to media reports, President Joko Widodo of Indonesia advised authorities to ensure every household has face masks and that commuters won't be able to access public transportation without them.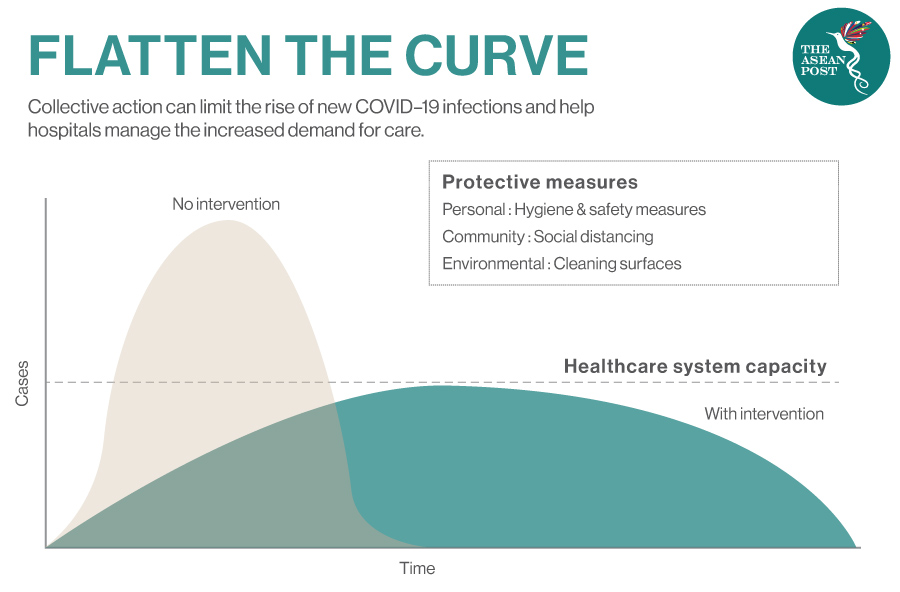 "As we comply with large-scale social restrictions, we need to keep wearing masks, practicing physical distancing and washing our hands," said Doni Monardo, Indonesia's COVID-19 national task force chief. 
"It will take a very long time for us to fully recover. Perhaps we will adjust to a new normal by wearing masks and maintaining physical distance," he told local media.  
Whereas in Vietnam, an ASEAN member state that relaxed its nationwide lockdown last month –fines are imposed on people who don't wear masks in public.
Work From Home (WFH)
One of the notable implications of COVID-19 is the sudden emergence of remote working for small and medium-sized enterprises (SMEs) and even major corporations. Following the virus lockdowns by governments worldwide, organisations have been forced to reconsider their standard operating procedure (SOP), business strategies and cost structures.
Some companies are embracing WFH as the new normal, potentially to be implemented for the long-haul, whereas some are not in favour of the arrangement as it's not entirely suitable for all employees and business sectors. 
According to a survey conducted by Engagerocket, an employee engagement and performance software provider, in partnership with the Singapore HR Institute (SHRI) and the Institute for HR Professionals – 90 percent of employees in Singapore wish to continue working from home in some capacity after the country's Circuit Breaker (CB) ends. 
Leong Chee Tung, chief executive and co-founder of Engagerocket, said that as Singapore nears the halfway mark of the CB which is due to end on 1 June, employees seem to have adapted to working from home and are keen to continue with the arrangement.
"For those who are able to work from home, we expect them to continue to work from home for the foreseeable future," said Singapore's Minister for Trade and Industry, Chan Chun Sing.
Digitalisation
COVID-19 has accelerated the adoption of a digital culture worldwide. As millions are working at home, buying groceries online, and using digital wallets – it seems like almost everyone is immediately considered a digital native. 
"On digitalisation, I've taken it as a new challenge, which is our way forward in getting back to normal, but in a new form," said Malaysia's Prime Minister Muhyiddin Yassin. "The process of digitalisation in government's administration, businesses and daily lives will be a trend in our future," he added. 
In March, the World Health Organisation (WHO) warned that banknotes may spread the coronavirus. The agency's advice on this is to "wash your hands regularly and thoroughly after touching any frequently-touched surface or object, including coins or banknotes." With this in mind, consumers are looking for the safest way possible to pay for their transactions, including cashless payments. 
Digital payments are not unheard of in Southeast Asia. According to media reports, around 64 percent of consumers in the region are confident of going cashless for a full day. Nevertheless, the pandemic is driving adoption of contactless payments in a major way. 
According to a recent publication by Accenture, a multinational management consulting and professional services firm – it is perhaps unlikely that the pandemic will end the use of cash everywhere, but it may be enough to push markets towards a new cashless paradigm. 
Accenture also noted in its report of an explosion in online shopping and delivery checkouts amid the pandemic.
Consumers are able to use mobile wallet payment solutions such as GrabPay, ApplePay and AliPay to proceed with their transactions, while also practicing social distancing. In the Philippines, GrabPay is used for the delivery of goods, bill payments, funds transfers and parcel delivery.
"To help Filipinos get through the pandemic, Grab is expanding its ecosystem with new services that are powered by GrabPay to allow users to get their daily essential needs and keep up with their transactions while still avoiding contact with cash and observing proper distancing protocols," explained Jonny Bates, GrabPay Philippines' head.
Amid the current health crisis, where a seminar is now a webinar, and virtual weddings are on the rise, the new normal might be difficult for some to grasp and adapt to. Will these new trends stay for good, or will they disappear once a vaccine is found? 
Related articles:
Remote Working Crucial Amidst Virus Outbreak