According to retail intelligence firm Stackline, there are a number of e-commerce categories that have been decreasing in demand since the COVID-19 coronavirus outbreak. This includes bridal clothing which experienced a decrease in sales by 63 percent in March this year compared to March 2019 across e-commerce sites in the United States (US).
Closer to home, the Southeast Asian region could possibly experience a similar trend whereby restricted movement and a gathering ban have made wedding items less desirable. 
To date, over 2.5 million people have been infected with the COVID-19 virus and more than 170,000 fatalities have been reported. Currently, about 4.5 billion people – half of humanity are under lockdown which include ASEAN member states such as the Philippines, and Singapore.
ASEAN member state, Malaysia – a country with a population of 31 million – entered the third phase of a Movement Control Order (MCO) on 15 April. The partial lockdown was enacted on 18 March and is due to end on 28 April. However, there are rumours looming that there could be a further extension of the MCO despite plunging COVID-19 cases in the country in recent days.   
Local media recently reported that Malaysia would probably continue with its social distancing rules and bans on large gatherings for the rest of the year.
"Even after we have lifted the MCO, we will continue advising the people to stay at home if you do not need to go out of the house. That is the principle," said the Director-General of Health, Dr Noor Hisham Abdullah.
Although the practice of social distancing is crucial to containing the virus, a longer ban on gatherings means grim consequences for event companies, particularly those in the wedding industry.
First Online Wedding
Malaysia is a multi-ethnic country with numerous wedding traditions and customs depending on the culture in question. According to local media reports, the wedding industry is one of the most lucrative businesses in Malaysia – worth up to RM7 billion (US$1.5 billion) a year.
A Malaysian wedding can cost RM50,000 (US$11,300) on average but can easily reach up to a whopping RM200,000 (US$45,500). In other parts of the region such as in the Philippines, weddings cost in the range of PHP247,750 (US$4,800) to PHP975,000 (US$19,000). Whereas the average cost of weddings in Indonesia is around IDR116 million (US$8,200) which is triple the average annual income in the country, according to financial consultants, HaloMoney.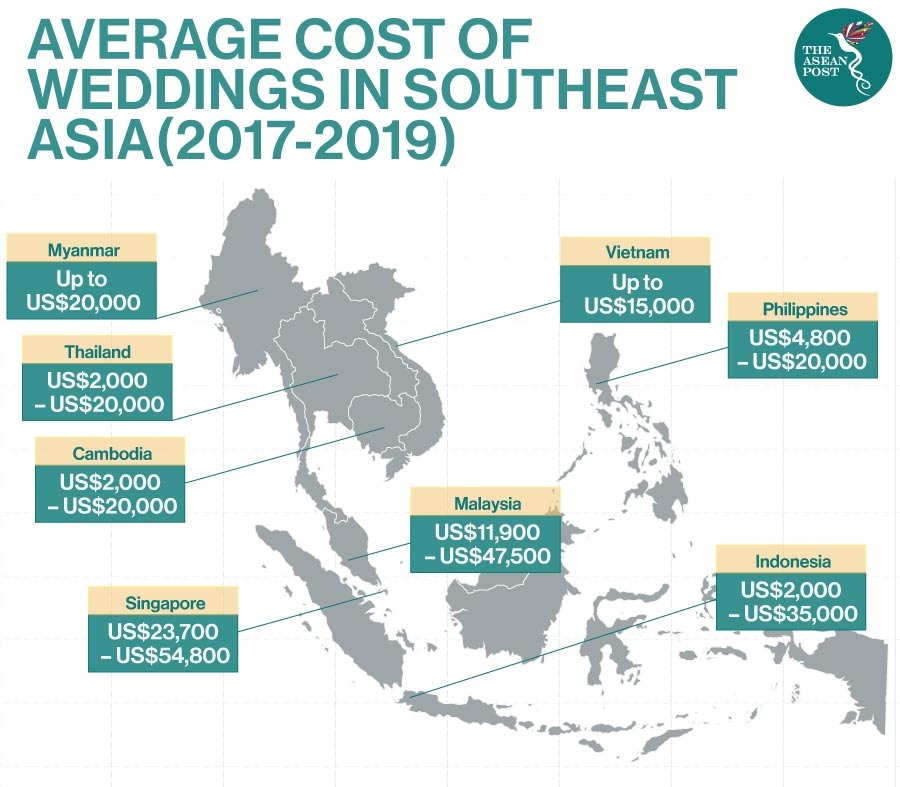 With the MCO strictly enforced in Malaysia, a number of weddings and engagement ceremonies have been cancelled due to virus fears. 
"Honestly, I was quite disappointed that I had to postpone my engagement ceremony because 80 percent of the preparations were done," said Aliya Azahar, a soon-to-be bride who expressed her frustrations to The ASEAN Post. Aliya who lives in the outskirts of Kuala Lumpur, the capital city was supposed to be engaged to her partner of 14 years on 4 April but she remains positive, believing that the MCO is significant for the wellbeing of all Malaysians. 
On 18 April, Malaysian couple Muhammad Don Haadi Don Putra and Nahdatul Aishah Mohd Sharif became the first couple to go through a virtual 'akad nikah' (marriage solemnisation) ceremony. It was reported that the newlyweds sat in front of television screens, looking at each other's image via a video conferencing application. The historic event was also broadcast via Facebook Live.
"It is interesting as it only took less than 15 minutes. This effort is in line with the decision by the National Fatwa Council for Religious Affairs in Malaysia (MKI) to allow the solemnisation ceremony to be conducted online," explained Dr Zulkifli Mohamad Al-Bakri, Minister in the Prime Minister's Department in charge of Islamic Affairs to local media. 
For Teh Athira Yusof, a journalist in Malaysia, her wedding had to be postponed just days before the actual date which was on 22 March. Although sad with the last-minute decision, she doesn't regret deferring the wedding date. 
When asked if she would consider a virtual wedding, Teh Athira who is glad that couples are given an alternative to get married at this time of crisis decided that she would not go for an online solemnisation and wouldn't mind waiting a little longer.
"I would rather have a wedding when people are able to be around each other and celebrate my special day."
Nevertheless, Ameerah Rosli – a 27-year-old civil servant in Malaysia, scheduled to be wed this August told The ASEAN Post that she is willing to opt for a ceremony via video conferencing.
"I wouldn't want to risk the health of my family and friends, and cause the infection to spread to others."
Implications On Services
For Raja Faisal, a freelance wedding photographer and videographer with more than 10 years of experience, the pandemic has affected his part-time business severely. 
"People are willing to spend from RM5,000 (US$1,137) or more for photo and video services for their wedding. But since the outbreak emerged – no events, functions or even wedding receptions were allowed. All booked dates have been cancelled. Some of my clients have already asked for refunds on their deposit used to lock their event date. So far, I have no new clients and no new events," he explained to The ASEAN Post. 
His sentiments are shared by others in the wedding industry. 
"The wedding and event industry has completely shuttered since the MCO rules had gone into effect in the country. As someone who gets paid on a per event basis, my revenue stream has basically disappeared overnight," said Darvesh Singh. "I've seen some friends lose their jobs, shut down their companies and some even resorting to selling their personal assets," he explained. 
For Shahirah Bakhorojin, a wedding emcee tied to an event company, she is hopeful and believes that the industry will pick up again by the end of 2020 as most of her clients have postponed their weddings to early next year.
Related articles:
Online Shopping: The New Reality