To date, more than 4.5 million people around the world have been infected with the deadly COVID-19 virus, a type of coronavirus related to the severe acute respiratory syndrome (SARS). According to the Centers for Disease Control and Prevention (CDC) in the United States (US), the virus is said to spread mainly from person to person, through respiratory droplets produced when an infected person coughs or sneezes. The droplets can land in the mouths or noses of people who are in close proximity with the infected person or possibly be inhaled into the lungs. 
To be anxious and paranoid is common when facing a pandemic, especially one that has affected the global economy and is predicted to cause a recession soon. Nevertheless, misinformation on social media and fake chain messages on popular communications app, WhatsApp, have further fuelled panic among members of the public. Governments and authorities have urged citizens to check the authenticity of news stories before sharing them with friends and loved ones. 
Just last month, it was reported that a new decree took effect in Vietnam whereby fines for spreading fake news or rumours on social media was implemented. A fine of VND10 to VND20 million (US$426 - US$853) will be imposed on those who use social media to share false, untruthful, distorted or slanderous information. The new decree was introduced amid the rapid spread of comments online about COVID-19 in the country. Some other nations have also gone the extra mile by arresting those who spread false news about the virus. In early February, local police and the Malaysian Communication and Multimedia Commission (MCMC) detained a total of 12 people in the country for posting fake news about the novel coronavirus. Whereas in the Philippines, 32 people were charged with disseminating false information regarding the virus back in April.
Here are some of the widely discussed misconceptions regarding COVID-19 on social media.
Bleach
There has been a widespread rumour that has raised concerns among horrified medical professionals: using bleach to protect oneself from getting infected with COVID-19. 
A few days ago, a church in Australia was fined AUD151,200 (US$97,709) for unlawfully advertising a purported "miracle" coronavirus cure that contains a bleach product.
Health experts and the World Health Organisation (WHO) have released statements to warn members of the public that spraying, gargling or injecting bleach will not protect you against the virus. 
"Do not under any circumstance spray or introduce bleach or any other disinfectant into your body. These substances can be poisonous if ingested and cause irritation and damage to your skin and eyes. Bleach and disinfectant should be used carefully to disinfect surfaces only," said the WHO on its website. 
Relapses
On 14 February, a man in his 70s was tested positive for COVID-19 while on a cruise ship. He was then transferred to a medical facility in Tokyo, Japan where he stayed until he tested negative for the virus. Assumed to have recovered, he then travelled back home. However, the man eventually fell sick and on 14 March, he tested positive for the virus again. A number of cases like this have been reported in numerous countries such as Brunei, Vietnam and South Korea. This has made health officials fear for the worse – that one can be re-infected with COVID-19.
According to Li Qin Gyuan, director of Pneumonia Prevention and Treatment at China Japan Friendship Hospital in Beijing, those who have been infected with COVID-19 would develop a protective antibody but it is uncertain how long the protection lasts. 
"For many patients who have been cured, there is a likelihood of relapse," said Li to the media. This suggests that people who initially recovered are more likely to relapse rather than get re-infected with the virus. 
In South Korea, over 100 people who recovered from the COVID-19 virus had tested positive for the virus again. Korea's Centers for Disease Control and Prevention (KCDC) suggested that the coronavirus may be "reactivating" in people who have been cured from the disease. 
"Investigators are looking into whether the cause of relapse is the virus being reactivated or reinfection with the virus. We are also investigating whether relapse cases lead to secondary infection," said KCDC chief, Jeong Eun-kyeong.
Nevertheless, the probability of a reinfection has not been ruled out entirely. The CDC said that "the immune response to COVID-19 is not yet understood" as the virus is still new, emerging just a few months ago. The WHO also stated that there is currently "no evidence" that people who have recovered from COVID-19 and have antibodies are protected from a second coronavirus infection.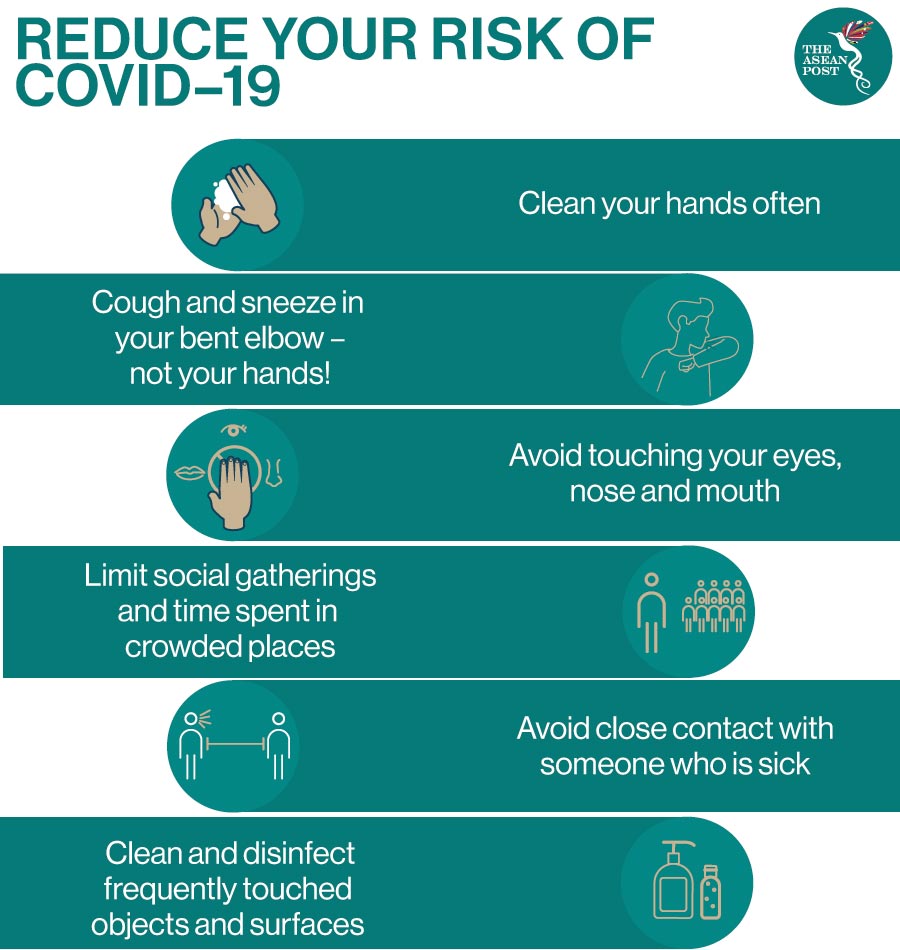 Weather
It was recently reported that Indonesians are soaking up rays in hope that plentiful sunshine will ward off the virus. This followed multiple claims spread on social media which suggest that warm weather could slow down the spread of the COVID-19 virus. 
Nevertheless, Dr Dirga Sakti Rambe at Jakarta's OMNI Pulomas Hospital explained to local media that exposing the body to direct sunlight is good to obtain vitamin D – but it is not helpful in directly preventing the disease.
According to the WHO, the COVID-19 virus can be transmitted in all areas, including areas with hot and humid weather. Tikki Pangestu, a professor at Singapore's Lee Kuan Yew School of Public Policy said that "the temperature theory doesn't really hold up given what's happening right now in much of Southeast Asia," as coronavirus cases soared in multiple ASEAN member states.
Prominent Malaysian doctor, Dr Amalina Bakri – a general surgeon at Imperial College London also agreed and pointed out that "transmission and rapid growth was possible in a range of humidity conditions from cold and dry provinces in China to tropical locations," based on studies done by Harvard researchers. She has also urged the public to stop spreading unverified news and posted on her social media accounts that "many experts and scientists have warned that it is too early to tell and further studies need to be done."
Death
Another myth that has fuelled people's fears is the misconception that everyone who is infected with the virus will face eventual death from COVID-19. There have been numerous fatalities, especially among the elderly and those with pre-existing medical conditions who have succumbed to the deadly virus. Unfortunately, more than 300,000 people have died. However, many are unaware that a large number of people who were infected have also recovered. To date, over 1.7 million people have bounced back from COVID-19, and hopefully, these numbers will continue to rise. 
Related articles:
Fake News A Concern Amid Pandemic