As of 10 April 2020, over one million people have been infected with the deadly COVID-19 coronavirus. The global pandemic has brought chaos into the world with numerous countries implementing lockdowns or movement control orders over virus fears. As the worldwide death toll passed the 96,000-mark, governments have started enacting drastic measures to contain the virus from spreading further.
To be anxious and paranoid is common when facing a pandemic, especially one that has affected the global economy and is predicted to cause a recession soon. Nevertheless, misinformation on social media and fake chain messages on popular communications app, WhatsApp, have further fuelled panic among members of the public. 
The rise of fake news, especially on social media during such crisis has raised concerns among authorities and members of the public.
Ruder Finn, an integrated communications consultancy surveyed 1,648 people between the ages of 18 to 35 in Indonesia, Malaysia, Singapore, Thailand, the Philippines and Vietnam, and the research offers valuable insights into consumer preferences across the region with regards to online content. The study revealed that fake news is the biggest concern for millennials in ASEAN when consuming online content, and their reliance on social media is only making matters worse.
An even mix of male and female participants took part in the survey which was conducted over two weeks, and the resulting report titled 'Entertain Me. Inform Me. Inspire Me. Feed Me: How to Satisfy Southeast Asia With Your Content' found that ASEAN consumers want easy-to-understand and trustworthy content that is both, entertaining and informative.
Despite the variety of digital platforms available today, Southeast Asian millennials consume the vast majority of their online content across just two platforms; social media (80 percent) and video (76 percent).
Traditional sources of information such as local and international news platforms (19 percent and 18 percent, respectively) have lost their shine, with messaging platforms (38 percent), blog/forums (18 percent), company/brand websites (15 percent), magazines (seven percent) and podcasts (four percent) also no match for the popularity of social media platforms and the wealth of content they offer.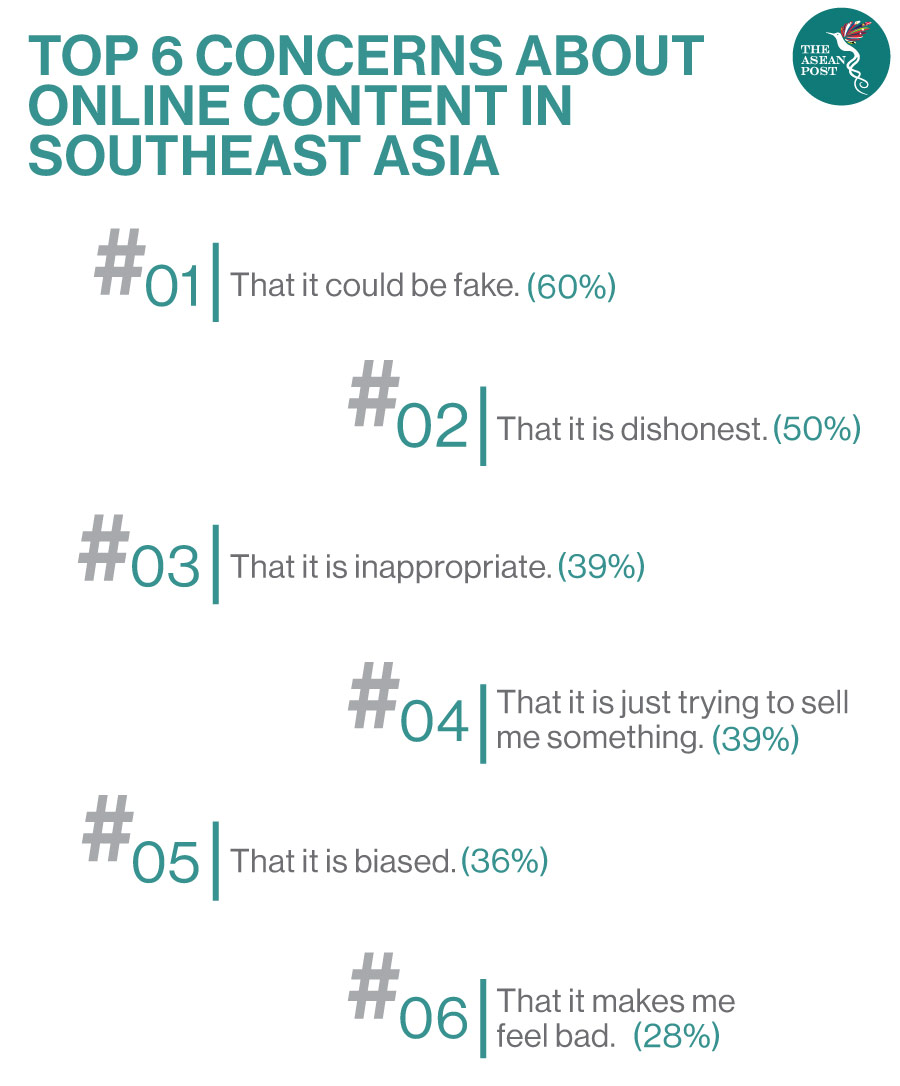 Overall, 60 percent of respondents across all platforms agreed that fake information was their biggest concern while consuming online content, 50 percent were worried about dishonest content and 39 percent were concerned about the content being either inappropriate or biased.
Fake News
Named "Word of the Year" in 2017 by Collins Dictionary, concern over fake news and the spread of false information has grown exponentially, especially since it often masquerades as official news reporting.
While content on social media is more immediate and better reflects the diversity of views and interests in society, its creators are not necessarily subjected to traditional regulations or journalistic standards.
The World Economic Forum (WEF) identified misinformation going viral online as one of the biggest threats to society, and there have been instances where information has been distorted to create fake news stories with the intention to provoke violence, sow hate, fear, distrust and discord. 
Facebook uses artificial intelligence (AI) to detect and delete bots, fake accounts and pages, and Google has taken steps to modify its search ranking system to prevent fake news from entering the top results for particular search terms. In addition, Google has partnered with the International Fact-Checking Network to fight against fake news in ensuring only accurate articles are posted.
While such industry-led initiatives are important in building social media's trust and credibility, a discerning, well-informed and media literate public that is able to detect fake news when it is presented to them is the first line of defence.
Since the new coronavirus emerged late last year, a number of myths, rumours and misinformation were circulated about the health crisis. Authorities in Cambodia, Indonesia and Malaysia have taken a step further in combatting the spread of fake COVID-19 news by detaining and fining the perpetuators. Governments have urged citizens to check the authenticity of news stories before sharing them or they might face similar consequences too.
Related articles: